Biggest shipment of American tanks since the Cold War lands in Germany
Howitzers and fighting vehicles will be joined by thousands of infantry troopers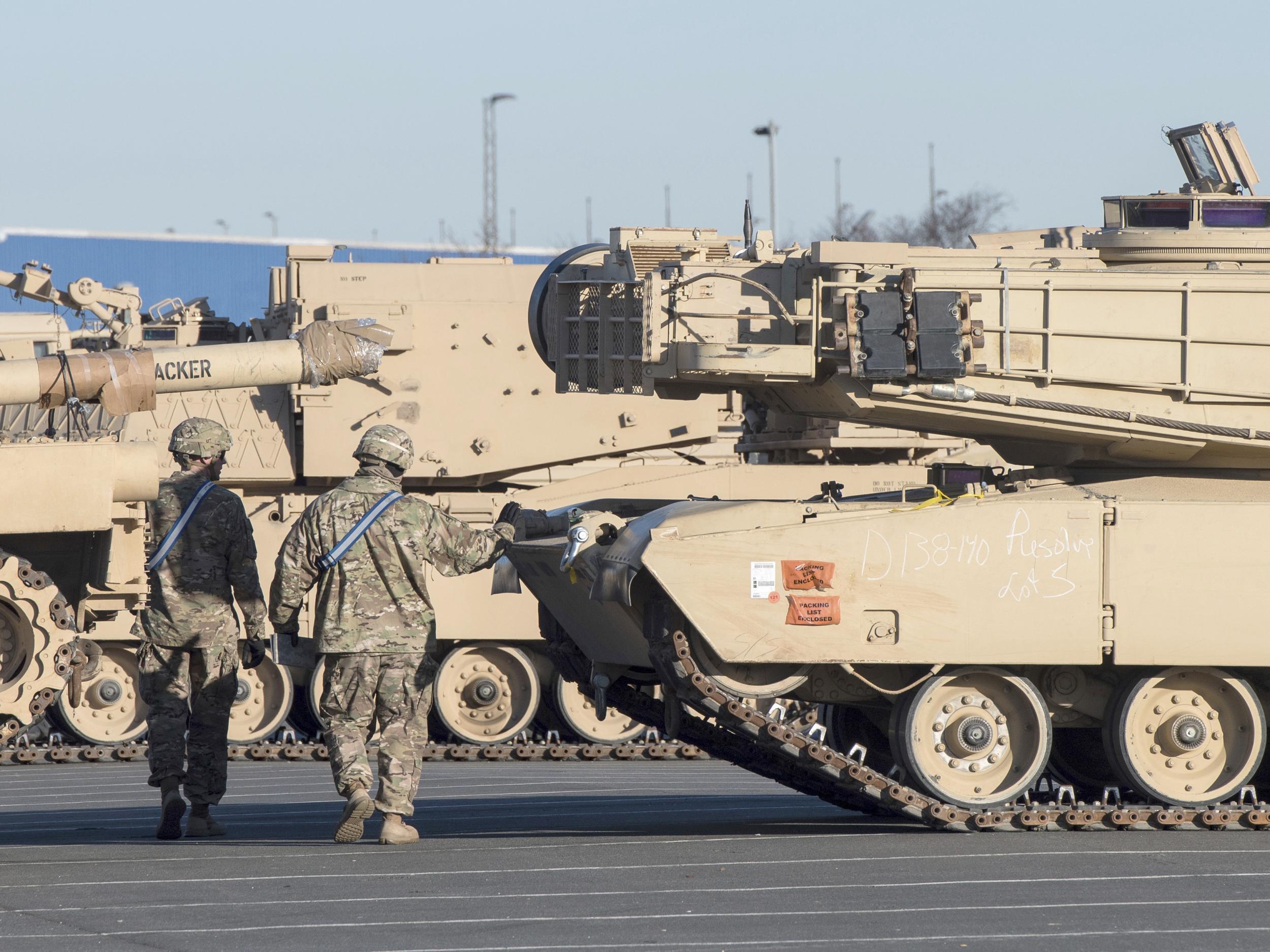 Scores of tanks were among hundreds of US vehicles have arrived in Germany as part of the biggest transfer of American armour to the region since the fall of the Soviet Union.
Self-propelled howitzers and hundreds of other vehicles were also unloaded in the north German port of Bremerhaven,
They will eventually be moved into Eastern Europe where they will bolster a Nato operation to deter Russian aggression.
Some 3,500 troops from the 4th Infantry Division in Fort Carson, Colorado, will join up with the equipment, which includes 87 tanks and 144 Bradley fighting vehicles, over the next two weeks.
The deployment marks the start of a new phase of Operation Atlantic Resolve, which foresees the continuous presence of an American armoured brigade combat team in Europe on a nine-month rotational basis.
The mission is meant to help allay concerns held by Estonia, Latvia, Lithuania, Poland and other Nato allies about Russia.
It coincided with a stream of Russia-related tweets by President-elect Donald Trump.
He said on Saturday: "Having a good relationship with Russia is a good thing, not a bad thing. Only 'stupid' people, or fools, would think that it is bad!
"We have enough problems around the world without yet another one.
"When I am President, Russia will respect us far more than they do now and both countries will, perhaps, work together to solve some of the many great and pressing problems and issues of the WORLD!"
The new forces will gather first in Poland, then fan out across seven countries from Estonia to Bulgaria. They will be headquartered in Germany where the US has maintained a presence since the end of the Second World War.
Announcing the move last year, US Defence Secretary Ash Carter said the forces would take part in regular military exercises across the region with Nato allies.
At that time, US Army Europe Commander, Lieutenant General Ben Hodges, called the deployment the "embodiment of the United States' commitment to deterring aggression and defending our European allies and partners."
The US also plans to move in a combat aviation brigade with about 10 Chinook and 50 Black Hawk helicopters and 1,800 personnel from Fort Drum, New York, and a battalion with 24 Apache attack helicopters and 400 personnel from Fort Bliss, Texas. They will be headquartered in Germany with some aircraft positioned in Latvia, Romania and Poland.
Other Nato members are also increasing their presence, with Britain sending fighter jets to the Black Sea area, while a battalion of troops, tanks and light armour will deploy in Estonia in the spring, backed by French and Danish troops. Germany also plans to send troops and tanks to Lithuania.
Albania, Belgium, Canada, Croatia, France, Italy, Luxembourg, the Netherlands, Romania and Slovenia are also playing roles in what Nato has dubbed its Enhanced Forward Presence. The US plans to relocate a Stryker unit from Germany to Poland as part of that group.
Nato has already started positioning equipment and ammunition in Eastern Europe to reduce the time it would take additional units to deploy if needed.
Join our commenting forum
Join thought-provoking conversations, follow other Independent readers and see their replies