Bisexual Russian activist fears for her safety after British authorities threaten to deport her
Irina Putilova could be returned home in a matter of days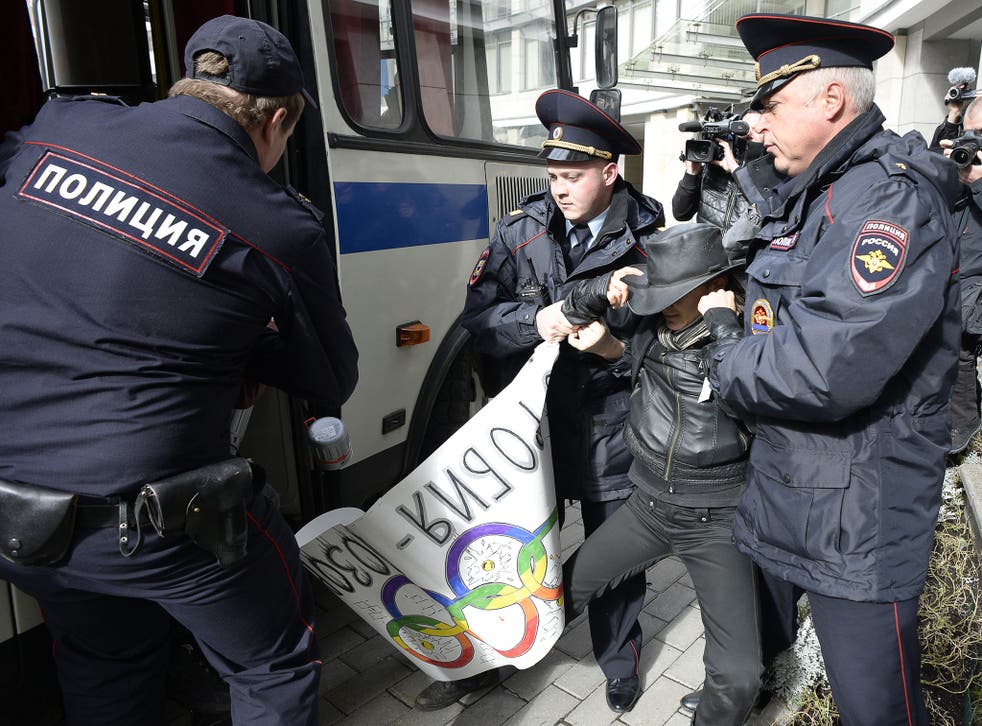 A woman who is detained in Britain could be sent back to Russia in a matter of days despite claiming that her life is in danger in her home country.
Irina Putilova, a 28-year-old bisexual activist, left St Petersburg six months ago, after fearing for her safety. Ms Putilova, who is involved with a number of gender equality and anti-authoritarian movements in Russia, says she was been followed, threatened, arrested and beaten up by the Russian police for her activism.
Since living in Hackney, London, she has been involved in raising awareness about LGBTQ-rights in Russia. She added that Russia's new anti-gay legislation, which criminalises the promotion of non-heterosexual relationships, had increased homophobic violence in her country to the point where she no longer feels safe to return.
"It is very difficult to be LGBTQ there because of this law. I don't feel safe, free or comfortable to be myself. Because of this, and the rest of my activism, I think my life could be in danger," she told The Independent from Yarl's Wood Immigration Removal Centre, where she is being detained as part of a tougher fast-track asylum process.
"The law means all public activity is very limited: you can't even go and watch a LGBTQ movie. People who are against [gay rights] are spreading a lot of anti-LGBTQ propaganda and it's impossible to be public [with your partner]. Two girls were arrested for hugging earlier this year. It's crazy. It's totally impossible for me and I don't feel safe."
Ms Putilova said she fears persecution from Russian police and right-wing groups, if she returns to Russia. She said police went to her parents' home seeking information about her, threatened to break her legs, and put her on a federal warrant list – meaning it is likely she will be arrested if she returns home. She was detained on Friday, after attending her first asylum appointment.
More than 5,000 people, including Stephen Fry, have already signed an online petition asking the Home Secretary to release Putilova from detention. Stephen Fry tweeted his support for the case this morning. "I've just signed this important petition for Irina Putilova, Russian LGBTQ activist in detention in UK," he tweeted, along with the hashtag "iramuststay".
Ms Putilova's solicitor, Milla Walker of Luqmani Thompson & Partners, said: "On the face of it, this case seems inappropriate for the fast-track. That is only suitable if the Home Office can reach a fair and quick decision and if the case is straightforward and simple, with no documents needed to be produced, translated, and no corroborative evidence required. This case is very complex; there are lots of documents – some of which still haven't arrived - and they are in Russian. If the Home Office doesn't remove the case from the fast-track, we are considering appealing to the High Court."
Activist Peter Tatchell also supports Ms Putilova's case. He said: 'It is outrageous that Irina, or any refugee, is put into fast-track and detained in prison-like conditions. She is not being given enough time to prepare a proper asylum claim. Given that she has already been subjected to sustained harassment and threats, it is unsafe for Irina to return to Russia."
Ms Putilova added: "I want them to release me, to give me a chance, and let me undergo the normal procedure of asylum."
A spokeswoman for the Home Office said the department does not routinely comment on individual cases.
With just weeks to go before the Sochi winter Olympics, the issue of gay rights has taken centre stage, especially among athletes and supporters. And those in other fields have also voiced concern: Speaking in this week's Radio Times, Sir Ian McKellen said that the Foreign Office had personally advised him against travelling to Russia.
He said: "Imagine trying to be a gay actor, a gay anything in modern Russia? Where to be positively oneself, to be affectionate in public with someone you love of the same gender, or to talk of that love in the hearing of anyone under 18, will put you prison? That's why I can't go to Russia. I've been advised by the Foreign Office. They couldn't protect me from those laws. Two and a half hours from London! In the land of Tchaikovsky, Diaghilev, Rudolf Nureyev – gay artists whose sexuality informed their work."
Register for free to continue reading
Registration is a free and easy way to support our truly independent journalism
By registering, you will also enjoy limited access to Premium articles, exclusive newsletters, commenting, and virtual events with our leading journalists
Already have an account? sign in
Register for free to continue reading
Registration is a free and easy way to support our truly independent journalism
By registering, you will also enjoy limited access to Premium articles, exclusive newsletters, commenting, and virtual events with our leading journalists
Already have an account? sign in
Join our new commenting forum
Join thought-provoking conversations, follow other Independent readers and see their replies