Bitter feud divides family of Germany's reunification leader
Son of Helmut Kohl accuses second wife of controlling former Chancellor 'like a stalker'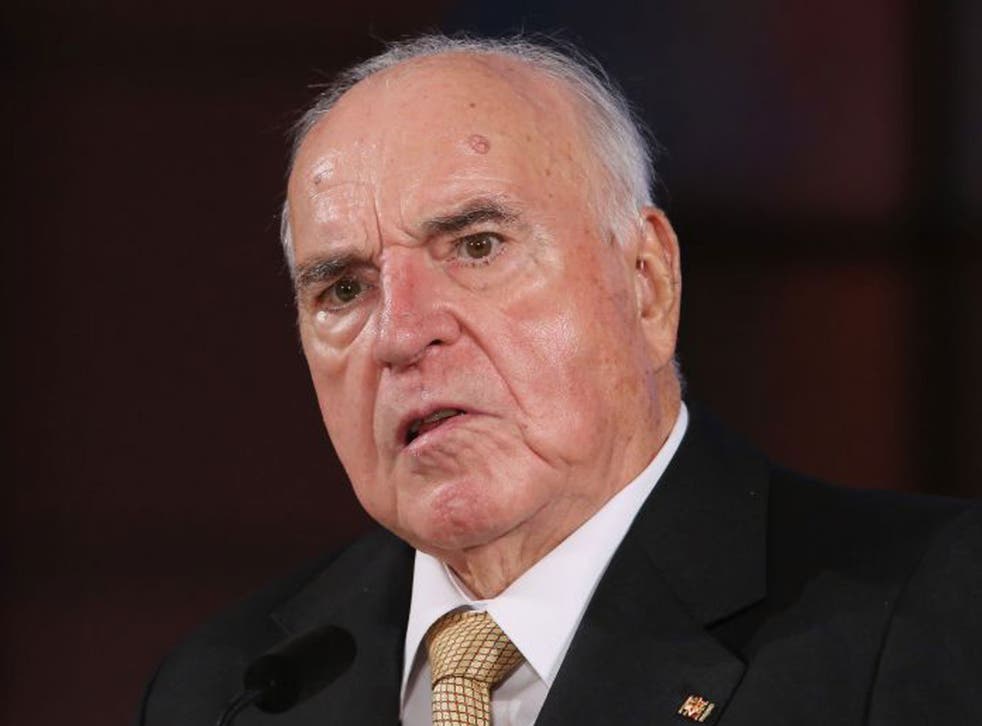 A vicious feud dividing the family of Germany's legendary "unification chancellor", Helmut Kohl, erupted into the open yesterday after Mr Kohl's estranged son accused his father's new wife of imposing a contact ban on him and his children and of hero-worshipping her elderly husband like a stalker.
The bitter allegations against the 82-year-old Mr Kohl's wife, Maike Kohl-Richter, who is 49, were made by the former chancellor's son Peter, who used a television appearance and a series of magazine interviews to savagely criticise her.
Helmut Kohl was chancellor of West Germany from 1982 to 1990 and of the reunited Germany until 1998.
Peter Kohl, 47, said he had last visited his ailing father, who suffered a fall in 2008 and now cannot walk or speak clearly, with his daughter two years ago. He said his father has been "really pleased" to see both of them, but had told them they should leave almost immediately, "otherwise there will be a huge problem again".
He said Mrs Kohl-Richter, who married Mr Kohl in 2008, had imposed a "contact ban" preventing him, his daughter and Mr Kohl's other grandchildren from visiting his father. He also alleged that she vetted who his father was allowed to speak to and that he and his brother had been removed from a police list of approved visitors.
Similar accusations emerged in the German media last year, saying Mr Kohl was virtually a prisoner in the bungalow he shares with his wife in the Rhineland city of Oggerheim. Der Spiegel magazine described Mrs Kohl-Richter as "The Lady Macbeth of Oggersheim" and accused her of jealously controlling the ex-chancellor.
Mrs Kohl-Richter has made no public statements about her relationship with her husband or with his two sons by his first wife, Hannelore. A devoted supporter of Mr Kohl, Hannelore committed suicide in 2001 after suffering for years from photodermatitis, a crippling allergy to light.
Peter Kohl said: "For my father this is all unbelievably damaging and reprehensible. I find [Mrs Kohl- Richter] responsible for all this damage."
He accused her of hero-worshipping her husband like a "stalker".
He said previous visits to the home Mr Kohl shared with her had given him the impression that he was walking into a private Helmut Kohl museum. "There was Helmut Kohl photography wherever you looked. It was like being in a propaganda programme about my father," he said.
Peter Kohl also claimed that Mrs Kohl-Richter had actually started an affair with his father in 1998, when she worked as an assistant in his chancellery, and not shortly before he married her a decade later.
Neither Mrs Kohl-Richter nor Mr Kohl responded to the accusations.
Join our new commenting forum
Join thought-provoking conversations, follow other Independent readers and see their replies