Black Pete: Black-faced clown 'cleaned up' for Dutch festivities
'They don't realise how offensive it is - they think it's a joke, but it demeans people with dark skin'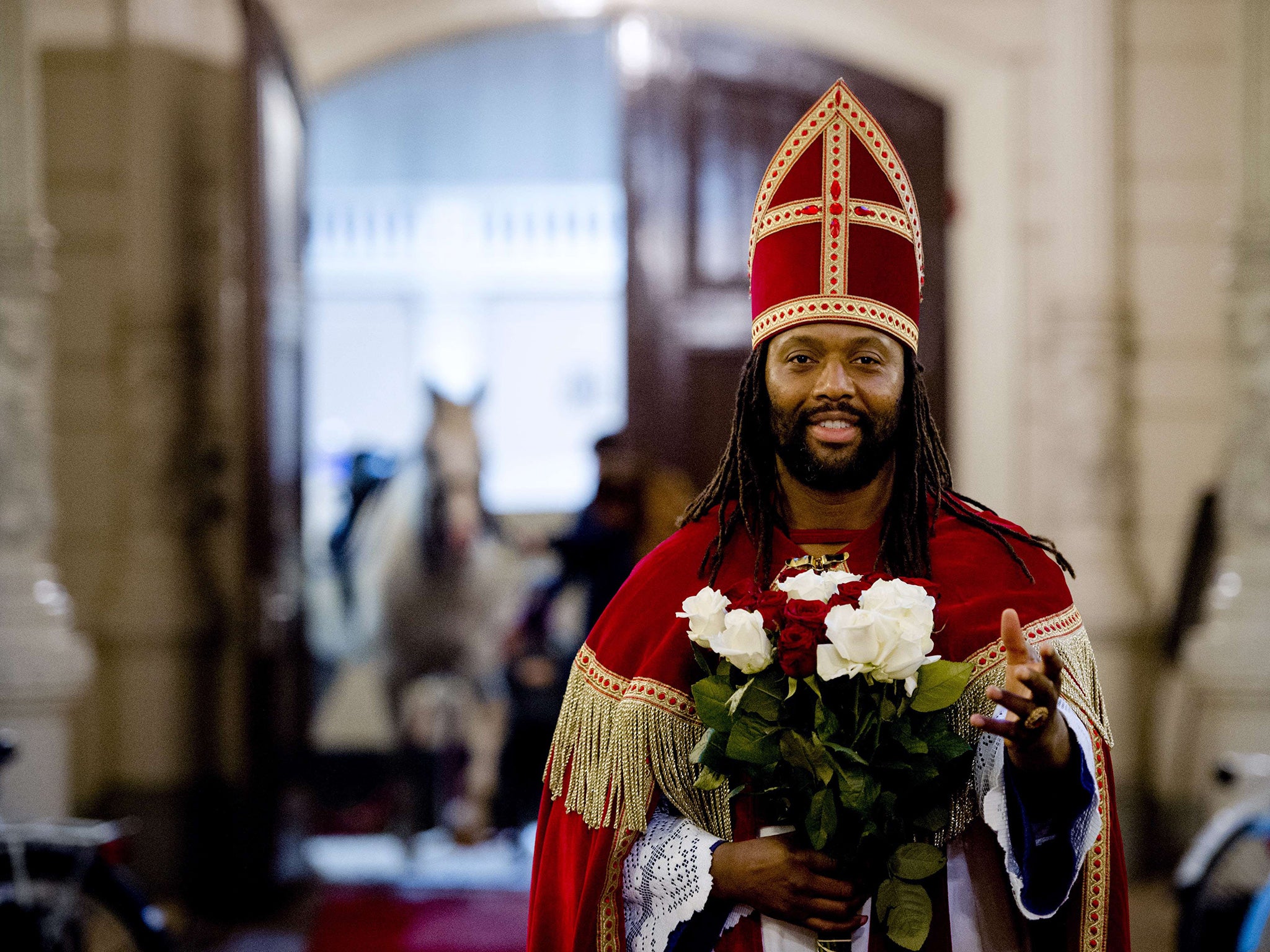 St Nicholas, or Santa Claus, made his traditional entrance into the Netherlands on 14 November, arriving on a barge in northern port of Meppel to be greeted by cheering children as he threw sweets and kicked off the Christmas season.
His traditional sidekick was not given such a warm welcome, however. Zwarte Piet, or Black Pete, a blackface clown, is increasingly seen in the Netherlands and Belgium as a dodgy colonial throwback.
In the face on rising criticism, this year's Black Pete was slightly different: instead of wearing the usual blackface paint, he had black smudges on his cheeks, suggesting his dark complexion came from a journey down the chimney. He was also without the traditional bright red lipstick, and the giant hoop earrings.
The concessions were still inadequate for a group of around 150 activists protesting against the Meppel event. Groups such as Zwarte Piet Niet and stopblackface.com say the character perpetuates crude stereotypes.
"They don't realise how offensive it is. They think it's a joke, but it demeans people with dark skin," said Jessy de Abreu, from stopblackface.com.
In the Low Countries, Black Pete is a staple of the St Nicholas holiday season, which runs until 6 December, the day when most local children open their festive presents.
Black Pete is an enforcer and bagman, offering sweets to good children, while the naughty ones are thrown in his sack and taken to his home in, of all places, Spain.
Black Pete's defenders say that political correctness is hammering a harmless family tradition. However, the message is getting through: Amsterdam, The Hague, Utrecht, Maastricht and Antwerp all announced this year they would have alternative Black Petes, with soot rather than blackface, and many schools and stores have dropped the more racially tinged features of his appearance.
"When a symbol meant only to bring joy has come to have the opposite effect on well-meaning others, it is time for the symbol to evolve," says Howard Gutman, a former US ambassador to Belgium.
Join our commenting forum
Join thought-provoking conversations, follow other Independent readers and see their replies