Black Pete is negative stereotype, Amsterdam court rules
The tradition sees white people wear black face paint, Afro hair wigs and bright red lips while they help Father Christmas hand out gifts
Kashmira Gander
Thursday 03 July 2014 17:19 Comments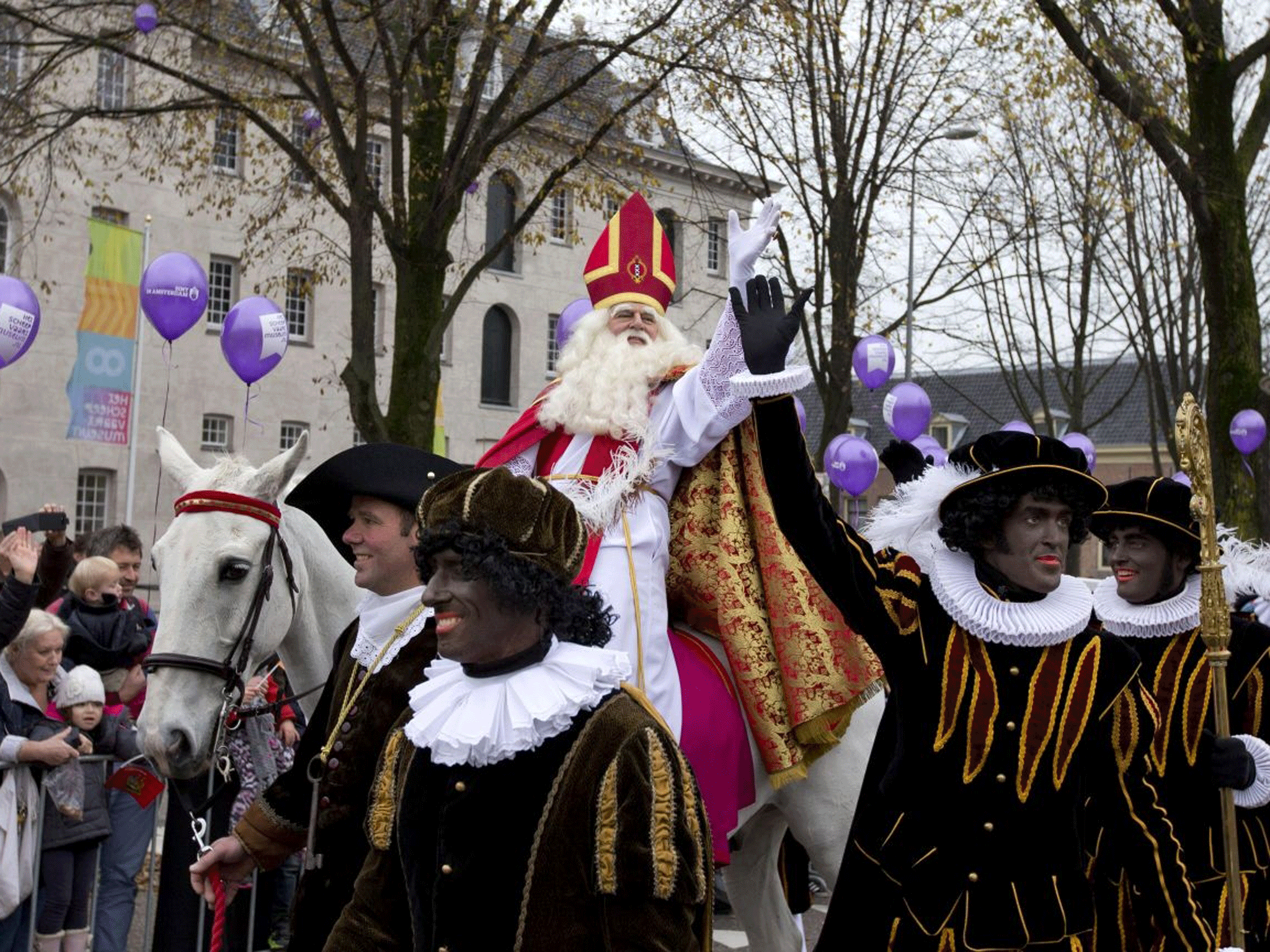 A Dutch court has ruled that Amsterdam must re-think a tradition in which white adults dress as Father Christmas' helpers in black-face makeup and Afro wigs.
During the Christmas period, thousands of children watch adults re-enact the myth of the arrival of Sinterklaas, or St Nicholas, from Spain, who is accompanied by a flotilla of Zwarte Piets, or Black Petes, who hand out gifts.
The debate surrounding Zwarte Piet has intensified in recent years, with most Dutch people arguing that he is not intended to be racist, but is a harmless fantasy figure.
But opponents claim that the clown-like character with thick red lips and a frizzy Afro hairstyle is a racist caricature of black people and stems from the slavery of black Africans.
On Thursday, the Amsterdam District Court ordered the city to re-examine its decision to grant a permit for the arrival of Father Christmas and the group of Black Petes.
It said that Black Pete's appearance, in combination with the fact that he is often portrayed as stupid and obedient, means it is "a negative stereotype of black people". The court also cited a publication by the country's national human rights commission this week that found that white Dutch leaders frequently react with "irritation and dismissal" when questions of racism are raised, even though workplace discrimination is well documented in the Netherlands.
"I am really happy, and I congratulate the Dutch people that we together can work on a Netherlands that is free of racism," Barryl Biekman, the head of the Platform Slavery History organization, said in an interview with NOS TV.
"If this continues, it would mean that the Dutch state and all of its municipalities, are jointly responsible for maintaining racism in this country," he added.
The city has begun discussing possible solutions, including using different colors of face paint for Pete, or smudging his cheeks with soot.
Additional reporting by AP
Register for free to continue reading
Registration is a free and easy way to support our truly independent journalism
By registering, you will also enjoy limited access to Premium articles, exclusive newsletters, commenting, and virtual events with our leading journalists
Already have an account? sign in
Join our new commenting forum
Join thought-provoking conversations, follow other Independent readers and see their replies