Bolivia says European nations 'kidnapped' Evo Morales in hunt for NSA whistleblower Edward Snowden
Grounding President's plane was an 'act of aggression' that will result in complaint to UN
Charlotte McDonald-Gibson
Thursday 04 July 2013 07:37 Comments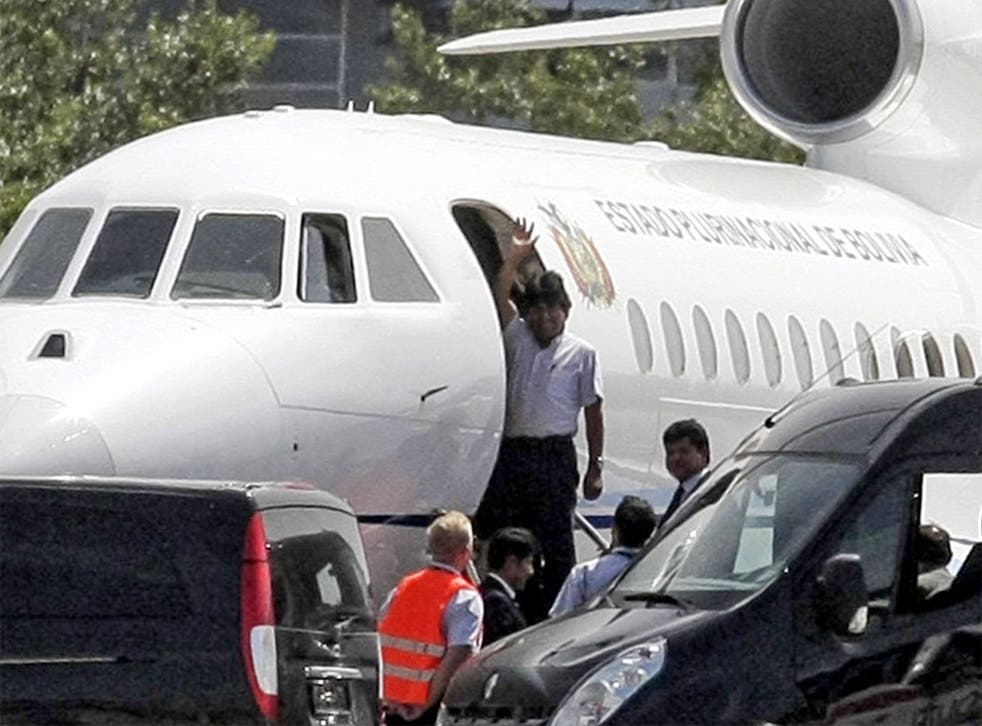 Bolivia accused European nations of an "act of aggression" for refusing to allow the plane of its President Evo Morales' to travel in their airspace because of rumours that the US fugitive, Edward Snowden, was on board.
The diplomatic fallout from the US spying scandal drew in several more countries as the hunt continued for Mr Snowden, who is wanted by the US on charges of leaking secrets he gathered while working as a contractor for the National Security Agency (NSA).
President Morales had attended a summit in Moscow, where Mr Snowden is believed to be holed up at Sheremetyevo airport, and was flying back to Bolivia on Tuesday when his plane was diverted to Vienna. Bolivian diplomats claim that France, Portugal and Italy refused the plane permission to cross their airspace after US officials raised fears that the Bolivian delegation was harbouring Mr Snowden.
Officials from France and Portugal have since denied that they shut their air space to the plane, but Bolivia's ambassador to the United Nations said they would be filing a complaint.
"We're talking about the president on an official trip after an official summit being kidnapped," Sacha Llorenti Soliz told reporters in Geneva.
While attending an energy summit in Moscow, Mr Morales had said that Bolivia may consider granting asylum to Mr Snowden, a former NSA contractor who is wanted for questioning in the US after revealing details of its secret surveillance programme.
A Vienna airport official told the Associated Press news agency that pilots on Mr Morales' plane asked to land in Austria soon after take-off because of fuel shortages, although it was not clear if this was related to the aircraft being unable to travel through other airspace.
After spending the night on the tarmac, the plane was searched this morning before resuming its journey to Bolivia – with no sign of Mr Snowden on board.
Mr Soliz said Latin American presidents were planning an emergency meeting to discuss the incident, while the President of Argentina, Cristina Kirchner, said on Twitter that the re-routing of the plane was "crazy" as aircraft carrying heads of state had "total impunity".
The presence of Mr Snowden in Moscow has already sparked diplomatic tensions between the United States and Russia. The European Union, meanwhile, is looking into claims in the German news magazine Der Spiegel that the NSA spied on EU offices in the US and Europe. The claims have threatened to scupper the start of negotiations between the US and EU on the world's largest free trade agreement, with a French government spokesperson saying it "seemed wise" for the scheduled start of talks on Monday to be delayed by two weeks.
Register for free to continue reading
Registration is a free and easy way to support our truly independent journalism
By registering, you will also enjoy limited access to Premium articles, exclusive newsletters, commenting, and virtual events with our leading journalists
Already have an account? sign in
Join our new commenting forum
Join thought-provoking conversations, follow other Independent readers and see their replies