Boris Nemtsov: Thousands march against Vladimir Putin in memory of slain Russian opposition leader
'This is a march for a free and democratic Russia,' organiser says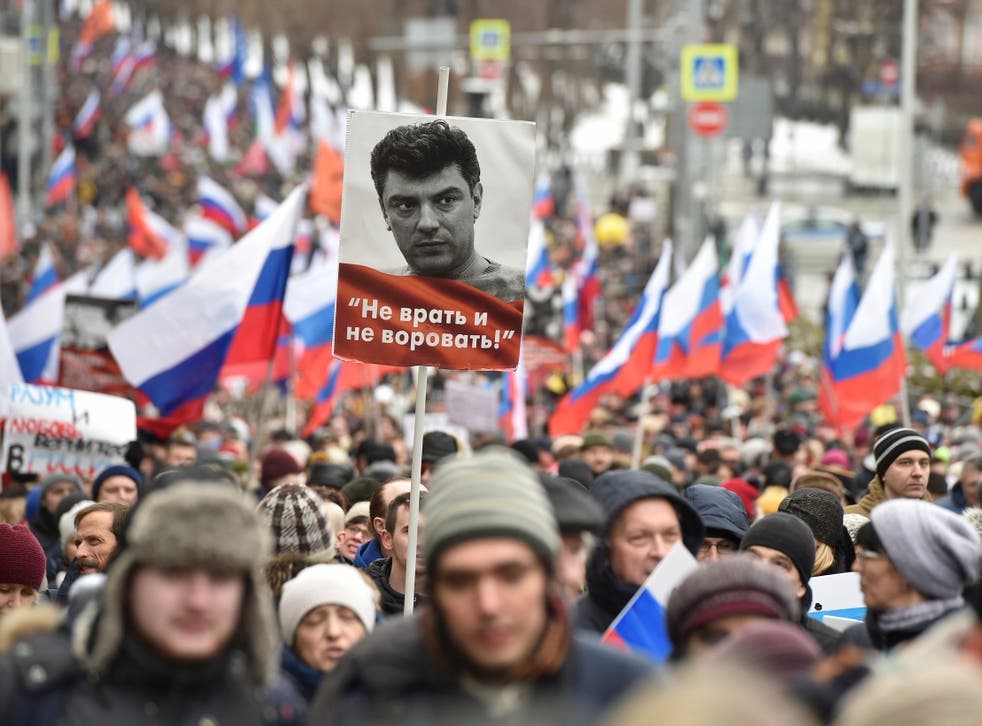 Thousands of Russian protesters gathered in Moscow to march against president Vladimir Putin and honour the memory of opposition leader Boris Nemtsov.
Protesters carried portraits of the murdered politician on Sunday and marched behind a banner reading: "We have given Russia away to the crooks, it's time to take it back."
About 10,600 people gathered for the rally on a boulevard nearly a mile north of the Kremlin, according to White Counter, an NGO that tallies up participants at rallies using metal detector frames.
"This is a march in opposition to Vladimir Putin. This is a march for a free and democratic Russia," one of the event's organisers, politician Ilya Yashin, said in a video prior to the march.
Nemtsov, an ardent critic of Mr Putin, was shot dead on 27 February, 2015, as he crossed a bridge near the Kremlin. The 55-year-old had been working on a report investigating Russia's role in the conflict in Ukraine.
In pictures: Marchers mourn Boris Nemtsov in Moscow

Show all 7
His death sent a chill through opposition circles and deprived Russians opposed to President Putin of a charismatic and energetic leader.
Activist Nataliya Gryaznyevich said that "Nemtsov was a very colorful political figure". She said his death "left an empty hole in politics".
Alexei Navalny, another critic of Mr Putin, was also present at the rally.
Many protesters demanded the Bolshoy Moskoveretsky Bridge where Nemtsov was shot sould be renamed after him, according to the Kyiv Post.
Last year, Washington DC renamed the street outside the Russian embassy after Nemtsov.
In 2017, an officer in the security forces of Chechnya's Kremlin-backed leader Ramzan Kadyrov was convicted of killing Nemtsov and jailed for 20 years.
Four other men were convicted of being involved in the murder and handed terms between 11 and 19 years.
Thousands march in Moscow to remember murdered opposition leader Nemtsov
At the time, the late politician's allies said the investigation had been a cover up and that those who had ordered his assassination remained at large.
Additional reporting by agencies
Join our new commenting forum
Join thought-provoking conversations, follow other Independent readers and see their replies