'You'll Never Walk Alone': German newspaper shows solidarity with Borussia Dortmund after bomb attack
The song has been sung by Dortmund fans since the 1990s when it became popular after it was covered by a local band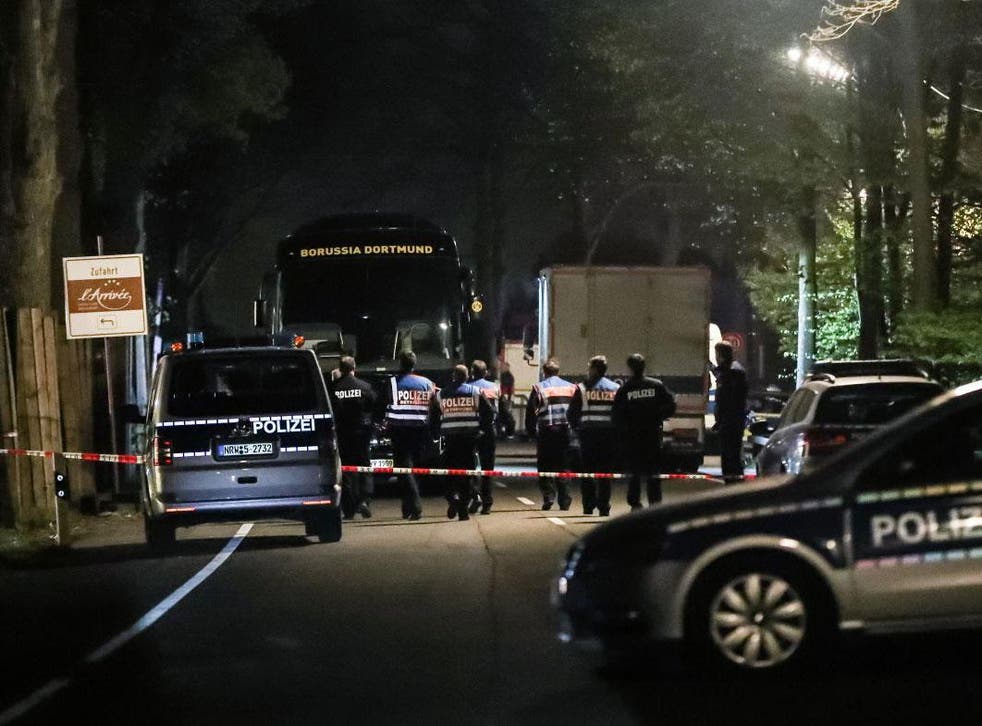 Images of the back page of a German newspaper which featured the badge of the Borussia Dortmund football team above the phrase "you'll never walk alone" have been widely shared on social media.
Fans wishing show solidarity with the team after its players were targeted in a bomb attack have been posting the picture which was created using the team colours, yellow and black, on the page of Bild that would usually feature football news.
Originally associated with England's Liverpool FC, the song has been sung by Dortmund fans since the 1990s after it became popular when it was covered by a local band.
German federal prosecutors, who usually investigate serious crimes including terrorism, are leading the investigation into the attack, which injured two people.
The team's defender and Spanish international, Marc Bartra, underwent surgery night after breaking his arm and suffering shrapnel wounds in the explosions.
Borussia Dortmund bus blasts injure player Marc Bartra
A policeman escorting the team was also hurt.
Three explosions went off near the team bus ahead of a Champions League quarterfinal match against Monaco, which Dortmund's chief of police said "targeted" the players.
The match was cancelled and the Signal Iduna Park stadium was later evacuated.
Two letters relating to the attack have been examined by police. One found near the scene, said the blasts were in response to Germany's military involvement against Isis in Syria.
However, experts have said the attack didn't fit the normal patterns of an Islamist terror attack and the letter could be an attempt to mislead investigators.
A second letter claiming responsibility, posted to an anti-fascism online portal, reportedly said the attack was in retaliation for what the letter called the soccer club's soft approach toward neo-Nazi and racist fans.
Borussia Dortmund bus explosion

Show all 20
Some suspicion also fell on far right extremists following the blasts.
The club has recently experienced significant difficulties with a right wing hooligan element and official clamp downs resulted in death threats being sent to a manager.
The match has been rescheduled for tonight but with an increased security presence.
Register for free to continue reading
Registration is a free and easy way to support our truly independent journalism
By registering, you will also enjoy limited access to Premium articles, exclusive newsletters, commenting, and virtual events with our leading journalists
Already have an account? sign in
Register for free to continue reading
Registration is a free and easy way to support our truly independent journalism
By registering, you will also enjoy limited access to Premium articles, exclusive newsletters, commenting, and virtual events with our leading journalists
Already have an account? sign in
Join our new commenting forum
Join thought-provoking conversations, follow other Independent readers and see their replies