Bought by BMW? German Chancellor Angela Merkel forced on to defensive over €700,000 donation from carmaker to her Christian Democratic Party
Disclosures provoke withering criticism from opposition parties
Tony Paterson
Wednesday 16 October 2013 18:36 Comments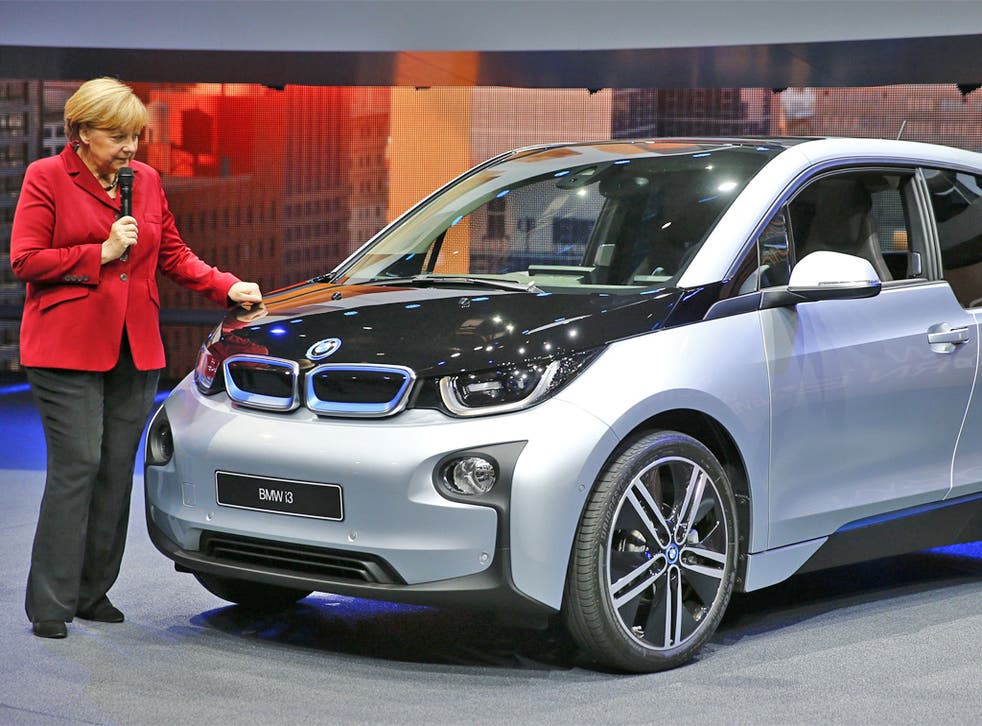 Chancellor Angela Merkel is struggling to defend herself against allegations that she has been "bought" by Germany's powerful car industry following disclosures that the Bavarian carmaker BMW had donated almost €700,000 to her ruling conservative party.
The owners of BMW, the wealthy Quandt family dynasty which owns 46.7 per cent of the concern, is reported by German parliamentary administrators to have transferred a total of €690,000 to Ms Merkel's Christian Democratic Party in early October.
Significantly, the substantial donation came only days before Monday's decision by European environment ministers to give in to German demands to scrap an agreement to cap car emissions after Berlin argued that the measure would adversely affect its car industry and create job losses.
The disclosures about the BMW donation provoked withering criticism from Germany's opposition parties: "This is the most blatant case of purchased policymaking in a long time," said Klaus Ernst an MP for Die Linke or Left Party. "BMW's got Merkel in the bag. No one has done it that openly before," he added.
Georg Streiter, Ms Merkel's deputy spokesman countered opposition claims that the donation raised suspicions that she was in the pay of the car industry. "Of course the government is not open to being bought," he said. "This was a party political donation, not a donation to the government," he insisted
Mr Streiter stressed that that Germany would continue to work for a "balanced result" on EU car emissions which answered the concerns of both carmakers and environmentalists.
But criticism of the donation continued to flood in from watchdog organisations. Transparency International demanded that the German President, Joachim Gauck set up a commission to reform the business of party political funding in Germany. "Lobby interests seem to be having an increasing influence on politics and this is destroying political culture," complained Edda Müller, Transparency's president.
LobbyControl, an anti-lobby group, said that the "biggest donation" in Germany's 2013 election year came less than a month after polling. "It raises the question whether the Quandt family deliberately kept its support out of the election campaign," said Christina Deckwirth, a spokeswoman for the group.
Ms Merkel's government has itself lobbied hard to get the EU emissions agreement scrapped. Under the deal, reached last June, EU countries were to have met a proposed cap on carbon emissions of 95 grams per kilometre on all new cars from 2020.
However German carmakers like BMW and Daimler, which make heavier vehicles with comparatively high fuel consumption rates, would have found it harder to fulfil the emissions requirements than EU carmakers which make "greener" cars such as Fiat and Peugeot.
Germany was initially successful in persuading smaller EU members such as Hungary, Portugal and Slovakia to support it opposition to the 95 grams agreement not least because German car manufacturers run factories in these countries.
At the June EU summit Ms Merkel turned to her larger EU neighbours. At the time it was noted that she did not object to David Cameron's insistence that Britain should keep its EU rebate intact in a dispute over a proposed new method to calculate the sum.
Register for free to continue reading
Registration is a free and easy way to support our truly independent journalism
By registering, you will also enjoy limited access to Premium articles, exclusive newsletters, commenting, and virtual events with our leading journalists
Already have an account? sign in
Join our new commenting forum
Join thought-provoking conversations, follow other Independent readers and see their replies