Brexit is 'irrevocable' and negotiations must take place, says Angela Merkel
'The whole process of the exit still lies ahead of us, but the decision is irrevocable'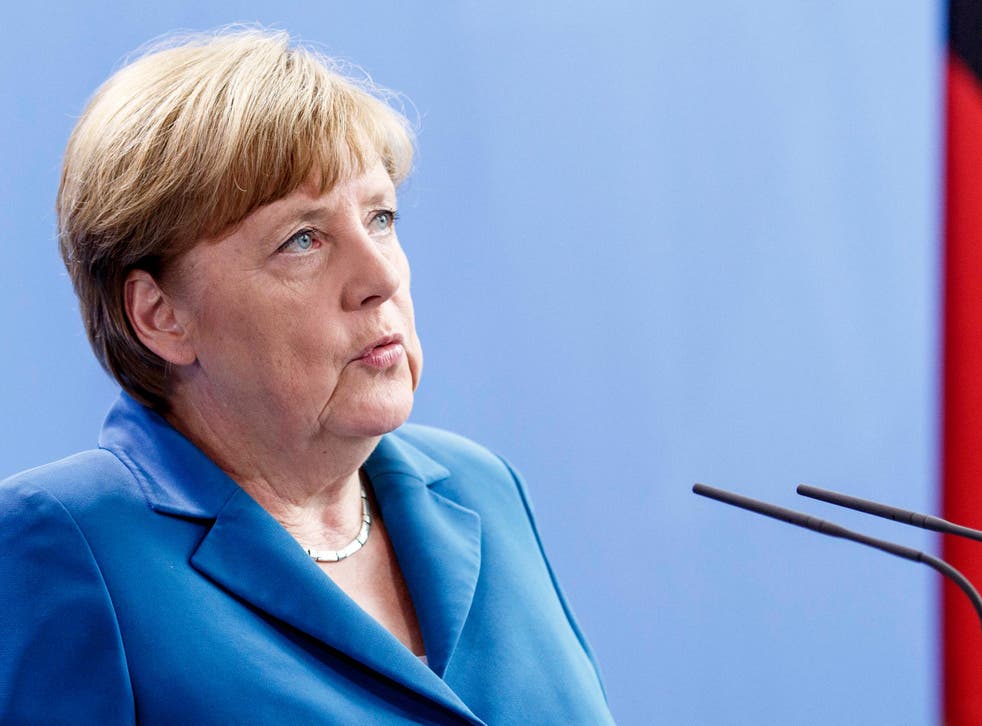 Angela Merkel has insisted there is no way to reverse the UK's decision to vote for Brexit, saying the result is "irrevocable".
Prime Minister Theresa May has yet to formally trigger the process of negotiating the country's exit from the bloc, after Britain voted narrowly to leave the EU in a referendum on 23 June.
In an interview released by the German Chancellor's Christian Democratic Union party on Thursday, Ms Merkel urged Britain to negotiate a deal which would support the interests of both countries.
She said: "The whole process of the exit still lies ahead of us, but the decision is irrevocable.
"Now we must negotiate on the basis of our interests. And 'negotiate' means, above all, strengthening common projects."
The Chancellor added that although Brexit is a test for the EU, the union offers its members a strong voice in the world that an individual country would not have.
Germany's Deputy Foreign Minister has also hinted at an advantageous Brexit deal for both nations.
Brexit protest: Thousands march in London

Show all 12
Michael Roth, the government minister responsible for European affairs, said Britain's future relationship with the EU requires a "custom-fit" solution, however it will not be able to "cherry-pick" its terms, insisting the UK cannot expect access to the EU's common market without the free movement of workers.
Mr Roth told Bloomberg on Wednesday: "This is a historically unique situation. Britain is a major economy and has been an EU member for decades. We will surely reach a custom-fit agreement between the EU and Britain."
On Thursday, Norwegian Prime Minister Erna Solberg suggested she saw some advantages if Britain joined the four-nation European Free Trade Association (EFTA) after quitting the EU, qualifying past doubts about British membership.
She told Reuters, Britain's 65 million people would radically change the EFTA, which now comprises Norway, Switzerland, Iceland and Lichtenstein with a combined population of just 14 million.
"It's easy to see some advantages of British membership. It's a big country with a big economy," Ms Solberg said.
But the benefit of more clout also means Britain might demand conditions that would mainly help it - rather than its putative EFTA partners - when negotiating trade deals.
"Some countries will probably think it's fine to have a free trade deal with us [EFTA], but won't necessarily think that it's equally simple to have a free trade deal with Britain," she said.
Senegal charities fear EU aid cuts post-Brexit
This not the first time Ms Merkel has said Brexit is irreversible, previously saying it is "wishful thinking" to suggest there is any way Britain can stay in the EU.
Speaking ahead of an EU summit in June, Ms Merkel said: "I want to say very clearly … that I see no way to reverse this.
"We all need to look at the reality of the situation. It is not the hour for wishful thinking."
Additional reporting by agencies
Register for free to continue reading
Registration is a free and easy way to support our truly independent journalism
By registering, you will also enjoy limited access to Premium articles, exclusive newsletters, commenting, and virtual events with our leading journalists
Already have an account? sign in
Register for free to continue reading
Registration is a free and easy way to support our truly independent journalism
By registering, you will also enjoy limited access to Premium articles, exclusive newsletters, commenting, and virtual events with our leading journalists
Already have an account? sign in
Join our new commenting forum
Join thought-provoking conversations, follow other Independent readers and see their replies