Brigitte Macron: Introducing France's most unusual First Lady ever
Sixty-four-year-old former teacher will take up newly-defined role at the Élysée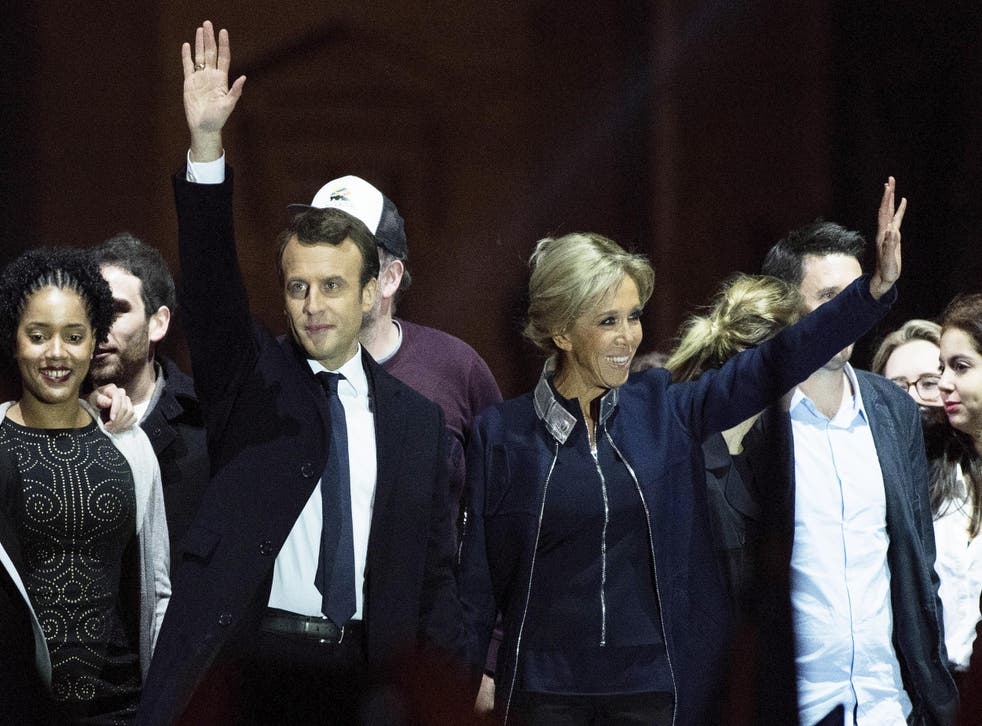 As Emmanuel Macron celebrated his victory over the far-right candidate Marine Le Pen on Sunday, he brought his wife onto the podium and thanked her for her support during the campaign.
"Brigitte, always present, and even more now, without whom I would not be me," the newly-elected president told the crowd.
Brigitte Macron (née Trogneux) has been a constant presence at Macron's side throughout the campaign, managing his agenda, editing his speeches and advising him on his stage presence.
The couple famously met when Mr Macron was a 15-year-old drama student at a school in Amiens, northern France, and his future wife directed him in a school play.
The following year, the couple collaborated to rewrite a play together - but when rumours began to circulate about their relationship, the young Macron's parents moved him away to complete his education at the prestigious Lycee Henri IV in Paris.
When he left, Mr Macron told Ms Trogneux, "You cannot get rid of me. I will come back and I will marry you," according to his biographers.
The pair eventually married in 2007, when he was nearly 30 and she 54 years old.
"Thanks for accepting us, a not-quite-normal couple," Macron is heard saying in a video of the ceremony, attended by Trogneux' then adult children. He was nearly 30, she 54.
French crowd goes wild as Macron is announced election winner
The couple's 25-year age difference has been a source of ridicule for the French press.
The couple have responded to the media's "obsession" by claiming it attests to ingrained misogyny, pointing out that Donald and Melania Trump, whose age gap is exactly the same, have not faced any scrutiny about their relationship.
Mr Macron has said he will define the ambiguous role of French First Lady for the first time, and draw up an official job description for Brigitte.
The details of her role are yet to be defined, but the President has been very clear that the work will be unpaid, after the right-wing presidential candidate Francois Fillon's campaign was effectively ended by the allegations that he paid his wife public money to do a "fake job".
Former teacher Brigitte is expected to focus on education reform.
"She will concentrate on work for autistic and disadvantaged kids, out of the political firing line," Candice Nedelec, co-author of a biography of the couple, told The Times.
Join our new commenting forum
Join thought-provoking conversations, follow other Independent readers and see their replies