Brigitte Macron's daughter speaks out against critics of French President and First Lady's relationship
The 24-year age gap between Ms Macron, 64, and her husband, 39, has come under much scrutiny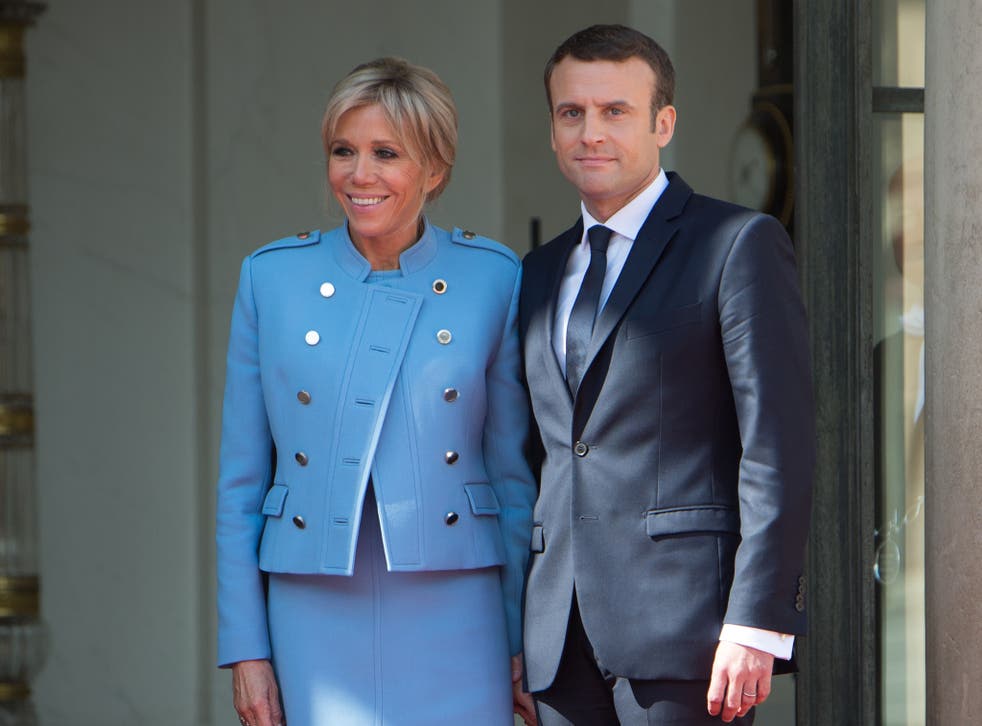 The daughter of France's new First Lady Brigitte Macron (née Trogneux) says "jealousy" is behind the "abhorrent" attacks on her mother's relationship with Emmanuel Macron, who was proclaimed the President of France Sunday morning.
The 24-year age gap between Ms Macron, 64, and her husband, 39, has come under much scrutiny, since the French President launched his leadership bid in November 2016, months after founding the En Marche! political movement.
"I don't want to give credence to people who do this kind of thing," Tiphaine Auzière, 32, told BFMTV.
"I find it abhorrent in France in the 21st century such attacks, which would not be carried out against a male politician or a male companion of a female politician," she continued.
"There's a lot of jealousy."
Ms Macron has faced considerable abuse since details of how she and Mr Macron met surfaced.
Their romance began while Mr Macron was a student at Jesuit school Lycee La Providence in Amiens, northern France.
Brigitte was a drama teacher at the school – and the pair fell for each other when Emmanuel starred in one of her plays at the age of 15.
The pair had collaborated to rewrite a play together the following year, but when rumours began to percolate about their relationship, Mr Macron's parents decided to take him out of the school and enrolled him at the prestigious Lycee Henri IV in Paris to complete his education.
Still, the teenager was persistent and told his drama teacher, "You cannot get rid of me. I will come back and I will marry you," according to his biographers.
He eventually fulfilled that promise, with the couple finally marrying in 2007, when he was nearly 30 and she 54 years old.
Mr Macron was officially inaugurated as France's youngest President since Napoleon on Sunday morning.
He is also the only leader under France's Fifth Republic to be younger than his partner – and the Macrons will have the largest age gap of any French first couple under the Fifth Republic.
World news in pictures

Show all 50
Charles de Gaulle and François Hollande were both close to a decade older than their partners when they entered office.
Discussing the widespread scrutiny of his relationship with his wife, Mr Macron told Le Parisian newspaper earlier this week that "if I had been 20 years older than my wife, nobody would have thought for a single second that I couldn't be".
Many have also pointed out the same double standard, highlighting that there was little scrutiny or media attention paid to the nearly identical age gap in the relationship between US President Donald Trump and wife Melania.
Others have suggested the Macrons' marriage could be considered social "revenge" for years of powerful men seeking younger wives.
French satirical magazine Charlie Hebdo also faced criticism over a front cover showing the French President next to a pregnant Brigitte Macron with the caption: "He will do miracles."
Ms Macron tweeted out an image of the front page herself, writing: "Everything that is technically possible is not necessarily desirable or desired."
She also wrote the same day: "I've become accustomed to listening only to those who convey positive messages."
Join our new commenting forum
Join thought-provoking conversations, follow other Independent readers and see their replies