Britain First: Far-right British group invited to speak at Russian parliament
Special parliamentary session brought together far-right politicians from across the globe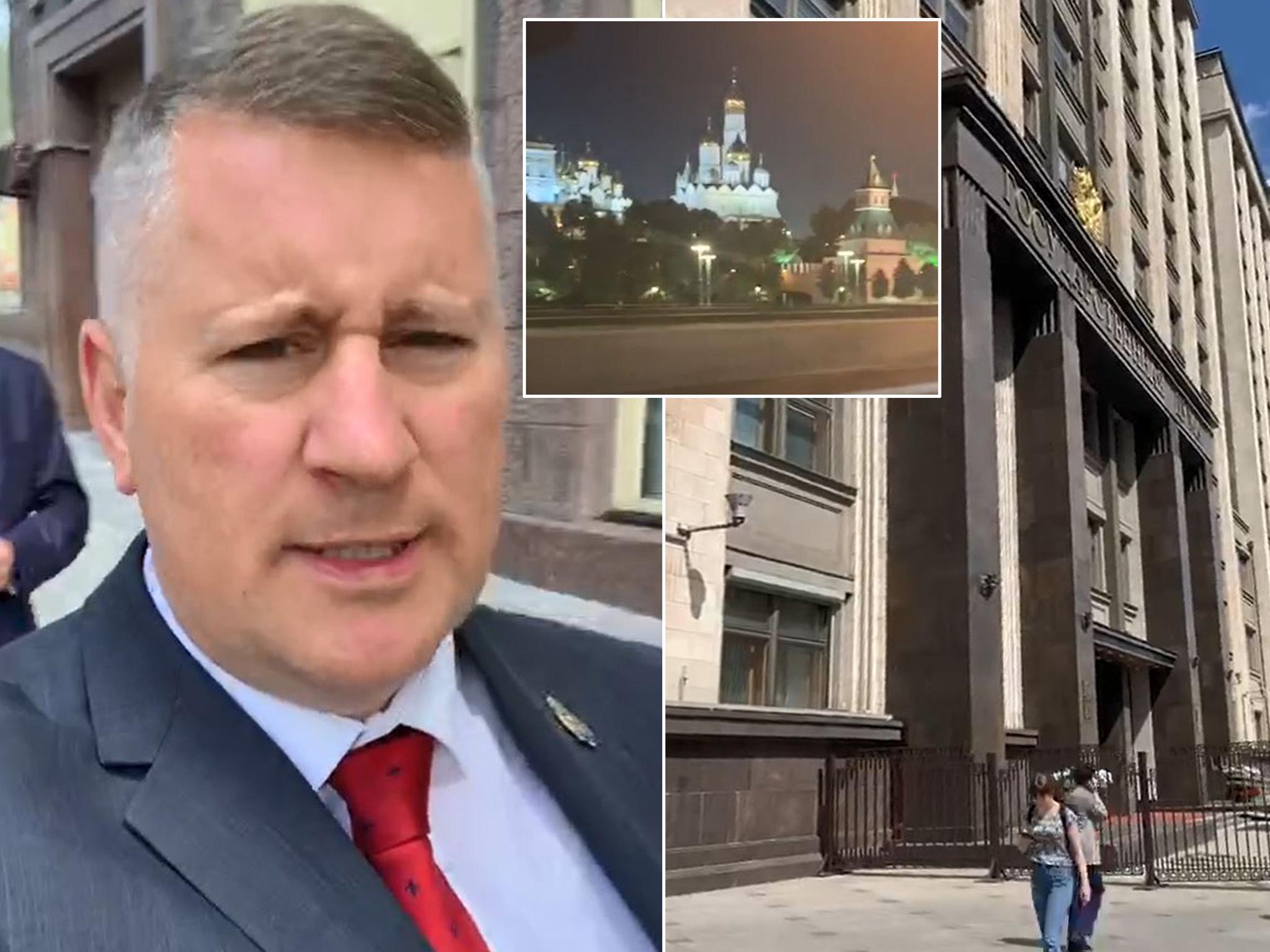 Russian parliamentarians have raised eyebrows by inviting British white supremacists and other far-right politicians to a special session at the State Duma.
Paul Golding, the leader of the ultra-right Britain First party, led a delegation of three to speak at a roundtable on Tuesday afternoon. Speaking on social media before the event, he said the invitation was a sign people were listening: "The growth and prominence of Britain First are beginning to be recognised internationally."
Those who came up with the title of the event – the International Conference of Peace-loving Forces – may have been unaware of the far-right activist's multiple previous convictions for violence.
It was not the only moment that reality departed from the words. The hosts of the roundtable, the so-called Liberal Democratic Party of Russia (LDPR), are one of the Kremlin's co-opted "opposition" parties. But they spent most of the session gushing in Vladimir Putin's rejection of liberalism and democracy.
One after another, hand-picked guests, from European far-right parties and far beyond, joined in the praise of the Russian president.
World news in pictures
Show all 50
"We wholeheartedly agree with your president that liberalism is obsolete," said Bartosz Bekier, leader of Falanga, a party on the Polish extreme right.
"We need to end the new Cold War … to defend traditional values."
The chair of the roundtable, Anton Morozov, a member of the Duma's international affairs committee, agreed, saying: "There was a time when we would just call gays the perverts that they are."
Businessman David Lifschultz, a man described as "Donald Trump's friend", set forth a fawning vision of geopolitics. Sanctions were war, he said. The west was in no position to lecture about Ukrainian independence: "Ukraine has been part of Russia for 400 years! The only reason why they gave them independence was so that local oligarchs could loot the country."
In a short address, Mr Golding claimed the west was "under attack by the forces of globalisation and the left".
Russia has long been accused of wooing the bad, mad and extreme of western populism to undermine political consensus.
The chair told his international guests that the "peace-loving" forum was instead designed to "develop friendly relations" with other countries – even if those countries are frequently "showing aggression towards Russia".
Vladimir Zhirinovsky, LDPR's veteran nationalistic leader, insisted the forum would push "new standards" in democracy.
"The planet is crying out for its own Hyde Park," he said. "This is what we are doing here. Our meeting is the start of a battle for peace."
Join our commenting forum
Join thought-provoking conversations, follow other Independent readers and see their replies