Brussels attacks: Manhunt for third bomber begins after bombings shake Belgian capital
New pursuit begins as police issue CCTV image of three men pushing heavily laden luggage trolleys into Brussels Airport shortly before its departure hall was devastated by two explosions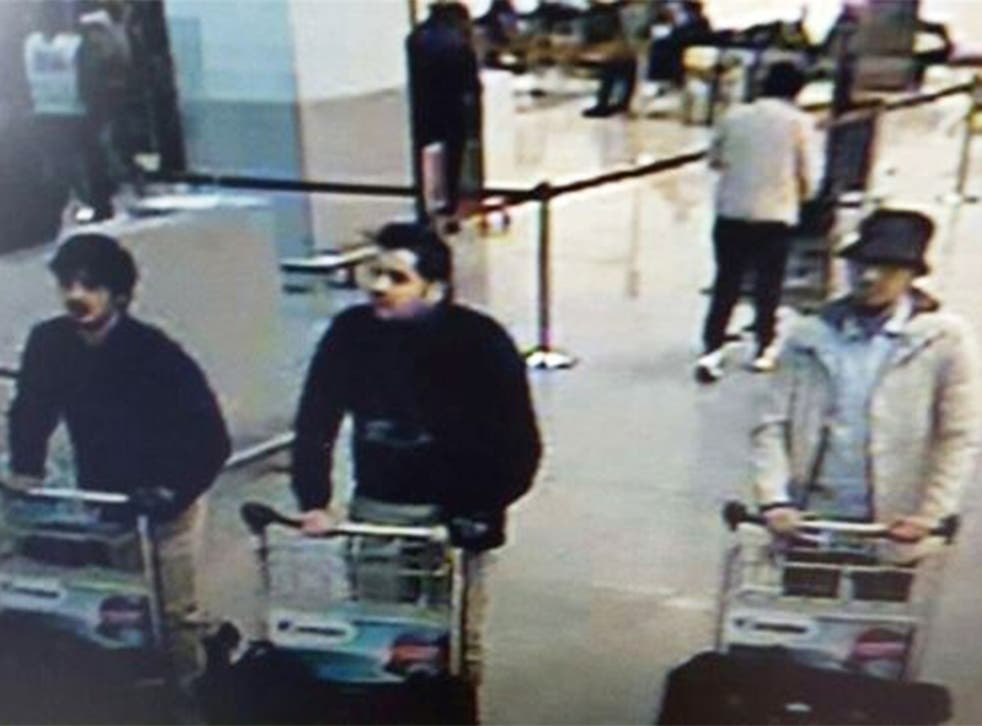 A manhunt is under way for the third member of a team of bombers who brought carnage to Brussels Airport, after at least 34 people died in jihadist terror attacks on the Belgian capital.
Days after the Belgian authorities ended their four-month hunt for the Paris attacker Salah Abdeslam, a new pursuit began as police issued a CCTV image of three men pushing heavily laden luggage trolleys into Brussels Zaventem Airport shortly before its departure hall was devastated by two explosions at 8am (7am GMT). At least 14 people were killed at the airport and 81 wounded. At least 20 others died in a bomb attack on a metro train and more than 100 were wounded.
Investigators were urgently seeking one of the three men – clad in a thick light-coloured jacket with a black hat and thick glasses – after announcing that his two apparent accomplices were believed to have died in the suicide attack. The two men who are believed to have died were captured on grainy CCTV footage wearing what looked like single black gloves on their left hands - giving rise to speculation that they may have been used to conceal detonators for the devices.
"They came in a taxi with their suitcases, their bombs were in their bags," Zaventem's mayor, Francis Vermeiren, told the Agence France Presse news agency. "They put their suitcases on trolleys, the first two bombs exploded."
He added that a third "put his on a trolley but he must have panicked, it didn't explode."
An unexploded suicide vest was later found at the airport, which led to speculation that the wanted man may have pulled out of the assault at the last moment.
In pictures: Terror attacks at Brussels airport

Show all 30
An hour after the attack, a third device detonated on a train at the central Maelbeek metro station.
Isis claimed responsibility for the atrocities. Brussels had been living in fear of such an event since it emerged that the city had been the planning and logistical base for the attacks on Paris last November.
Europe on high alert after Brussels attacks
There was speculation that the attackers may have been prompted to strike swiftly because they feared police may be closing in on them, after the revelation on Monday by Abdeslam's lawyer that his client was "collaborating" and "communicating" with police. Pieter Van Ostaeyen, an expert on Islamic radicalism in Belgium, told The Independent: "These guys acted because of last week, the arrest of Salah Abdeslam.
They needed to kill immediately before they would be identified. It is not in retaliation over the capture. It is rather that their cover might have been blown."
The Belgian Prime Minister acknowledged that fears of further attacks on home soil had come true. A sombre Charles Michel said: "What we feared has happened. In this time of tragedy, this black moment for our country, I appeal to everyone to remain calm but also to show solidarity."
Federal prosecutors confirmed that raids in the Schaerbeek area of Brussels had led to the discovery of an explosive device containing nails, chemical products and an "Islamic State" flag.
At least one Kalashnikov was recovered from the attack on the airport. Doctors treating the injured said they had recovered nails from survivors, suggesting the bomb or bombs had been packed with additional shrapnel.
Belgian federal prosecutor Frederic Van Leeuw said two of the three men in the CCTV photo had "very likely committed a suicide attack", while confirming the manhunt for the third man dressed in white.
But as the hunt for the fugitive continued, questions were being asked about the timing of the attack and whether it was linked to publicity surrounding the arrest of Abdeslam in a shootout on Friday.
Ministers and officials were barely able to conceal their relief at the capture of the Belgian-born jihadist.
But revelations from prosecutors that they believed the jihadist may have been plotting further attacks and confirmation from his lawyer that his client was co-operating with investigators led to concern that the killings were the work of members of the same or a linked jihadist cell who believed security services were close to tracking them down.
Mr Van Ostaeyen said the bombings followed the same logic of previous attacks: kill as many people as possible, without discrimination. He added: "I'm afraid that the police are just a few steps behind. They were very convinced that they stopped something big last week. And Isis probably wanted to show they can hit the heart of Europe at any time."
Witnesses described hearing shouts in Arabic and gunshots moments before a heavy detonation blew out windows at the airport, bringing down a rain of ceiling fittings and water from ruptured pipes on the bodies of passengers who had moments earlier been queuing at check-in desks.
The bombing at Maelbeek station took place some 100 metres from the headquarters of the European Commission. Dazed and injured commuters spilled out on to the streets in scenes reminiscent of the 7/7 attacks on London.
Within minutes of the assault, the Belgian capital was placed in a state of lockdown with all public transport suspended and workers ordered to remain in their offices and pupils in their schools. Security was also tightened at Belgium's nuclear power plants.
Within hours of the attack, the Twitter hashtag #PrayforBelgium was trending across Europe and the United States, while in Brussels itself residents offered to open their doors for workers stranded in the city centre. The association representing the city's taxi drivers said its members were offering free rides to anyone seeking to return home.
Images shared on social media included Tintin, the cartoon reporter created by Belgian cartoonist Hergé, saying "Let's be strong", along with a drawing by French cartoonist Plantu showing a figure in the French tricolour putting an arm around a weeping Belgian flag.
The US President, Barack Obama, called the bombings "outrageous attacks on innocent people".
As the country began three days of national mourning, Belgium's King Philippe said: "For all of us, the 22nd of March will never again be a day like any other. Our country is in mourning. Our whole country bears the pain of lives that have been broken, of deep wounds that have been inflicted."
Register for free to continue reading
Registration is a free and easy way to support our truly independent journalism
By registering, you will also enjoy limited access to Premium articles, exclusive newsletters, commenting, and virtual events with our leading journalists
Already have an account? sign in
Register for free to continue reading
Registration is a free and easy way to support our truly independent journalism
By registering, you will also enjoy limited access to Premium articles, exclusive newsletters, commenting, and virtual events with our leading journalists
Already have an account? sign in
Join our new commenting forum
Join thought-provoking conversations, follow other Independent readers and see their replies