Brussels attacks: New suspect 'identified in CCTV at Metro station' as hunt continues for accomplices
The man, who has not been named, was reportedly seen carrying a large bag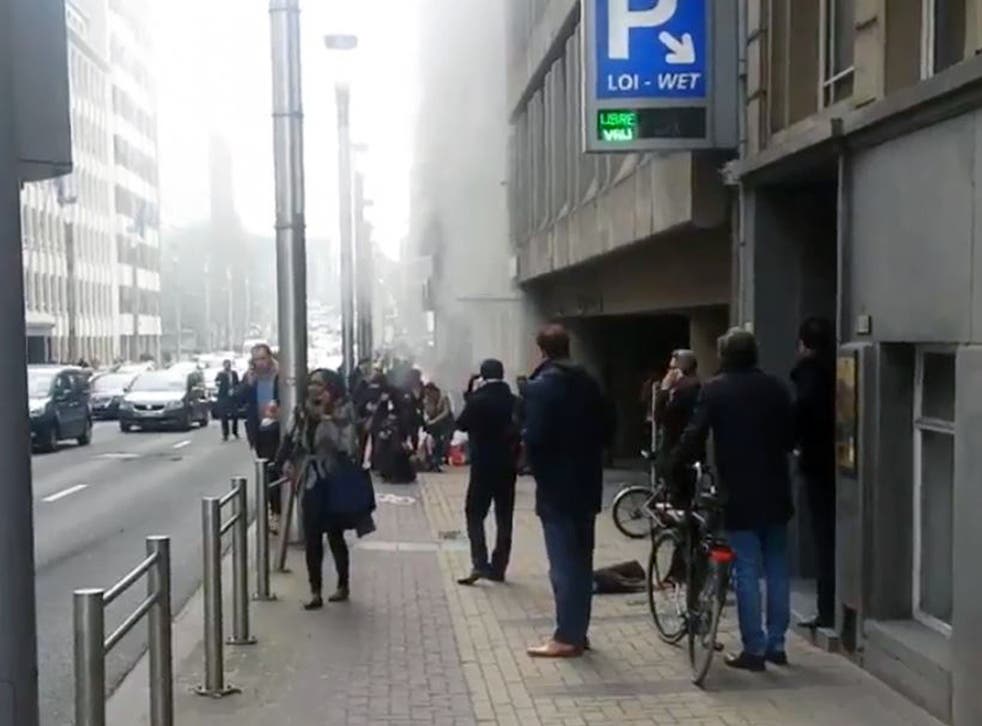 At least two Brussels attackers may still be on the run in Belgium as police continue to hunt for accomplices.
A suspect caught on CCTV pushing a luggage trolley next to two suicide bombers at Brussels Airport is believed to have survived and fled the scene, leaving his unexploded suitcase bomb sitting in the departures hall.
Searches have been underway for the unidentified man since the attacks on Tuesday but a fifth suspect may also have been involved, according to new reports.
Brussels attack suspects named as manhunt intensifies
Before Khalid el-Bakraoui blew himself up at Maelbeek Metro station, another man was spotted carrying a large bag on surveillance cameras.
Belgium's public broadcaster, RTBF, quoted security sources saying he was suspected of involvement but had not been identified, adding that it was unclear whether the man had died or escaped before the blast.
Prosecutors did not immediately confirm the reports.
El-Bakraoui's brother, Brahim, was identified as one of two suicide bombers who targeted the Brussels Airport the same day in attacks that killed at least 31 people and injuring around 300.
In pictures: Terror attacks at Brussels metro station

Show all 30
The second dead airport attacker was Najim Laachraoui, a veteran Belgian Islamist fighter in Syria suspected of making explosive belts for November's Paris attacks.
He was originally reported to be on the run, with police releasing the 24-year-old's mugshot and appealing for information on him and his alias, Soufiane Kayal.
Maggie De Block, the Belgian health minister, said around 60 victims were still in intensive care on Wednesday, including four in a coma.
Efforts are continuing to identify the wounded and killed, who are from more than 40 countries, as families continue desperate appeals for information.
What we know about the attackers so far:
Brahim el-Bakraoui
The 29-year-old Belgian national blew himself up in the attack that killed 11 people at Brussels Airport .
He can be seen in a CCTV image of the attackers, where he is standing in the middle of the trio wheeling the suitcase bomb that killed him with a detonator possibly concealed inside a glove on his left hand.
Born in the Belgian capital, prosecutors said he had a lengthy criminal history, including a nine-year prison sentence for shooting at police officers during a robbery in 2010.
Reports in Turkey suggested he may have attempted to fight for Isis in Syria, with President Recep Tayyip Erdogan confirming one of the Brussels attackers was detained in the southern city of Gaziantep in June last year before being deported.
A statement found on a laptop dumped in a bin near the attackers' hideout appeared to show Brahim panicking before the attack.
Paraphrased by Beglium's federal prosecutor, he said he was "in a rush, no longer knowing what to do, hunted everywhere" and fearing ending up in a cell "next to him", taken to mean Salah Abdeslam.
Khalid el-Bakraoui
His 27-year-old brother blew himself up on a train leaving Maelbeek Metro station little an hour after Brahim died.
He was linked to the Paris attacks and also had a criminal history known by police, which culminated in a five-year prison sentence for carjacking in 2011.
After violating the conditions of his parole Interpol issued a "red notice" alerting police forces around the world, listing charges as "terrorism".
An international arrest wrrant was issued on 11 December after investigators revealed he used the alias Ibrahim Maaroufi to rent a flat in the Belgian town of Charleroi where the Paris attackers prepared for their massacres.
Reports claimed he also used an alias to rent the apartment in Forest, Brussels, where Abdeslam's fingerprints were found after police killed former Isis fighter Mohamed Belkaid in a gun battle.
The 24-year-old was initially thought to have fled Brussels Airport after being caught on CCTV alongside two accomplices but is now believed to have died in one of the explosions.
Laachraoui, said to be on the far left of the trio in released images, blew himself up alongside Brahim el-Bakraoui, killing at least 11 people.
Authorities were already hunting the Belgian national in connection with the Paris attacks, having identified him as an accomplice of Salah Abdeslam and facilitator for the massacres.
Laachraoui travelled to Syria in February 2013 and was operating under the fake Belgian identity of Soufiane Kayal when he returned to Europe.
He was stopped at the Austria-Hungary border in September with Abdeslam and Belkaid, and was suspected of making bombs for the massacres after his DNA was found on several explosive belts.
Authorities also discovered Laachraoui's fingerprints at two properties used by the Paris attackers, one of which he rented in Auvelais another in the Brussels' Schaerbeek district.
Unidentified airport attacker
The hunt continued on Thursday for a third airport attacker pictured on CCTV wearing a distinctive white coat, glasses and hat.
Unlike his suspected accomplices, he was not wearing a glove believed to conceal detonating mechanisms.
The suitcase bomb he was wheeling on a luggage trolley was the most powerful of the three but failed to explode, prosecutors said.
Police believe the unnamed man fled the scene and are appealing for information after a stock of bomb-making materials was found at an apartment used by the attackers.
Additional reporting by agencies
Register for free to continue reading
Registration is a free and easy way to support our truly independent journalism
By registering, you will also enjoy limited access to Premium articles, exclusive newsletters, commenting, and virtual events with our leading journalists
Already have an account? sign in
Register for free to continue reading
Registration is a free and easy way to support our truly independent journalism
By registering, you will also enjoy limited access to Premium articles, exclusive newsletters, commenting, and virtual events with our leading journalists
Already have an account? sign in
Join our new commenting forum
Join thought-provoking conversations, follow other Independent readers and see their replies