Brussels: Man wearing fake suicide vest made of biscuits and salt sparks anti-terror operation at shopping centre
A man called police claiming he was wearing a bomb vest but no explosives were found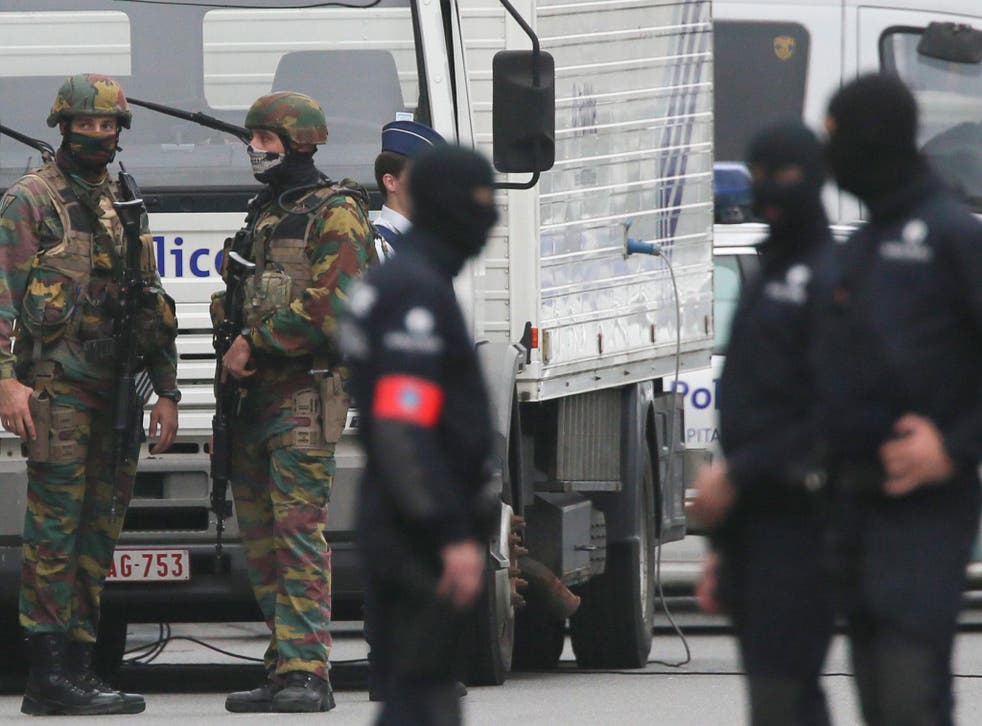 A shopping centre in central Brussels has been evacuated following a security alert over a man feared to be wearing a suicide vest.
Bomb disposal units and the emergency services shut down the City2 complex in the Belgian capital this morning after the alarm was raised.
A man called police at 5.30am claiming he was wearing an explosives belt that could be triggered remotely, sparking an anti-terror operation.
But the "device" contained nothing more harmful than biscuits and salt, prosecutors said, with photos showing it comprised parcel tape, tin foil, a phone and a wire.
A full counter-terror operation had been mounted early in the morning, causing Prime Minister Charles Michel to cancel a radio appearance for an urgent meeting with the national crisis response centre.
Mr Michel later said that the situation was under control, adding that security services remained "extremely vigilant".
A suspect was arrested at the scene and found to be wearing a fake suicide vest.
"He is being questioned at the moment," said Ine Van Wymersch, a spokesperson for the Brussels prosecutors' office. "There were no explosives."
A statement said initial inspections revealed that the fake vest "contrained salt and biscuits", adding: "Any threat of an explosion could be ruled out."
The suspect, named as JB, born in 1990, was previously known to authorities and has a history of mental illness. He recently contacted the police claiming he had been encouraged to join Isis in Syria.
Prosecutors said his statements had been investigated and several people interviewed, but the claim could not be confirmed or denied.
Authorities are currently determining whether to treat the incident as terror-related or as a hoax.
Rogier Metro station and surrounding roads were temporarily closed as a security cordon was established around the shopping centre while the operation continued.
A spokesperson for Belgium's crisis centre said nationwide security measures remained unchanged, with the threat on level three out of a maximum four.
Shopping centres were among the reported targets of a group of Isis fighters said to be travelling towards Belgium from Syria last week, sparking increased precautions.
Belgium has been on high alert since the Isis attacks on Paris in November, when several of the militants were traced to Brussels.
In pictures: Terror attacks at Brussels airport

Show all 30
In March, bombings at Brussels Airport and Maelbeek Metro station killed 32 people, and there have been reports of several further plots.
Dozens of people were arrested in raids last Friday on reported intelligence that they were planning to attack the Belgian capital as people watched the national team's Euro 2016 match against Ireland on Saturday.
Three men were detained on charges of "attempting to commit terrorist murder" and participating in the activities of a terrorist group, believed to be Isis.
A new suspect, named as Youssef al-Ajmi, was also arrested in connection with the Brussels attacks last week, as investigations into a suspected network of supporters continues.
On Monday, a series of house searches relating to the attack on a high-speed train from Amsterdam to Paris on 21 August 2015, resulted in six arrests. No one was killed in the incident, when passengers tackled the gunman to the ground after he opened fire with an assault rifle and pistol.
Abdelhamid Abaaoud, an Isis fighter and suspected ringleader in the Paris attacks, was linked to the attempted massacre.
Register for free to continue reading
Registration is a free and easy way to support our truly independent journalism
By registering, you will also enjoy limited access to Premium articles, exclusive newsletters, commenting, and virtual events with our leading journalists
Already have an account? sign in
Register for free to continue reading
Registration is a free and easy way to support our truly independent journalism
By registering, you will also enjoy limited access to Premium articles, exclusive newsletters, commenting, and virtual events with our leading journalists
Already have an account? sign in
Join our new commenting forum
Join thought-provoking conversations, follow other Independent readers and see their replies