Brussels Jewish Museum attack: Jihadist arrested in Marseille 'claimed responsibility for shooting on video' says investigators
Mehdi Nemmouche, who fought in Syria, is suspected of killing four people
John Lichfield
Monday 02 June 2014 11:21 Comments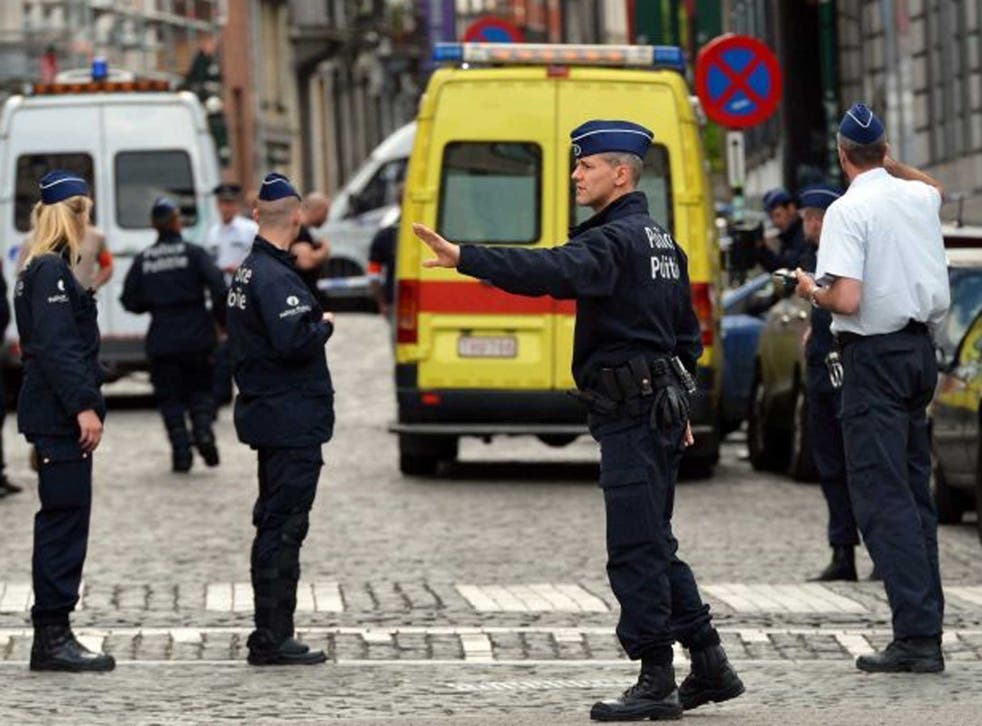 Fears of a western spill-over from Syrian civil war deepened today with the arrest of a young French jihadist suspected of carrying out the gun attack which killed three people at the Jewish museum in Brussels last weekend.
The suspect, Mehdi Nemmouche, 29, originally from Roubaix on the Franco-Belgian border, returned to Europe two months ago after spending more than a year with a radical Islamist group in Syria. He is also believed to have spent some time in Britain.
Although he has not admitted the Brussels shootings, French investigators say that there is a "strong body of evidence" linking him to the attack. He was arrested in Marseille on Friday after arriving on an overnight coach from Brussels.
A Kalachnikov automatic rifle with Islamist markings, a revolver and bullets similar to those used in the shootings were found in his luggage during a routine drugs check by customs officers. They also found press cuttings on the museum murders and a film for a miniature camera in which he appears to admit the attack.
The Belgian federal prosecutor, Frédéric Van Leeuw said on Sunday that it appeared that the suspect had tried to film the killings but his camera had failed.
"In his bag there was large quantity of high-calibre munitions and a Kalachnikov carrying the markings of the Islamic Sate of Iraq and the Levant, a group operating in Syria," Mr Van Leeuw said. "He also had a video tape in which he says he committed the Brussels murders. He has a right to be presumed innocent and I cannot guarantee absolutely, at this stage, that it his voice."
Mr Nemmouche is a convicted criminal with a troubled childhood who became a Syrian djihadist soon after he left prison in France in January 2013. He is refusing to reply to questions from investigators.
Belgian investigators are preparing a European arrest warrant and he is likely to be extradited to Belgium in the next couple of days.
If his involvement in the Brussels attack is proved, he will be the first European jihadist volunteer in Syria to have committed an act of terrorism on his return to Europe. Over the last two years, a least 3,000 western-born muslims are believed to have joined the radical, islamist groups which are fighting both the Syrian regime and the more secular opposition movements.
Both the French and British governments have taken action in recent weeks to try to cut off the flow of would-be fighters and intercept potential terrorists on their return. Last week Mashudur Choudhury, 31, of Portsmouth, was convicted of engaging in preparation for terrorist acts after he returned to Britain from Syria in late October. An American-born jihadist, so far unnamed, carried out a suicide bombing in Syria eight days ago.
The French President François Hollande said on Sunday that Paris would redouble its efforts to prevent the Syrian conflict from bringing a new wave of anti-jewish or anti-western terrorist attacks to Europe. Mr Hollande dismissed suggestions that the French authorities should have intercepted Mr Nemmouche – a known djihadist, officially "under surveillance" – as soon as he returned from Syria in March.
The suspect re-entered Europe through Germany and then moved on to Belgium, Mr Hollande pointed out. Soon after he entered France, he was arrested. This suggests, however, that European cooperation in following ex-Syrian fighters is inadequate or non-existent.
"We are determined to track these jihadists and to ensure that they can do no harm when they return from a war which has nothing to do with them and nothing to do with us," President Hollande said.
"The message to the jihadists is that we will fight them, we will fight them, we will fight them."
Joel Rubinfeld, head of the Belgian League against Anti-semitism said the arrest of a suspect was a relief but that his Syrian djihadist profile was a source of deep anxiety. "It is crucial that countries who have citizens who have gone to Syria take all necessary measures to make sure this does not happen again," he said.
Roger Cukierman, president of the Council of Jewish Organisations in France, said that it would be a "huge relief" if the suspect did prove to be the Brussels killer.
"While he was free, another attack was likely," he said. "On the other hand, it seems that the worst fears of western governments are being realised. The European jihadists in Syria are a time bomb waiting to go off."
French security sources said that Mr Nemmouche's behaviour was "amateurish", suggesting that he was acting alone rather than part of an organised network. To have carried guns in his luggage on a bus from Amsterdam to Marseille – a route under high surveillance for possible drugs couriers - was not the action of a highly trained or well-organised individual, they said.
If evidence is found linking Mr Nemmouche to the Brussels killngs, there will inevitably be comparisons with Mohamed Merah, the Toulouse scooter killer. Merah, 23, was also under surveillance when he killed seven people, including three Jewish children, in 2012.
Like Merah, Mr Nemmouche had a history of petty crime. He left prison in 2012 after serving six years for the robbery of a corner-store. Soon afterwards, he left France for Belgium, Britain and the Syria – implying that he may have been radicalised while in prison in France.
An unnamed woman described as Mr Nemmouche's aunt told French TV: "We are very shocked, We heard about this on the television news, We didn't expect anything like this." She described Mr Nemmouche as a "nice, intelligent, educated" young man but "very quiet" and "not someone to confide easily in others".
Mohamed Merah's sister, Saoud, also slipped the net of security surveillance in France last month and left the country. She is believed to have travelled to the Turkish-Syrian border with her husband and four children.
There are believed to be as many as 11,000 foreign fighters in Syria. The great majority come from other Muslim nations but around 3,000 come from Europe, Canada, Australia and the United States.
France, with around 700, and Britain, with 400, are thought to provide the biggest contingents of European-born fighters.
There are also Belgians, Dutch, Scandinavians, Albanians and Bosnians.
Register for free to continue reading
Registration is a free and easy way to support our truly independent journalism
By registering, you will also enjoy limited access to Premium articles, exclusive newsletters, commenting, and virtual events with our leading journalists
Already have an account? sign in
Join our new commenting forum
Join thought-provoking conversations, follow other Independent readers and see their replies