Newly-wed couple in Brussels refuses to let Isis ruin their wedding day
The Belgian army has been deployed across the city since Friday night and the streets have been deserted - almost
Adam Withnall
Sunday 22 November 2015 12:23 Comments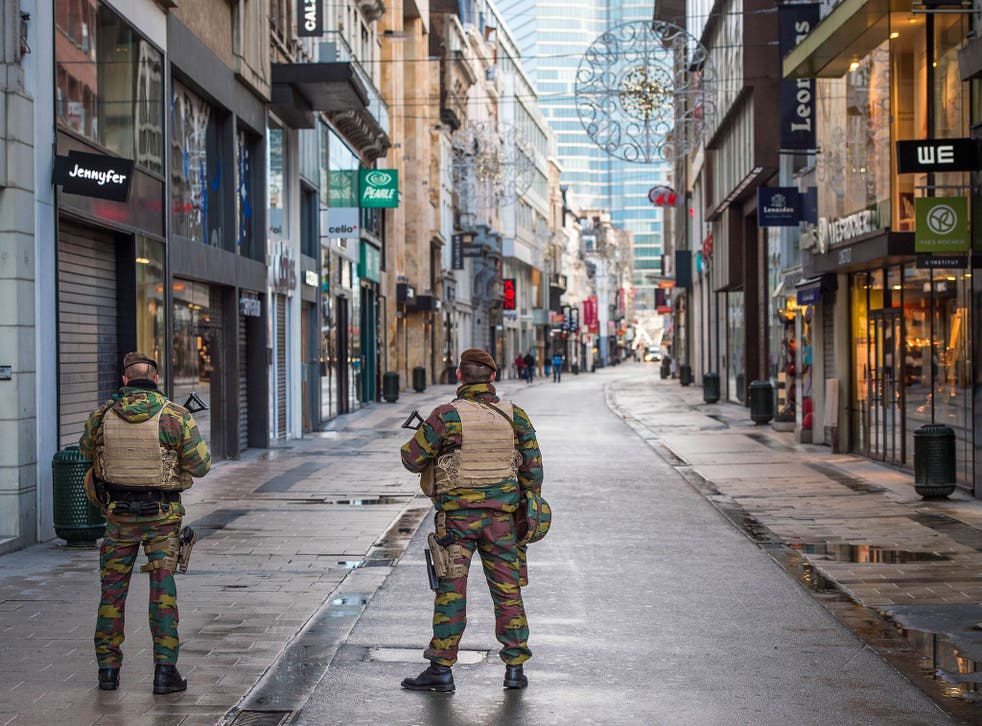 A young couple in Brussels has refused to allow the threat of a "serious and imminent" terror attack ruin their wedding.
In a picture that captured the extraordinary state of military lockdown in the historic city this weekend, the Greek-Flemish newly-weds posed for photos outside a church – flanked by two heavily armed soldiers.
The Belgian army was deployed across the city on Friday night amid a manhunt for the Paris attack suspect Salah Abdeslam.
According to friends, Abdeslam was driven to Brussels shortly after last Friday's shootings, still wearing the suicide vest he failed to detonate in the French capital.
On Saturday, the Belgian Prime Minister Charles Michel said the terror threat level in Brussels had been raised to its highest point based on "precise information about an attack along the lines of what took place in Paris".
He said: "We are talking about the threat that several individuals with arms and explosives would launch an attack, perhaps in several locations at the same time."
But he also said people should be alert without overly panicking, and some – like the couple pictured on Saturday – have not allowed the threat to get in the way of their lives.
On Saturday night, the streets of Brussels were more or less abandoned after cafes and restaurants were told not to open past 6pm and the public was asked to avoid meeting in large groups.
Victims of the Paris attacks

Show all 33
The metro and other public services were also shut down – though justice minister Koen Geens told a Belgian TV station the transport network was going to reopen for the Monday morning commute.
Register for free to continue reading
Registration is a free and easy way to support our truly independent journalism
By registering, you will also enjoy limited access to Premium articles, exclusive newsletters, commenting, and virtual events with our leading journalists
Already have an account? sign in
Join our new commenting forum
Join thought-provoking conversations, follow other Independent readers and see their replies