Burkini ban in Cannes overturned as French court rules decree 'violates basic freedoms'
The decision follows a ruling by a top French court over a similar ban in the town of Villeneuve-Loubet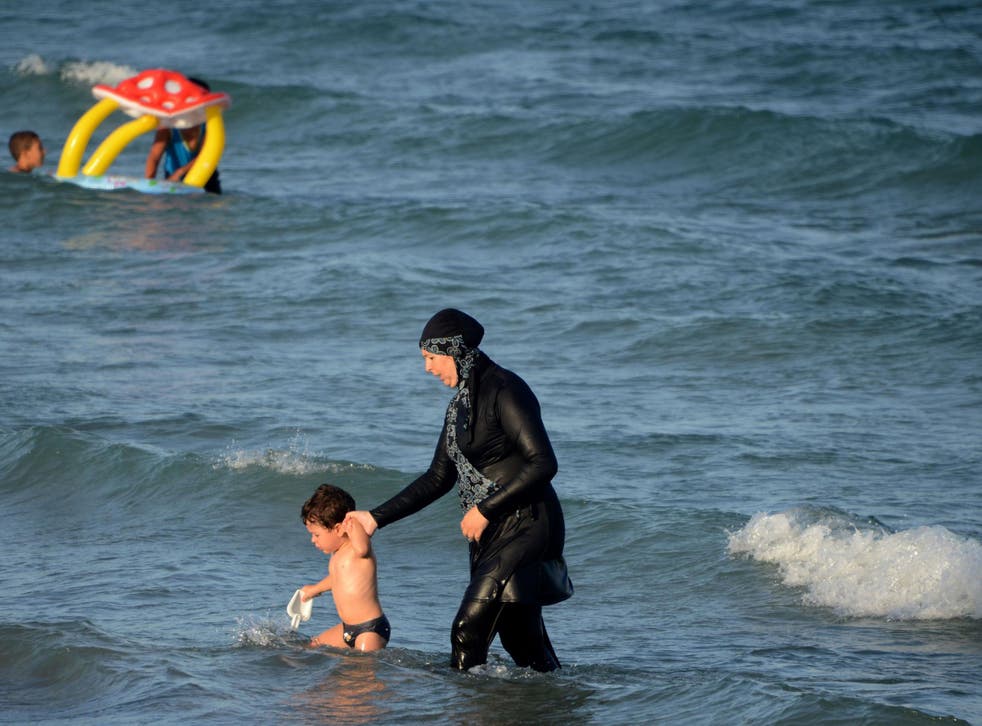 A "burkini ban" issued in Cannes has been overturned by a French court on the basis that it is a violation of fundamental liberties.
A court in Nice ruled the Cannes decree violates basic freedoms and is illegal as there were no proven risks of disruption to public order, or reasons of hygiene or decency for the ban.
The decision follows a ruling by France's highest administrative court over a similar ban in the Riviera town of Villeneuve-Loubet, which set a legal precedent.
After the Council of State overturned the Villeneuve-Loubet ban last week, human rights groups said they would challenge similar bans issued in around 30 French cities, resorts and communes.
Cannes was the first in a series of Riviera towns to ban the full-body swimsuits, worn by some Muslim women, on its beaches.
Rulings over the bans have been closely watched in France and around the world, after photos of armed police surrounding a Muslim woman as she removed her top on a beach in Nice sparked outrage.
Lawyers for a human rights group and a Muslim collective challenged the Villeneuve-Loubet ban at the top court, saying mayors had overstepped their powers by telling women what to wear on beaches.
Mayors had previously cited a number of reasons for the bans. These included security after a string of terror attacks in the country and elsewhere in Europe; risk to public order; and France's rules on secularism in public.
The Council of State ruled: "The emotion and concerns arising from the terrorist attacks, notably the one perpetrated in Nice on July 14, cannot suffice to justify in law the contested prohibition measure."
Cannes mayor David Lisnard, said earlier this month the ban was being introduced in the town to prohibit "beachwear ostentatiously showing a religious affiliation while France and places of religious significance are the target of terror attacks".
In pictures: Protest against burkini bans in London

Show all 10
"I took this decision among several other rulings to make sure my city is safe in the context of the state of emergency," he added.
Following the overturn of the Villeneuve-Loubet ban, lawyer Patrice Spinosi, representing the Human Rights League, said women who had already received fines could appeal against them based on the decision.
He said the group planned to ask all French mayors who banned burkinis to withdraw their orders and, if they refused to do so, he would systematically take each case to court.
Earlier on Tuesday, the UN human rights office condemned local bans in France on burkini swimwear as "a grave and illegal breach of fundamental freedoms" and a "stupid reaction" to recent extremist attacks.
Additional reporting by Associated Press
Register for free to continue reading
Registration is a free and easy way to support our truly independent journalism
By registering, you will also enjoy limited access to Premium articles, exclusive newsletters, commenting, and virtual events with our leading journalists
Already have an account? sign in
Register for free to continue reading
Registration is a free and easy way to support our truly independent journalism
By registering, you will also enjoy limited access to Premium articles, exclusive newsletters, commenting, and virtual events with our leading journalists
Already have an account? sign in
Join our new commenting forum
Join thought-provoking conversations, follow other Independent readers and see their replies