Burkini ban suspended: French court declares law forbidding swimwear worn by Muslim women 'clearly illegal'
 Conseil d'Etat ruling suspends ban in Villeneuve-Loubet and sets legal precedent for France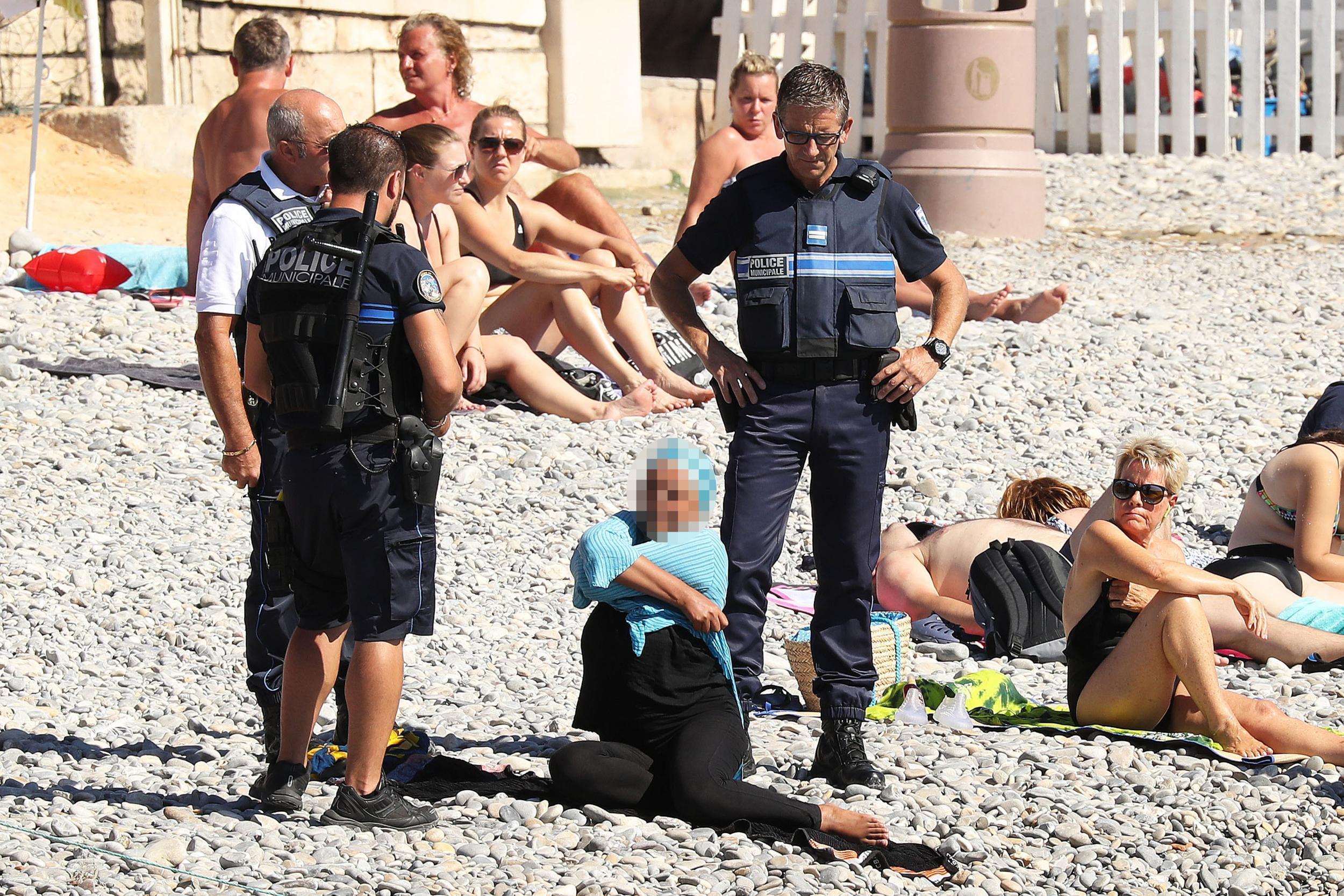 France's highest administrative court has ruled that "burkini bans" being enforced on the country's beaches are illegal and a violation of fundamental liberties.
The State Council (Conseil d'Etat) was specifically examining laws brought in by the commune of Villeneuve-Loubet but its verdict sets a legal precedent for France.
In their ruling, three senior judges said the ban "has dealt a serious and clearly illegal blow to fundamental liberties such as the freedom of movement, freedom of conscience and personal liberty."
They found that no evidence produced in favour of the prohibition proved a risk to public order was being caused by "the outfits worn by some people to go swimming".
French court to review burkini ban
The ruling was closely watched in France and around the world, after photos of armed police surrounding a Muslim woman as she removed her top on a beach in Nice sparked outrage this week.
A tribunal in the coastal city previously ruled a burkini ban in the commune of Villeneuve-Loubet was "necessary, appropriate and proportionate" to prevent public disorder.
Conservative Mayor of Villeneuve-Loubet, Lionnel Luca claimed after the that "rampant Islamisation is progressing in our country" and with the ruling to suspend his town's ban on burkinis at public beaches "they've gained a small additional step."
"Far from calming, this decision can only heighten passions and tensions, with the risk of trouble we wanted to avoid," he said.
Mr Luca, also an MP, said that now only a law can now stop troubles since mayors cannot do so. He suggested he would take action when Parliament returns from its summer leave – but did not say what kind of law he would seek.
The original ban was challenged by the Human Rights League (LDH) and Collective Against Islamophobia in France (CCIF), who took the case to the State Council.
In a statement, the LDH welcomed the verdict but said it will not resolve the "ridiculous debate that has made France the laughing stock of the world".
"What is at stake here is the division of the men and women who live in France by their origin and religion," activists said. "We reject this vision of France."
The CCIF greeted the State Council's verdict with "great relief", condemning mayors imposing the bans for damaging national cohesion.
"This victory has a strong symbolic resonance that will put an end to the onslaught of stigmatising and Draconian political statements," the group added.
In pictures: Protest against burkini bans in London
Show all 10
Patrice Spinosi, a lawyer representing the claimants, told reporters that the decision should set a precedent and that other local authorities should conform to it.
The ruling has suspended the anti-burkini law in Villeneuve-Loubet but the mayor of Sisco, in northern Corsica, said he would not lift his own ban.
Ange-Pierre Vivoni brought in the rule after a fight on a beach originally thought to have been sparked by the swimwear, which covers the body and hair.
"Here the tension is very, very, very strong and I won't withdraw it," he told BFMTV.
But Mr Vivoni has conceded he does not know whether a woman involved in the dispute between a group of sunbathers of North African origin and local residents was actually wearing a burkini.
At least 30 cities, resorts and communes have implemented bans on modest swimwear this summer and many more are believed to be considering the same move.
None of the vaguely-worded by-laws have specifically mentioned "burkinis" – a slang term describing a range of modest swimsuits covering the hair and body – but several officials have made it clear that Muslim clothing is being specifically targeted.
In Cannes, which was the first city to announce the prohibition, the mayor specifically alluded to the recent attacks by Isis supporters in Nice and Normandy.
The bans have since spread, sparking fierce debate about France's secular values, women's rights and religious freedom.
Front National (FN) leader Marine Le Pen said the overturning of the ban on burkinis in Villeneuve-Loubet is "not surprising" but the battle is not over.
The right-wing leader said that MPs must vote "as quickly as possible" on an extension of the 2004 law that banned Muslim headscarves and other ostentatious religious symbols in classrooms to include all public spaces.
Ms Le Pen, who is running for president in the 2017 race, wrote in a statement that: "The burkini would obviously be part of it."
Former President Nicolas Sarkozy, who is seeking the conservative nomination for the 2017 race, also said he would bring in a nationwide burkini ban if elected to his former post.
Allies of Mr Sarkozy said that they would propose a draft law that would allow mayors to ban burkinis. "We need a law," Nice deputy mayor Christian Estrosi said on Twitter.
Since conservatives do not have a majority in parliament and such a bill would have no chance of being adopted, Mr Estrosi suggested that Socialist Prime Minister Manuel Valls, who himself backed the bans, come up with a draft law.
Critics have compared the enforcement of the ban to repression in Saudi Arabia and Iran, arguing that governing women's clothing is a violation of human rights in any context.
Some rights groups have said the new laws amount to the "collective punishment" of Muslims following the terror attacks and amid friction over immigration and the refugee crisis.
Meanwhile, terror analysts have warned that the dispute will fuel jihadist propaganda as groups like Isis attempt to portray France and other Western countries as at war with Muslims.
According to a survey by Ifpop, 64 per cent of French people are in favour of the burkini bans, while 30 per cent described themselves as "indifferent" and only 6 per cent of respondents were opposed.
7 uncomfortable truths about the burkini ban
French politicians remain divided. Manuel Valls, the Prime Minister, said the garments represented the "enslavement of women" and were not compatible with French values but the Mayor of Paris Anne Hidalgo condemned "hysteria" on the issue and called for more social cohesion.
The UN has supported the court's decision witrh spokesman Stephane Dujarric stating: "We welcome the decision by the court. I think our opinion was expressed fairly clearly the other day on the need for people's personal dignity and person to be respected."
Welcoming the State Council's ruling, Amnesty International said a line had been "drawn in the sand".
John Dalhuisen, the group's Europe director, said: "French authorities must now drop the pretence that these measures do anything to protect the rights of women.
"These bans do nothing to increase public safety but do a lot to promote public humiliation."
Join our commenting forum
Join thought-provoking conversations, follow other Independent readers and see their replies