Burkini ban: Wealthy businessman pays fines for women who defied France's new law
Rachid Nekkaz has already paid out more than £200,000 in fines and legal fees levied on Muslim women who defied bans on the niqab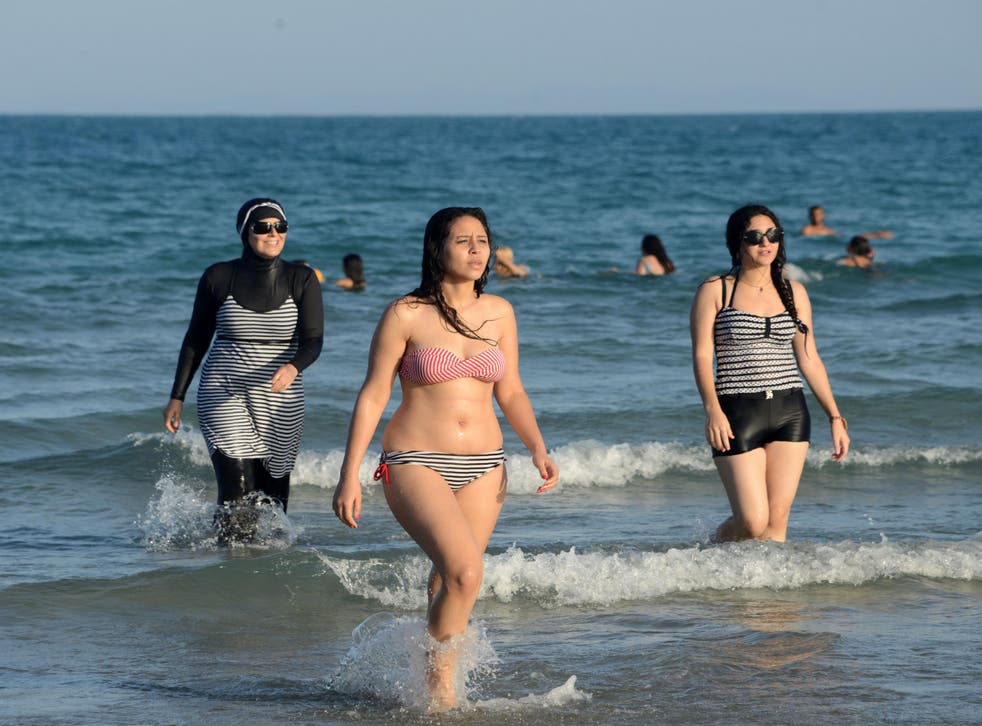 A wealthy businessman has paid fines imposed on three women who defied France's burkini ban, and also offered to pay for other people charged under the new law.
Rachid Nekkaz, a real-estate entrepreneur of Algerian descent, said he personally opposes the burkini and niqab, but believes that within a democracy nobody has the right to prevent another person from wearing the clothing they choose. "Provided that this clothing is not a threat to freedom of others or the security of the territory."
"As soon as I see that France is not respecting fundamental liberties, I always get my cheque book out," he said, in an interview with the Telegraph.
In 2010, Mr Nekkaz, who grew up in a Paris suburb but renounced his French citizenship in 2013, set up a €1m "freedom defence fund" to pay the fines of women who chose to continue wearing the niqab after it was outlawed in France and Belgium. He has paid out more than £200,000 to help Muslim women who defied the ban on face coverings.
The burkini, a full body swimsuit which allows orthodox Muslim women to swim without exposing their bodies, has been banned in the French beach resorts of Sisco, Cannes, and Nice. At least four women have been fined for defying the new rule and at least six others have been stopped and asked to leave the beach, but were not fined because they complied.
Nice justified the ban by describing the burkini as clothing which "overtly manifests adherence to a religion at a time when France and places of worship are the target of terrorist attacks."
The mayor of Cannes said last week when he announced his ban on burkinis, which are worn by very few women in France, he was simply forbidding "a uniform that is the symbol of Islamist extremism."
Critics say the ban is islamophobic, misogynistic and misguided.
French film star Isabelle Adjani condemned the ban as "ridiculous and dangerous", and said it was playing into the hands of Islamists and the far-right.
In pictures: Bastille Day Nice attack

Show all 30
"I am always uneasy when we try to impose liberty by banning things," she said. "We can't forbid women from going to the beach because of a costume."
Meanwhile, Mr Nekkaz, 44, likened the ban to saying you are not allowed to be a Muslim in France.
But Mr Nekkaz has been accused of exploiting the veil ban to raise his political profile. He attempted to contest the French presidency in 2007 and 2012 but didn't have enough support to stand.
In 2013, Mr Nekkaz was given an 18-month suspended prison sentence and a 5,000 euro fine for attempting to buy a sponsorship required under French law for presidential candidates.He claimed he was trying to demonstrate the fragility of the French electoral system.
He renounced his French citizenship in the same year, to try to run for president in Algeria.
Join our new commenting forum
Join thought-provoking conversations, follow other Independent readers and see their replies