Burkini bans: France's highest court to rule on legality of swimwear rules sweeping country's beaches
The State Council will set a nationwide precedent by ruling on a ban in Villeneuve-Loubet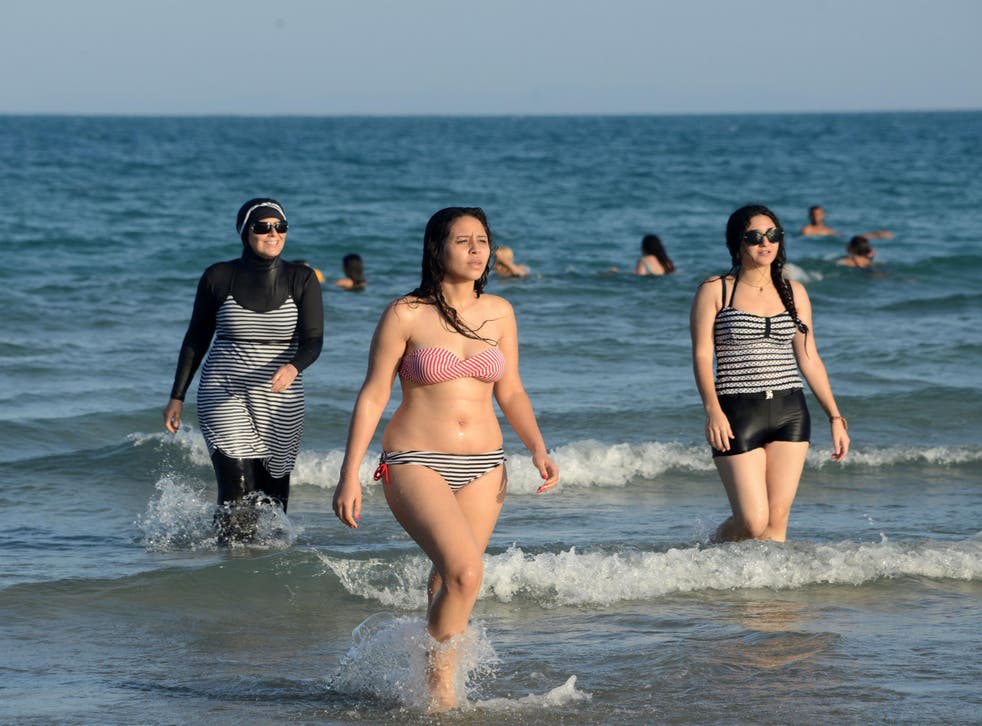 France's highest administrative court has convened to rule on whether a string of "burkini bans" being enforced on the country's beaches are legal.
Three judges at the State Council are examining an appeal to overturn the prohibitions by the Human Rights League (LDH) and Collective Against Islamophobia in France (CCIF).
The ruling is expected within the next two days and will be closely watched in France and around the world, after photos of armed police surrounding a Muslim woman as she removed her top on a beach in Nice sparked outrage this week.
A tribunal in the coastal city previously ruled a burkini ban in the commune of Villeneuve-Loubet was "necessary, appropriate and proportionate" to prevent public disorder.
But the State Council (Conseil d'Etat) will now examine that verdict, effectively scrapping the ban in Villeneuve-Loubet if it is overturned and providing a legal precedent in France.
At least 15 cities, resorts and communes have implemented bans on modest swimwear this summer and many more are believed to be considering the same move.
The rules are seeing Muslim women cautioned, arrested and fined, including some wearing regular headscarves and Islamic clothing, rather than swimwear.
None of the vaguely-worded by-laws have specifically mentioned "burkinis" – a slang term describing a range of modest swimsuits covering the hair and body – but several officials have made it clear that Muslim clothing is being specifically targeted.
Video shows French women being ordered out of sea for wearing burkini
In Cannes, which was the first city to announce the prohibition, the mayor specifically alluded to the recent attacks by Isis supporters in Nice and Normandy.
David Lisnard said he wanted to prohibit "beachwear ostentatiously showing a religious affiliation while France and places of religious significance are the target of terror attacks" to avoid "trouble to public order".
The bans have since spread, sparking fierce debate about France's secular values, women's rights and religious freedom.
Marine Le Pen, leader of the far-right Front National, claimed the "soul of France is in question", writing in a blog: "France does not lock away a woman's body, France does not hide half of its population under the fallacious and hateful pretext that the other half fears it will be tempted."
But critics have compared the enforcement of the ban to repression in Saudi Arabia and Iran, arguing that governing women's clothing is a violation of human rights in any context.
Footage of several other incidents has provoked alarm, showing women being fined or ordered to get out of the sea, with some onlookers shouting racist or xenophobic abuse.
Some rights groups have said the new laws amount to the "collective punishment" of Muslims following the terror attacks and amid friction over immigration and the refugee crisis.
In pictures: Bastille Day Nice attack

Show all 30
Meanwhile, terror analysts have warned that the dispute will fuel jihadist propaganda as groups like Isis attempt to portray France and other Western countries as at war with Muslims.
Anouar Kbibech, the head of the French Council of the Muslim Faith, called an urgent meeting with the French interior minister on Wednesday, saying he was "concerned over the direction the public debate is taking."
Manuel Valls, the French Prime Minister, said he was not in favour of nationwide legislation but appeared to support the law in principle.
"The burkini is not a new range of swimwear, a fashion," he said. "It is the expression of a political project, a counter-society, based notably on the enslavement of women."
Islamic dress has long been a subject of debate in France, which controversially banned full-face veils in 2010, six years after outlawing the headscarf and other religious symbols in state schools.
Register for free to continue reading
Registration is a free and easy way to support our truly independent journalism
By registering, you will also enjoy limited access to Premium articles, exclusive newsletters, commenting, and virtual events with our leading journalists
Already have an account? sign in
Register for free to continue reading
Registration is a free and easy way to support our truly independent journalism
By registering, you will also enjoy limited access to Premium articles, exclusive newsletters, commenting, and virtual events with our leading journalists
Already have an account? sign in
Join our new commenting forum
Join thought-provoking conversations, follow other Independent readers and see their replies