Buskers, pimps and plant-lovers beware: This is Madrid's biggest crackdown since General Franco
New anti-social behaviour laws ban everything from carelessly perched pot plants to carpet-beating in public
Alasdair Fotheringham
Wednesday 09 October 2013 21:31 Comments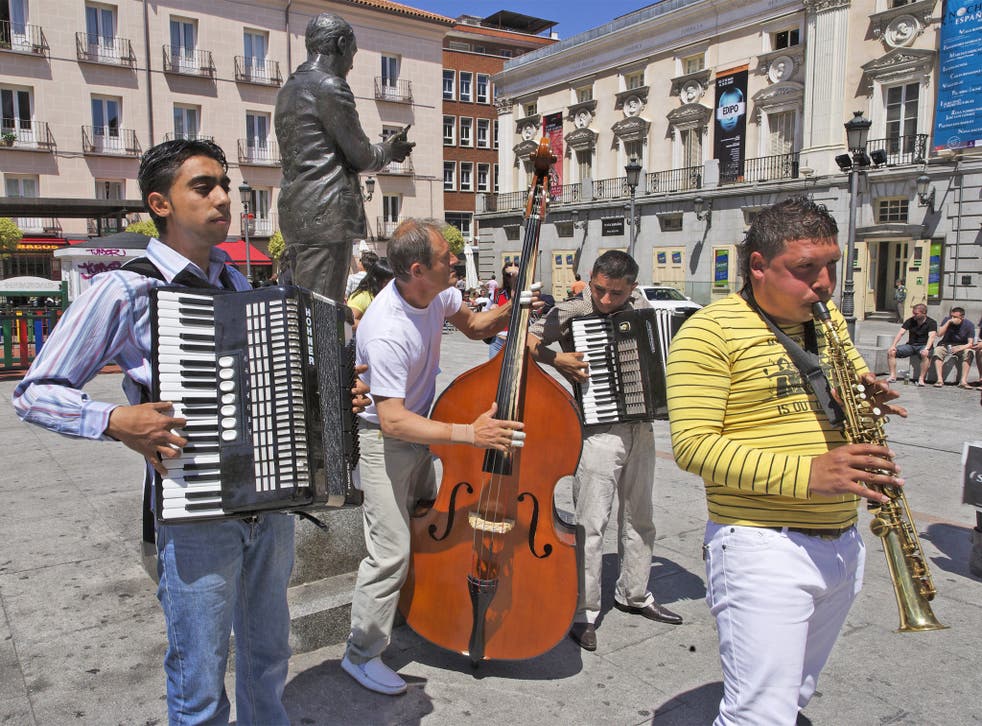 In the biggest crackdown on anti-social behaviour in decades, the city of Madrid is to impose new restrictions and fines on everything from soliciting the services of a prostitute to juggling, dog-feeding and carpet-beating in public.
All manner of human behaviour is being targeted under the new laws, including being careless with pot plants on a balcony or for using a park bench for – perish the thought – "something other than sitting".
The draft series of regulations, currently being reviewed in all-party discussions, represent the biggest single series of potential changes to the Spanish capital's civic legislation since the 'Policing and Good Government law' of 1948. In equally wide-ranging format, that 1948 law banned everything in Madrid from blasphemy (intriguingly defined in the legislation as 'particularly forbidden') to woodchopping in public and keeping poultry.
With blasphemy hardly an issue the new set of fines and bylaws is aimed at tackling more contemporary social problems, ranging from the relatively inoffensive car windscreen washers at traffic lights or skateboarders on pavements to the hire of private cars as group taxis, nicknamed cundas, for illegal drug users to visit their dealers.
In a crackdown on the street version of the "oldest profession in the world", however, clients soliciting services of a sex worker in a public place will be first warned and then fined €750 if a repeat offender. The prostitute, considered to be in a high-risk category for exploitation, will not be charged.
Fines are far more severe, however, – up to €3,000 – for pimping near a school, for operating cundas, for acts of discrimination towards the disabled or for using minors in begging operations. More surprisingly, perhaps, another activity which may become a 'serious offence' is placing a pot-plant in a dangerous location on a balcony or windowsill – dangerous, presumably, for those walking below.
And the list of minor offences which could end up as a Madrid bylaw is a long one. According to El País newspaper, amongst other misdemeanours will be using a bench "for a purpose other than sitting down", offering tarot services or massages on a public thoroughfare (where walking a 'bothersome' dog or feeding any kind will be banned, too), shaking out carpets in the street, (previously permitted in the 1948 law, but only daily from 7am to 9am) and using municipal ponds for model boats. Fines will range from the largely symbolic 90c [70p] to €750.
Long-lasting public protests may also become more difficult. Demonstrators like the 15-M indignados anti-austerity movement who have previously set up campsites in central Madrid could now risk a fine if they erect so much as a tent in the emblematic Puerta del Sol square.
Madrid's buskers, in any case, will soon find it tougher to ply their trade, having to pass a formal music exam and possess a (free) licence in order to? play. Not, though, during siesta time – 4 pm to 6 pm – when playing music in public will be prohibited.
For all its thoroughness in its new bylaws, elsewhere Madrid's government is currently battling for one special legal loophole to be created – in Spain's anti-smoking legislation.
Madrid is keen that smokers will be able to light up in some areas inside Eurovegas, the mega-casino resort, which, if built – although Spain's anti-smoking laws could be a stumbling block – could provide tens of thousands of jobs for the unemployment-ridden capital.
Eurovegas or not, running a gambling game on the streets of Madrid could garner a fine of €1,500, with throwing a cigarette butt on the pavement costing as much as €750.
Register for free to continue reading
Registration is a free and easy way to support our truly independent journalism
By registering, you will also enjoy limited access to Premium articles, exclusive newsletters, commenting, and virtual events with our leading journalists
Already have an account? sign in
Join our new commenting forum
Join thought-provoking conversations, follow other Independent readers and see their replies