How sports and activities in the Calais jungle are improving the lives and mental health of the camp's residents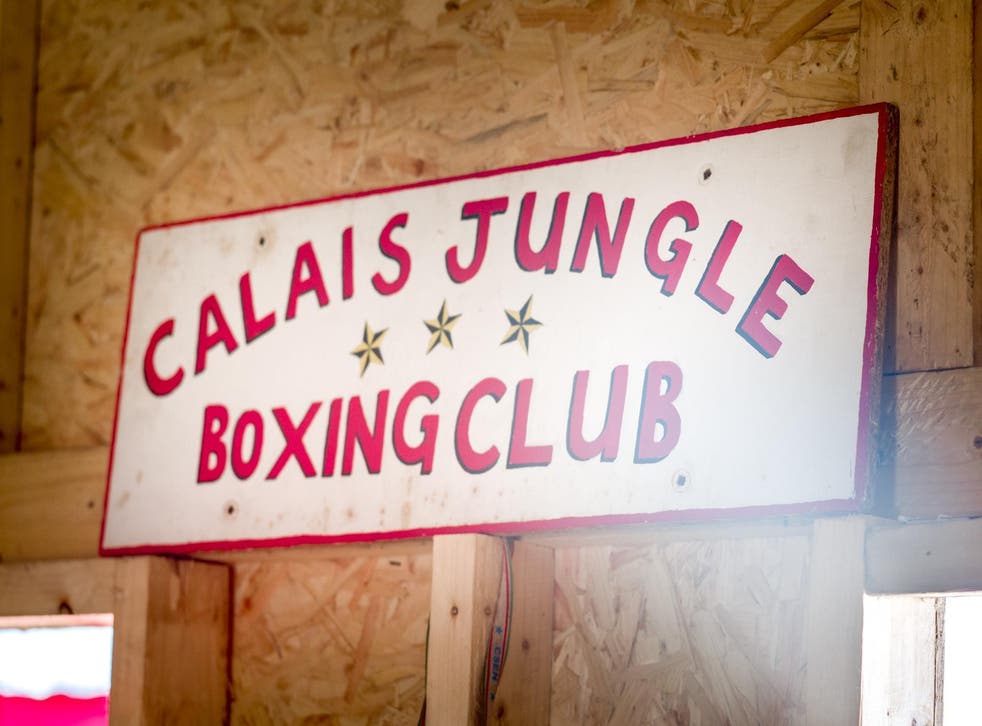 It is about 30 degrees outside, and we find ourselves in one of the largest wooden shelters in the Calais Jungle. A hand-painted wooden sign is nailed to the far end of the shelter which reads 'Calais Jungle Boxing Club'. Around fifteen men are warming up for a session led by Josh McDonald, a 25-year-old from Sheffield who set up the boxing club for the people of the camp, and Arsala Khan, a professional Boxer from Afghanistan living in the camp who is himself preparing for a professional match in Calais as well as being a trainer at the new club.
For some people, boxing evokes images of violence and aggression, and even within the camp the idea of a boxing club is not unanimously supported among volunteers and charitable organisations. It would be hard to refute that boxing is a physical sport, but, in reality, it is one centred on discipline, respect and training. The way I see it, saying boxing is only about violence is like saying yoga is only about stretching.
Lou Einhorn, a psychologist from Doctors of the World who has spent time in Calais has said: "According to a World Health Organisation survey in a migrant population of 3,000 people, around 120 will suffer from severe mental health disorders like psychosis and 600 will suffer from mild to moderate mental health disorders such as depression. Symptoms of psychological disorders encountered by Doctors of the World teams include: addictions, stress, anxiety, sleep disturbance, somatisation and PTSD. Recently, there are more and more people coming to us who have nightmares about boats or jail. One Sudanese man started having nightmares again after being arrested in Calais, even though he hadn't had any in years."
Activities such as sport, painting and language lessons are essential to keeping moral up and breaking up the monotony of daily life. Exercise improves mental health by reducing anxiety, depression, and negative mood and by improving self-esteem and cognitive function. It has also been found to alleviate symptoms of social withdrawal. Some GPs in the UK actually prescribe exercise for people with certain types of depression. According to the Royal College of Psychiatrists: "Physical activity can be as good as antidepressants or psychological treatments like cognitive behavioural therapy. If you keep active you are less likely to be depressed, anxious or tense, are more likely to sleep, focus and concentrate better."
Some of the people living in the camp have been there for over a year. Boredom, anxiety and frustration are parts of daily life. One of the biggest issues in the camp is the amount of people competing for space. It is overcrowded already, and I was told there are now 50 to 100 new people arriving per day.
Although the boxing club has only been officially in place in the DIY structure for three weeks, it has already attracted regular attendees. These are men from various countries who are training each other, encouraging each other and engaging in all the good things that sport can bring. On one of the days, Arsala (the aforementioned boxer from Afghanistan) was training with a Sudanese man. This is significant because the Sudanese and Afghans in the camp do not always get along. I felt that seeing the mutual respect these two men showed for each other when training was a clear indication that the boxing was a very good thing for community and building bonds.
Josh told us he came originally to volunteer for Calais Kitchens. After six weeks of delivering food to the people of the camp he then set out to bring fitness and well being to 'the jungle'. I asked him why he transitioned from volunteering for Calais Kitchens to setting up the boxing club.
He told me "I saw the need for provisions that could engage with the young men in camp. The Jungle has youth services and The Unofficial Women and Children's Centre but nothing that specifically supports young men. I wanted to provide a space and the tools necessary for guys to channel their frustrations and empower themselves. Exercise is a great way to harness that energy in a disciplined, safe and positive way.
"Maybe the reason I've been so passionate and determined for this space to exist is because I know first hand how effective exercise is as a tool for transformation. Exercise is a safe framework for release and the rewards are immediate."
"The Boxing Club is just as much about promoting mental well-being as it is about physical health, and the effects are far-reaching, because one person's emotional state impacts acutely on others in this densely populated community. Just as we provide food, so should we provide spaces where people can nourish their spirit. You can just see when the guys are training that it's good for them and that they want to part of a community. The way of life here isn't very structured its pretty much here's your aid, here's your tent, it is a depressing place to be. Having a chance to exercise can really make a difference."
Inside the Calais 'Jungle' boxing club
An extraordinary story in the camp is that of Arsala. He turned professional aged 18. He has lived in the Jungle for a year.
"I won't stop training, I want to be a ring fighter. I am training hard. I am searching for this day. Every day, every day, every day I don't stop. I hope my chance comes."
Arsala has been training people irrespective of their ethnicity and clearly enjoyed sharing his knowledge of boxing and fitness with the attendees of the boxing club.
Cricket seems to be popular in the camp, and I witnessed a game being played by a group of men. I was told they were playing "England vs India". There is a large open space at the entrance to the camp by the motorway, and on nice days the men gather there to kick a ball around and chat. There is a bus located in another part of the camp now known as 'The Women's Bus'. Here women are given a weekly opportunity to have important time for themselves. Their children are looked after by volunteers who arrange activities to keep them entertained.
We visited a shelter that was surrounded by brightly coloured paintings on the containers and shelters around it and where spoke to Felicity Rose Nicoll at The Hummingbird Project. She told me that Elaine Ortiz founded the project, part of which was to set up a shelter in Calais as a safe space for young people in the camp.
The project encourages creative activities such as painting and drawing. "What I can see when I look at volunteers and people in the camp is that they are tired," she said. "We offer people things like massages and art, and this gives people the chance to do something different with their day. We do not see ourselves as therapists. The young people often open up about their feelings about being in the camp to us whilst they are here, which is why we'd love to see trained creative therapists here to help them."
One resident of the camp we met called Abdul from Afghanistan arrived at the camp in a bad mental state. He told me: "When you first arrive in the camp, you do not know the way it works. You do not know where to go. You find the people from the country you are from, but are afraid of the people you don't know." Abdul soon started working in the makeshift shops in the jungle that sell rice and chai. A volunteer who has known Abdul since he arrived in The Jungle told me that once he started being active and having a purpose he changed completely and came alive. Abdul is now one of the well-known members of the Afghan community and organises work for Afghans within the camp.
"I do this to keep people out of trouble, to give them a purpose. I say to them, if an Afghan gets into trouble it reflects badly on all of us. Fear is what causes violence in the camp. It is the new people who are the most afraid, and so they fight the most. The longer you are here the more you learn, the less afraid you become. Over time the problem changes to boredom and frustration." I asked him what he thought of the idea of the boxing club. "Yes, I have heard about this. Very good! Much better to punch a bag than a person!".
As we have seen reported in the media, fights have occurred in the camp. The Calais Jungle is far from being a war zone but sometimes tensions escalate. If many people get involved in a fight the CRS (French riot police) will step in to quell the situation. More often than not disputes come in the form of spats in the queues for food and aid, and inconsequential arguments. The people I met in the camp over the times I have visited did not come across as inherently violent, dangerous people. I feel the repetitious, uncertain, tedious nature of life in the Jungle is what wears people down psychologically. Many people in the camp have left bad situations at home, and some already are suffering the effects of great mental duress when arriving.
Certain people I have spoken to about the Boxing Club before writing this article have retorted along the lines of "why are we allowing them to be trained up into fighters so they can come over here and be violent". From spending time in the camp this worry appears unfounded. Nobody came across as a thug up for a spontaneous brawl. Interestingly enough we were made to feel less welcome by certain volunteering individuals which I can only imagine is down to a developed a sense of protectiveness for the people in the camp.
I cannot help but wonder how seriously life in The Jungle affects the mental health of the volunteers. Of course, volunteers come from backgrounds far different to those of the people they are helping but many, particularly those who have spent a long time there, are dealing with high volumes of stress. It is something not openly spoken about in the media, and something I think we should be talking about.
Crowd funding page for the Calais Jungle Boxing Club - The boxing club's Facebook - Alan's Instagram - Emily's instagram
Register for free to continue reading
Registration is a free and easy way to support our truly independent journalism
By registering, you will also enjoy limited access to Premium articles, exclusive newsletters, commenting, and virtual events with our leading journalists
Already have an account? sign in
Register for free to continue reading
Registration is a free and easy way to support our truly independent journalism
By registering, you will also enjoy limited access to Premium articles, exclusive newsletters, commenting, and virtual events with our leading journalists
Already have an account? sign in
Join our new commenting forum
Join thought-provoking conversations, follow other Independent readers and see their replies