Calais Jungle closed: Despair as refugees turned away from bus queues as relocation begins
Refugees who had packed up their belongings and arrived to queue have now been told to go back to the camp and wait longer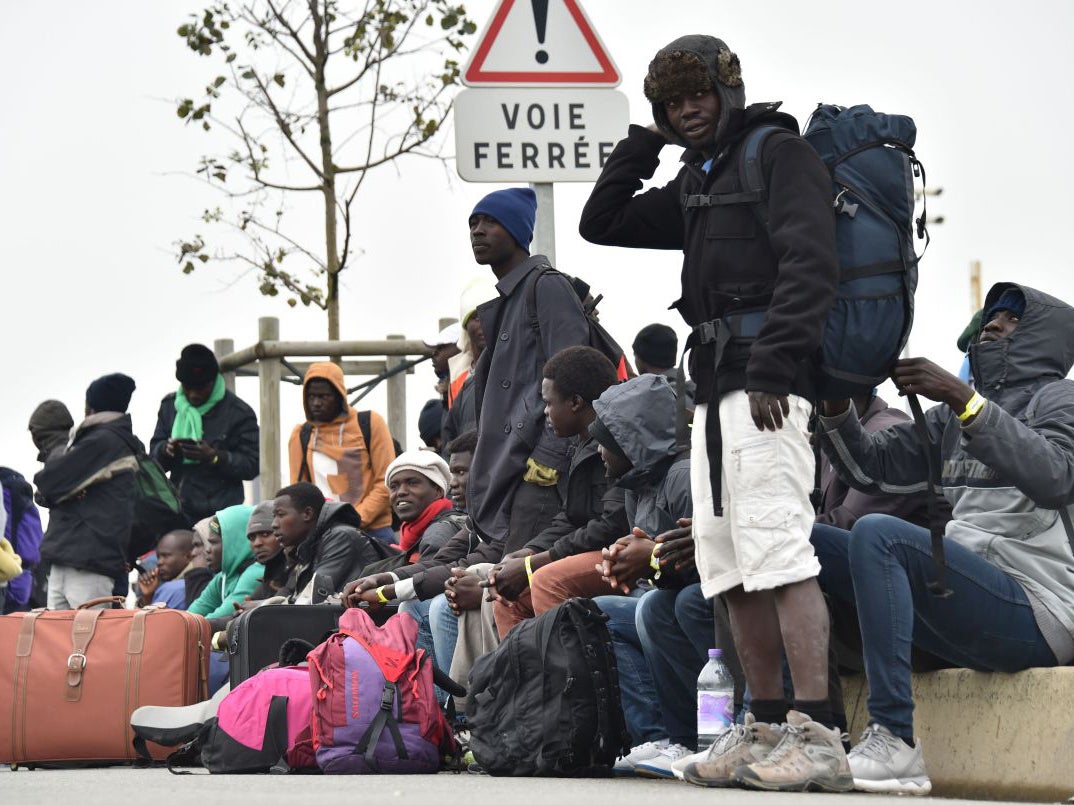 Refugees in Calais have expressed despair at being turned away after waiting for hours in a queue to board buses to transport them away from the "Jungle".
Many people who were informed buses would be arriving throughout the day to transport them to reception centres around France had packed up their belongings and arrived to queue, but have now been told to go back to the camp and wait longer – with some having to wait until tomorrow.
Some 60 buses are set to arrive in Calais to transport 3,000 people to shelters, known as CAO (centres d'accueil et d'orientation), across the country where they will have to claim asylum in France within a set period of time or face deportation.
Refugees began queuing at a registration centre in the French port town early on Monday morning while it was still dark. The evacuation comes as French authorities prepare to dismantle the squalid camp, which has become a symbol of Europe's failure to resolve the crisis.
Calais refugee camp evacuation
Show all 15
Jonathan, 17 from Eritrea, has been waiting for two hours with a group of other unaccompanied minors, including two 14-year-olds. He said: "We've been here for two hours. We don't know what to do. The police are there. They keep saying we can't go through. We don't know how long it will take. Maybe we will just go back to the Jungle."
People have been seen pulling suitcases and carrying backpacks back into the "Jungle" after being turned away at the queue and told to return later. Most of them are believed to have been processed and had their fingerprints registered, only to be told they cannot board buses yet. Some have been given a wristband to indicate they have been registered.
Unaccompanied minors are the only group that will remain in camp, where they will be accommodated in shipping containers and assessed for asylum in the UK.
There was growing concern and frustration among refugees, who objected leaving the queue as they were unable to go back to their homes in the containers as they are now being used the unaccompanied minors while they are processed.
The Independent heard an authoritative figure, believed to be a leader of the CRS, speaking to refugees waiting in the queue. A refugee asked him politely: "Can I have some information? Because I've been waiting here for four or five hours. We didn't sleep all night because there was confusion about what we were going to do tomorrow. What are we going to do now? Go back to the Jungle? They won't allow us to enter the containers."
The man responded that there were "too many people" and that he had not yet been able to find a solution. He said: "I'm trying to find a solution, I promise. We have too many people. Yes, go back to the Jungle for two or three hours. Have some tea, smoke some cigarettes. Wait."
Omair, 15, who fled Afghanistan alone two years ago after he lost his family in a bomb attack and has been living in the Jungle for six months, had been waiting for four hours in the queue. "I can't find the 'bambino' queue. I've asked lots of people but they haven't shown me where it is. They just told me to wait," he told The Independent.
"I'm worried. I'm worried about my life, what's happening. I have an uncle from my mother's side in England. I want to be with my family. We were six of us in the family, but then I lost them all in a bomb attack, and now I want to live with my cousins. I have the right to live with my family."
Naim, from Afghanistan, said: "I have two brothers in the UK. One is 13, one is 20. The little one came here two years ago. We didn't have enough money to both go together, so I sent him ahead. I stayed in Turkey to work and save enough money for me to come.
"I spoke to him a month ago. If they send me back to Afghanistan, I'll come back. I want to see my brother. It doesn't matter if it takes me one, two years. I'll come back.
"I've tried to get to the UK, but it's hard. They catch you. They keep me for 24 hours. Some of the police are okay but some are bad. Some smack you. They can smack you in the lorry because no one sees it."
By 1pm at least 900 refugees had reportedly left Calais on 23 buses heading for shelters across France.
French officials celebrated the peaceful start to yet another attempt to dismantle the camp. But some aid workers warned that the trouble overnight, when some refugees burned toilet blocks and threw stones at riot police in protest at the camp's closure, indicated tensions could escalate.
Officials have said that there will be a solution for each migrant — though expulsion may be among them for those who don't qualify for asylum. According to officials, France will spend 25 Euros a day on each migrant in the reception centers. It was not immediately clear how long they will be allowed to stay.
Join our commenting forum
Join thought-provoking conversations, follow other Independent readers and see their replies