Calais Jungle closed: Unaccompanied children left in limbo as evacuation continues
The fate of around 1,300 unaccompanied children in the camp remains uncertain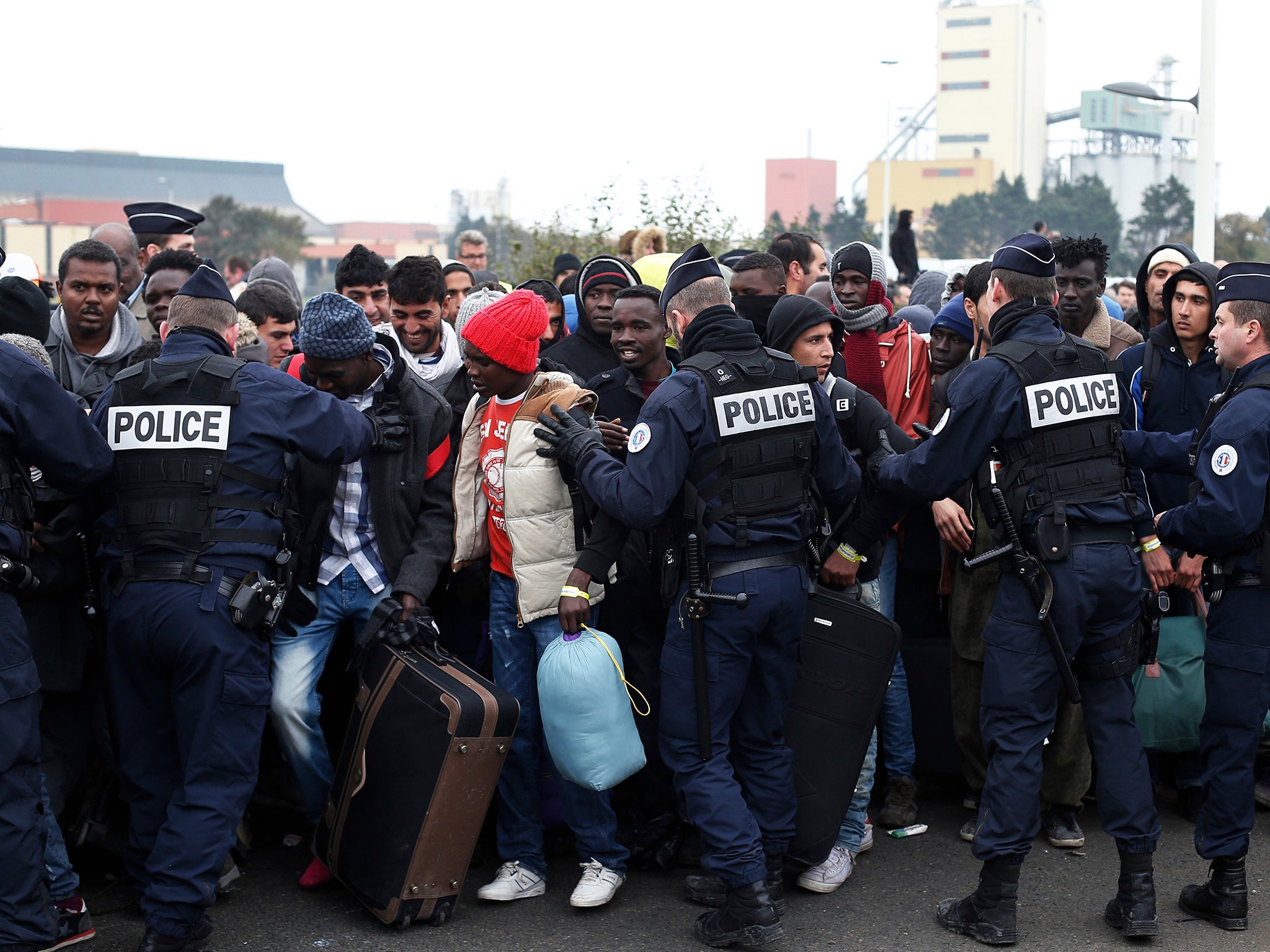 Lone children in the Calais 'Jungle' were forced to wait hours to register for the right to live in Europe or told to "come back tomorrow", on the first day of the demolition of the camp, as a designated queue for unaccompanied minors became overrun because more refugees turned up than were anticipated.
Many children were seen wandering the camp desperately asking volunteers what to do after arriving at the registration centre to find they weren't being let in.
Some waited in the adult queue for hours, in some cases getting caught in violent scuffles, while others expressed fear that they won't be registered before the camp is demolished.
Aid workers went from tent to tent, calling on people to leave the camp before the demolition began, however the fate of around 1,300 unaccompanied children remains uncertain.
Calais refugee camp evacuation
Show all 15
Refugees began queuing at a registration centre in the French port town early on Monday morning while it was still dark, waiting to board buses before French authorities dismantle the squalid camp, which has become a symbol of Europe's failure to resolve the crisis.
Youth services working in the Jungle have expressed serious concerns at the way unaccompanied minors – referred to as "bambinos" in the camp – have been left confused and anxious by the lack of clear information about how they can claim their right to live in the UK or France.
The news follows the Home Office's announcement that the transfer of refugee children from the camp to Britain has been "temporarily paused" while the closure of the camp is underway.
Approximately two thousand camp residents, including an estimated 300 minors, passed through the registration centre on the fringe of the camp yesterday, according to a spokesman for the French Interior.
People were given the choice of which region to choose, with efforts made to keep family and groups of friends together. The refugees were then given a coloured band determining where they were going, and told to wait until a coach arrived.
Jonathan, a 17-year-old from Eritrea, who had been waiting for two hours to be registered with a group of other unaccompanied minors, including two 14-year-olds, told The Independent: "We've been here for two hours. We don't know what to do. The police are there. They keep saying we can't go through. We don't know how long it will take. Maybe we will just go back to the Jungle."
Another teenager, Omair, 15, who fled Afganistan alone two years ago after he lost his family in a bomb attack and has lived in the Jungle for six months, had been waiting for four hours in the queue. "I can't find the 'bambino' queue. I've asked lots of people but they haven't shown me where it is. They just told me to wait," he told The Independent.
"I'm worried. I'm worried about my life, what's happening. I have an uncle from my mother's side in England. I want to be with my family. We were six of us in the family, but then I lost them all in a bomb attack, and now I want to live with my cousins. I have the right to live with my family."
Both children and adult refugees were seen pulling suitcases and carrying backpacks back into the Jungle after being turned away at the queue and told to return later, after an unprecedented number came to board the buses. Most of them were believed to have been processed and had their fingerprints registered, only to then be told they cannot board yet. Some have been given a wristband to indicate they have been registered, allowing them to board today.
Citizens UK last night held meetings to discuss how to solve the problem of children not going to get registered and getting caught up in queues with adults when they do. Charlotte Morris, media consultant at Citizens UK, told The Independent: "There were so many people at the welcome centre and they hadn't sorted a separate queue for the children.
"We had a designated children's queue but the police stopped us letting them in during the afternoon because it was getting too busy. Some little ones ended up being lifted out of the crowds as things got a bit heated. Hopefully by tomorrow we will have a better system in place. We are going to make sure agencies on the ground also all know what is going on to avoid children being told different things."
Hussan, 17, from Sudan who has been in the Jungle for three months, told The Independent: "I had an interview seven days ago, to go live with my brother in the UK. But since then I haven't heard anything. The Jungle finishes in two or three days. Do I wait here? Do I go? I don't know what to do."
Jess Egan, who has been working with the Refugee Youth Service for a year, said the situation is concerning. As she spoke to The Independent a number of teenagers approached her distressed and asking what they should do. Ms Egan told them the queue was "too big" and that there "could be fighting", advising the teens to instead queue up at 6am the next day.
Amid the chaos, Ms Egan told The Independent: "All week we've had very little information on what's going to happen. We were told on Friday that everyone would have to go down and register at the warehouse, and that children would come back to the containers.
"They want everyone in the camp to register within the next few days, but as you can see there are thousands of people walking down and it's not going to end nicely. There's no information down there. People are being pushed about. People are scared, worried, and they just don't know what's happening. Everyone's going to start getting angry when they're fed up of not knowing what's going on.
She added: "The CRS are obviously everywhere, and they will not be reacting nicely. I worry that it will end in violence. Anyone would get annoyed and upset and angry if they weren't given information. This is their future; their lives they're talking about."
Ms Egan said the leaflets that were reportedly distributed in the camp yesterday informing residents of what would happen did not reach everyone. "I didn't see one leaflet. I work in the camp's youth service and I didn't see one leaflet.
"They could have divided the camp into sections and evacuated a certain amount of people each day, and given each section wristbands. Then it would've avoided the thousands of people waiting there now."
Calais 'Jungle' exodus begins as hundreds queue in darkness
Liam, also from the Refugee Youth Service, said: "We've taken the role of trying to provide information to young people. We only have odd bits of information given to us. There's no presence of the authorities here, who could be directing people and explaining things to them. The whole thing is a shame."
Dorothy Sang, of Save the Children, said children were feeling uneasy after the situation yesterday. She told The Independent: "These children are all really apprehensive. The youth service were saying yesterday that kids were in tear because they don't understand the process. This is obviously not great.
"We know from last time when the South side of the camp was demolished that things can escalate into violence really quickly and having children in that environment isn't great. We've been trying to be dotted around to give out information but it's quite difficult for us because we don't know much more than the kids know. It's concerning.
"We want children to start getting into that process, but we also don't want to be directing them to somewhere we don't think is safe. There have already been some scuffles in the queue. We're concerned that as soon as it starts getting dark things might become heated. We are seriously concerned that this will lead to kids going missing, as they give up on the services and make their own way out."
While small scuffles broke out and several punches were thrown during the registration process yesterday, most people waited patiently, crammed inside the barriers, which police then widened to give them more space.
An officer on the ground said around 1,250 police and gendarmes have been drafted in to ensure the eviction runs smoothly.
The Prefecture of Calais said in a statement issued yesterday: "This operation that took place methodically and calmly will continue over the following days."
A further 85 buses are expected to arrive on Tuesday and Wednesday, with officials saying the entire operation should be finished by the end of the week.
The latest census by Help Refugees, a charity operating in the camp, shows there are 49 unaccompanied children in the Jungle who are 13 years old or under, all of whom are eligible under the Dubs amendment for resettlement in the UK.
The census also found there are many unaccompanied girls remaining in camp who are eligible to come to the UK but were not registered over the weekend.
Join our commenting forum
Join thought-provoking conversations, follow other Independent readers and see their replies