Calais 'Jungle' eviction postponed after charity discovers hundreds of lone children
Youngest child found was a 10-year-old boy from Afghanistan
Peter Yeung
Sunday 21 February 2016 18:51 Comments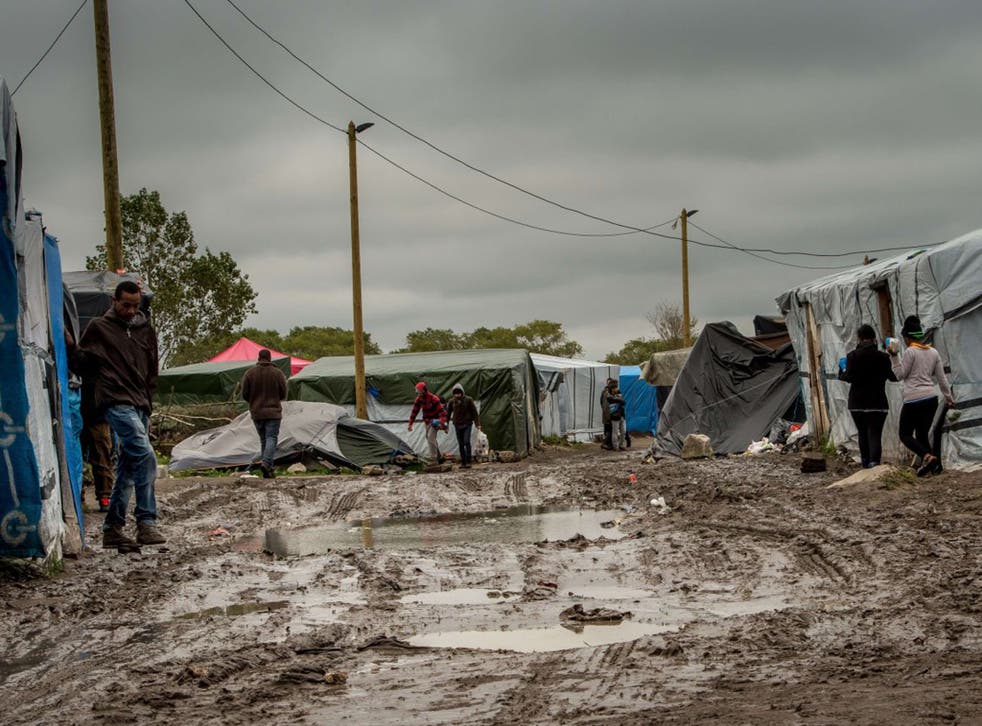 Thousands of refugees living in the ramshackle "Jungle" camp on the outskirts of Calais will be able to stay for a little longer, after the French government put plans to forcibly evict them on hold.
The eviction, which had been set for Tuesday evening, was postponed by French courts after a census carried out by the charity Help Refugees discovered many more refugees were living in the area than authorities had initially calculated.
The charity said there were 3,455 people living in the southern stretch of the Jungle scheduled to be demolished. It is more than three times France's estimates of between 800 and 1,000. That figure includes 445 children, of whom 315 were living without their parents – that is not to say they are orphans. The youngest child found was a 10-year-old boy from Afghanistan.
An open letter asking David Cameron to "protect the children of Calais" has garnered more than 100,000 signatures at the time of writing. Among the signatories are Idris Elba, Helena Bonham Carter, Benedict Cumberbatch and a number of other high-profile figures.
The letter states: "This is a humanitarian crisis that needs to be acknowledged as such and it is imperative that we do everything we can to help these innocent and highly vulnerable refugees, especially the minors, as swiftly as is humanly possible."
Under the previous expulsion order, a vaccination centre, camp shops, cafes, churches, mosques and a library would be razed.
Josie Naughton, co-founder of Help Refugees, told The Observer: "The figures highlight the brutality of destroying these homes before proper child protection schemes have been put in place. These children have post-traumatic stress, you can't just put them on a bus, they are going to be in danger.
"It is going to be an important few days. We are just hoping with all our hearts for a win – if they start bulldozing this week, hundreds of unaccompanied minors risk being lost in the system."
The refugees have previously said they would resist the move away from their tents to new accommodation in converted shipping containers, despite the poor living conditions. Doctors of the World warned that the alternative accommodation was not suitable, noting in a protest letter to the French interior minister, the move is "very far from answering the needs of the problems encountered".
Inside the camps in Calais

Show all 20
Fabienne Buccio, the top official in France's northern Pas-de-Calais region, said earlier this month: "It's time to tell the migrants of Calais who live in undignified conditions, and give Calais an image that isn't dignified either, that we have a solution for each of you."
Last month, a British judge ordered that three Syrian children and an accompanying adult should be allowed to escape the "living hell" of the Calais refugee camp and enter the UK to join their relatives.
Register for free to continue reading
Registration is a free and easy way to support our truly independent journalism
By registering, you will also enjoy limited access to Premium articles, exclusive newsletters, commenting, and virtual events with our leading journalists
Already have an account? sign in
Register for free to continue reading
Registration is a free and easy way to support our truly independent journalism
By registering, you will also enjoy limited access to Premium articles, exclusive newsletters, commenting, and virtual events with our leading journalists
Already have an account? sign in
Join our new commenting forum
Join thought-provoking conversations, follow other Independent readers and see their replies