Calais 'Jungle' evictions: Demolition teams return to refugee camp with riot police after overnight clashes
Around 100 shelters were demolished on Monday as clashes and fires broke out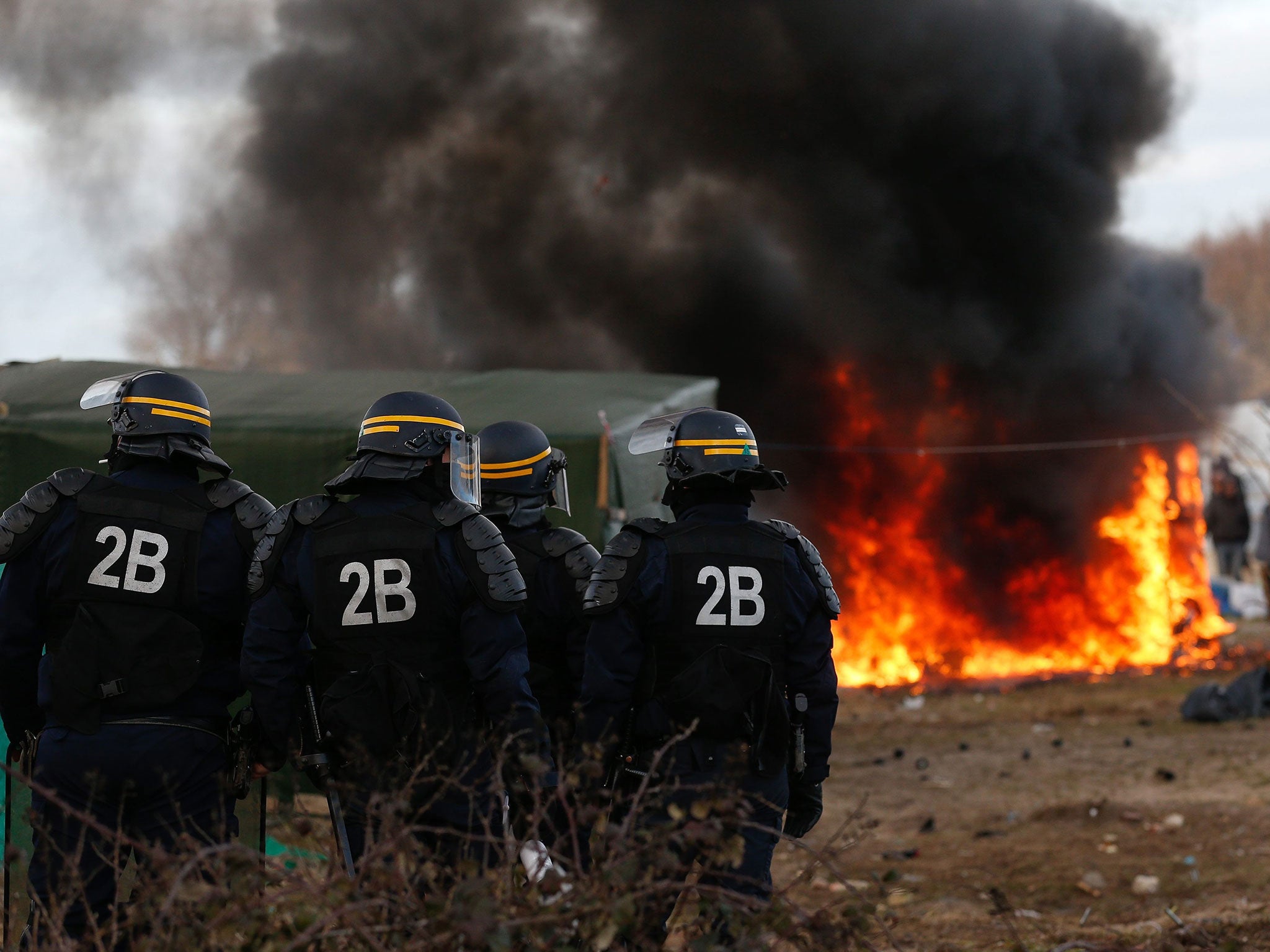 Demolition teams flanked by squads of riot police were returning to the Calais "Jungle" this morning to destroy hundreds more refugee shelters following overnight clashes.
Riot units fired tear gas at crowds of asylum seekers who reportedly threw stones and other missiles, while others were seen attempting to stop lorries heading towards the Channel Tunnel and board before being forced back off the motorway.
There were no reports of serious injuries but at least three people, possibly pro-refugee activists, were arrested during the demolitions.
Calais Jungle evicted by police with tear gas
French authorities say around 1,000 people are affected by the eviction plan but humanitarian groups have put the total at more than triple that figure.
Ginny Howells, UK emergency manager for Save the Children, described the scene at the camp as "very chaotic".
"They are all just incredibly worried and anxious," she said. "People are dispersing into the northern part of the camps - it's really just moving the problem to other camps, which are in a worse condition.
"No one wants the Jungle to exist but until you've worked with them, don't demolish the community structures that have been built up."
Ms Howells claimed children taking shelter in a Save the Children youth centre on the site had been affected by tear gas on Monday.
She expected further clashes and "more of the same" as the demolition continued.
It is the largest in successive rounds of demolitions aiming to destroy squalid parts of the sprawling camp, near the entrance to the Channel Tunnel and ferries to England, and move refugees away from a motorway that has seen frequent disruption and clashes as groups attempt to board lorries.
Converted shipping containers complete with lights, heating and sanitation have been used to create new accommodation for 1,500 people in the camp, where conditions were previously described as "diabolical".
But the much-touted facility has been greeted by suspicion and distrust.
In pictures: Calais crisis
Show all 15
Some of the vulnerable refugees earmarked to move in have refused as rumours spread about why it is fenced off from the rest of the camp, requiring refugees to scan their hands to enter and leave.
Authorities also say they have offered to relocate people into centres in other parts of France where they can apply for asylum but many have resisted the move, fearing it will hurt their chances of reaching Britain.
Prefect Fabienne Buccio, who had ordered the camp evacuated and dismantled earlier this month, was present for the start of demolitions on Monday.
Her office accused some activist groups of "intimidation" tactics, claiming they were manipulating migrants into refusing to accept government offers of shelter.
"Really three houses out of four - I mean three huts out of four, or three tents out of four - were already totally abandoned with a lot of rubbish inside," she said.
Migrants, she said, "had the time necessary to gather their belongings. The rest was good enough to throw away."
But cameras filming at the time appeared to capture daily life continuing in the shelters marked for demolition, populated by families and other groups of refugees.
About 4,000 people are estimated to live in the camp - down from 6,000 in December – and the refugees' presence has driven far-right sentiment in both Britain and France.
A judge in Lille ruled last Thursday that a partial clearance should go ahead, apart from public buildings and social spaces, including schools and places of worship.
Campaigners had called for a postponement to remove people from the slum, saying that there is not enough new accommodation for people to move to.
Meanwhile, the refugee crisis is reaching crisis point elsewhere in Europe as border restrictions by Austria, Slovenia, Macedonia and other nations is trapping thousands of homeless migrants in Greece after they arrive on smugglers' boats from Turkey.
Additional reporting by AP and PA