Call to segregate rival refugee groups after clashes at German asylum centres
Angela Merkel's open-door migrant policy and her calls for a "culture of welcome" are facing a growing backlash from within her party
Tony Paterson
Berlin
Monday 28 September 2015 18:29 Comments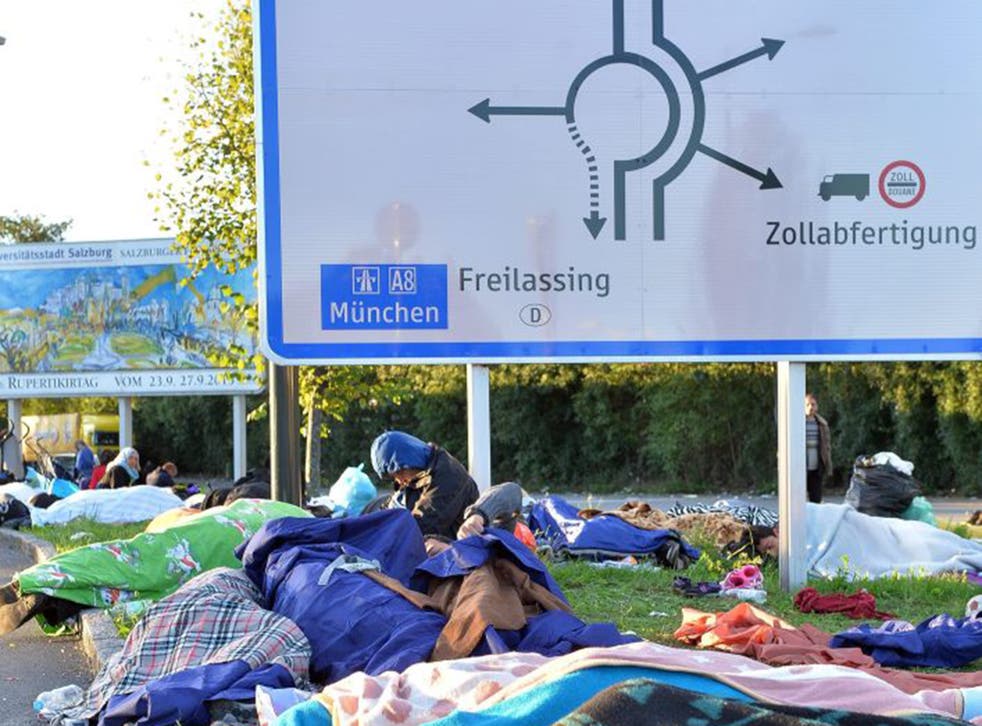 Germany's police said accommodation for refugees should be divided along religious and ethnic lines after violent clashes between refugee groups at asylum centres in recent days.
The latest violence occurred on Sunday night at a "tent city" housing 1,500 migrants in the town of Calden, north of Frankfurt. Police said rival groups of Pakistani and Albanian refugees attacked each other with clubs.
Fourteen people were injured in the clashes, which were broken up by police using teargas and pepper spray. "Between 60 and 70 people were involved. They attacked each other with clubs and threw things at each other," a police spokesman said.
The incident followed similar violence on Friday at an asylum centre near Leipzig, where 200 Syrian and Afghan migrants attacked each other with table legs, bed frames and sticks after a dispute about who should be allowed to use one of the few lavatories provided in the accommodation first.
"The police have reached the absolute limit of what they can take," complained the deputy head of Germany's police trade union, Jörg Radek. " We must do everything we can to prevent further outbreaks of violence." He said segregation of refugees along religious and ethnic lines was essential.
Refugees march from Hungary to Austria

Show all 10
No formal segregation has been introduced so far, although in the states of Thuringia and Bavaria refugees from similar ethnic backgrounds tend to be housed together.
"We take into account the religious and ethnic differences when providing accommodation for asylum seekers," said Emilia Müller, Bavarian's minister for social affairs.
The German government has set aside €6bn (£4.4bn) to fund accommodation and an extra 3,000 police to cope with the estimated one million refugees the country is expected to take in this year. But with training for police taking around three years, Germany's 16 federal states are currently forced to rely largely on private security firms to meet the shortfall.
The clashes among refugees in Germany's overcrowded asylum accommodation have followed more than 200 attacks on refugee centres by suspected far-right activists this year alone. In the east German town of Heidenau, the scene of earlier racist anti–immigrant attacks, a refugee was attacked and injured by a man armed with a beer bottle as he walked to his accommodation at the weekend. Chancellor Angela Merkel's coalition has offered Syrian war refugees the prospect of immediate asylum in Germany for the next three years. However, her open-door migrant policy and her calls for a "culture of welcome" are facing a growing backlash from within her own conservative Christian Democratic Party.
Steffen Kampeter, a veteran Christian Democrat MP, insisted in an interview with Die Welt newspaper at the weekend: "We need to send more signals showing that not everyone can come to us...We must act thoroughly otherwise we will not be able to stop things going wrong."
Erika Steinbach, another veteran conservative, said: "Life has not become easier as a result of the chancellor's comments. I don't know anyone who believes we can really bring the arrival of so many refugees under control – the people want a further influx stopped," she insisted.
President Joachim Gauck also took a more cautious tone than Ms Merkel over the weekend, saying there are limits to how many refugees the country can take.
"We want to help. We have a big heart. However, there is a limit to what we can do," he said.
Register for free to continue reading
Registration is a free and easy way to support our truly independent journalism
By registering, you will also enjoy limited access to Premium articles, exclusive newsletters, commenting, and virtual events with our leading journalists
Already have an account? sign in
Join our new commenting forum
Join thought-provoking conversations, follow other Independent readers and see their replies