Calm down! Stradivarius violin found in Bulgaria is a fake
It was thought to be the one stolen from Korean virtuoso Min-jin Kym at Euston station in 2010
Jerome Taylor
Wednesday 27 March 2013 19:11 Comments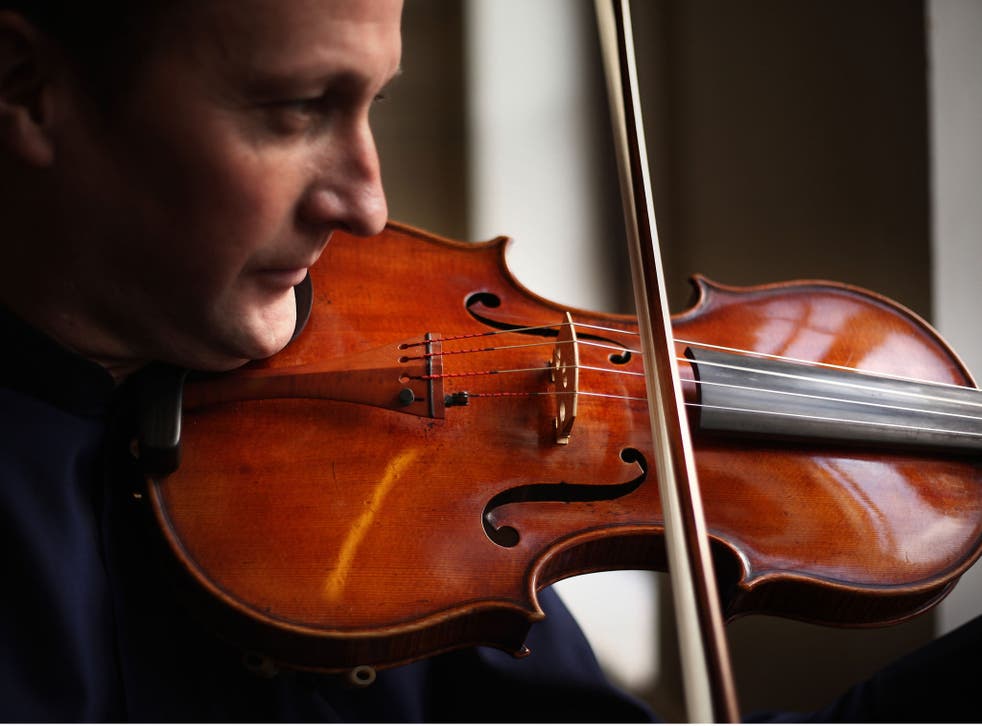 When Bulgarian detectives announced last month that they had caught a crime boss trying to sell undercover officers a Stradivarius violin it sent ripples of excitement across the Channel.
Three years earlier a homeless man, working with two underage accomplices, distracted the renowned Korean violinist Min-jin Kym as she queued at a sandwich shop in Euston station and stole her £1.2m Stradivarius - one of just 450 such violins left in the world. Following the sting in Sofia, British detectives were hopeful that Miss Kym's violin had finally been recovered.
Now the Korean maestro's hopes have been dashed after police announced today that the violin uncovered in Sofia is a training replica of little value.
The initial Bulgaria raid caused intense excitement because the violin uncovered was marked with the name of Antonio Stradivari, the seventeenth-century Italian artisan who created some of the best – and consequently most expensive – violins ever made. But an analysis by an expert has concluded that the instrument is a fake and little more than a century old.
Detective Chief Inspector Simon Taylor, of British Transport Police, said: "Experts examined the instrument in Sofia and it is thought to be a replica training violin, made in either Germany or the modern-day Czech Republic no more than 100 years ago. Our focus remains on recovering these extremely precious items and the reward for their return now stands at £30,000."
The news will be renewed heartache for Miss Kym who began playing violin at the age of six and has gone on to become one of the world's most talented young virtuosos. The original thief, 41-year-old professional pickpocket John Maughan, was jailed for four and a half years in 2011 after admitting that he had stolen the violin and tried to sell it to a bus driver for £100. Although he and his two unnamed teenage accomplices were caught by the police, the stolen violin, which also had two bows worth £70,000, were never recovered.
Despite their extraordinarily high price tags, detectives say a stolen Stradivarius is a difficult item to shift within criminal networks and rarely gains the seller anything close to its actual value because they are so rare and consequently easy to trace.
"Although the items are extremely valuable their uniqueness means their sell-on value, in monetary terms, is very low," said DCI Taylor. "They can't be sold for anything near to their true value because an arts and antiques or instrument dealer would easily recognise them as stolen property."
It is not the first time high profile artists have been relieved of a Stradivarius. In 1999, Yo-Yo Ma managed to leave a cello made by Stradivari in a New York cab. Fortunately it was quickly recovered. Four years earlier in the same city, violinist Erica Morini had her flat broken into and her Stradivarius violin was stolen. It is still on the FBI's top ten art crimes list to this day.
Register for free to continue reading
Registration is a free and easy way to support our truly independent journalism
By registering, you will also enjoy limited access to Premium articles, exclusive newsletters, commenting, and virtual events with our leading journalists
Already have an account? sign in
Join our new commenting forum
Join thought-provoking conversations, follow other Independent readers and see their replies