Cameron's favourite pollsters hand dictator 96 per cent approval rating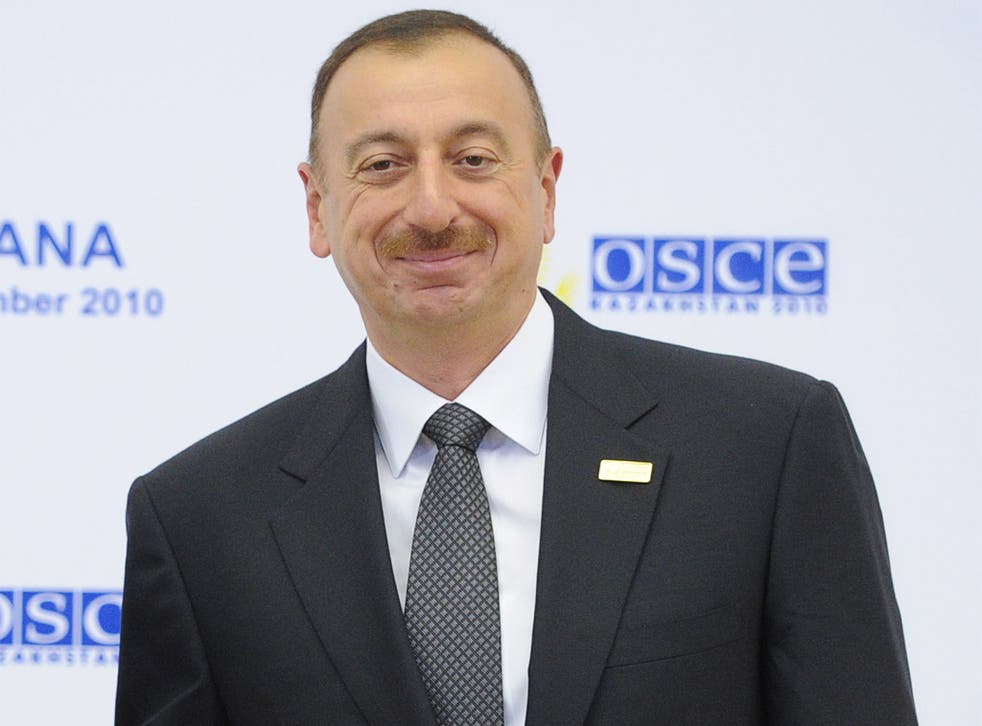 One is the Government's favourite polling company, whose founder now works side by side with David Cameron in Downing Street and provides the Prime Minister with the latest insights into public opinion.
The other is the President of a controversial former Soviet republic accused of presiding over a wave of intimidation and arrests against dissidents.
But Mr Cameron may now have reason to reflect on the private popularity ratings he gets from his opinion pollster Populus – after its foray into the murky world of Azerbaijani politics. A Populus survey – commissioned and paid for by a group called the Caspian Information Centre – has produced a set of approval ratings for President Ilham Aliyev about which Mr Cameron could only dream.
In face-to-face interviews with 1,000 Azerbajiani adults carried out in September, it found that Mr Aliyev has an approval rating of 96 per cent. Only 2 per cent expressed any dissent and 2 per cent didn't know or declined to comment.
It is unclear participants in the poll were worried about repercussions if they expressed disapproval with the President or were just impressed by economic growth and political stability in the country. On trust, Mr Aliyev scored a 95 per cent rating, while 79 per cent of adults think Azerbajian is "going in the right direction".
The highest rating of any British Prime Minister is believed to be Winston Churchill – who had approval ratings of 93 per cent in 1942.
The Azerbajiani poll is even more remarkable when the full results are analysed. Of the 1,000 people questioned, 32 per cent are unemployed and about one in four finds "purchasing clothes is a big problem". In contrast, a poll for ICM carried out at a similar time to the Azerbajiani survey found Mr Cameron had an approval rating of just under 50 per cent. That has now dropped to 39 per cent according to an Ipsos Mori poll yesterday.
Populus, best known for carrying out opinion polls for The Times, has grown rapidly in recent years in part due to its close relationship with the Conservatives. In February Mr Cameron appointed Andrew Cooper, then a director of Populus, as his director of political strategy. In a press release to accompany the polling results the Caspian Information Centre cite Populus's work for the Tories.
The human-rights group Amnesty has called on the international community "not to turn a blind eye" to human-rights violations in Azerbaijan, detailing intimidation and arrests during protests against corruption and the suppression of independent media.
Mr Aliyev has been Prime Minister since August 2003 after taking over from his father, who dominated the country for more than 30 years.
The government has invested millions in an attempt to improve Azerbaijan's image in the West, with slick adverts on BBC World and lavish trips organised for journalists and MPs.
While few dare to criticise the President there is deep anger in private at a government where corruption is rife and most of the vast oil wealth remains at the very top level of society.
In the most recent rankings by Reporters Without Borders, Azerbaijan ranked 152nd lowest, out of 178 countries, for press freedom.
Populus said it "partnered with a respected fieldwork agency in the region" to carry out the research and had published the full findings. A Populus spokesperson said: "The poll is robust and was carried out according to our normal high standards."
Register for free to continue reading
Registration is a free and easy way to support our truly independent journalism
By registering, you will also enjoy limited access to Premium articles, exclusive newsletters, commenting, and virtual events with our leading journalists
Already have an account? sign in
Register for free to continue reading
Registration is a free and easy way to support our truly independent journalism
By registering, you will also enjoy limited access to Premium articles, exclusive newsletters, commenting, and virtual events with our leading journalists
Already have an account? sign in
Join our new commenting forum
Join thought-provoking conversations, follow other Independent readers and see their replies