Can the daughter of a dictator come up smelling of roses?
Shaun Walker
Sunday 14 October 2012 22:43 Comments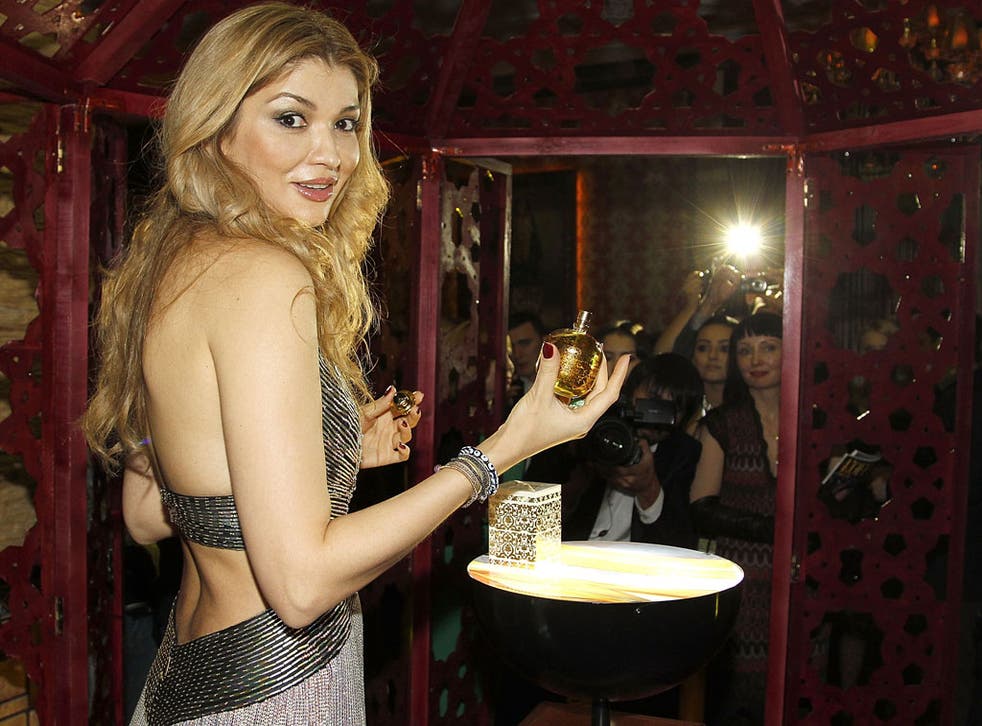 The fragrance is called mysterieuse, and combines hints of Moroccan roses with sensual notes of jasmine and ylang-ylang. It does not feature playful allusions to torture or subtle hints of prisoners being boiled alive, but perhaps it should.
Created by a leading French perfumier, the scent is meant to be the olfactory embodiment of Gulnara Karimova, daughter of the ruthless dictator of Uzbekistan, Islam Karimov.
Uzbekistan under Mr Karimov is one of the world's most repressive countries, with torture endemic and a widespread atmosphere of fear. Schoolchildren are used as forced labour to pick cotton for several months every year, and the majority of people live in extreme poverty.
Not so Ms Karimova, the president's socialite "first daughter", who lives a gilded life flitting between parties and junkets in Tashkent, Moscow and Geneva. A close confidante of her father, Ms Karimova has in recent years reinventing herself, first as a fashion and jewellery designer, and more recently as pop singer Googoosha, using her father's pet name for her.
Her latest vanity project, perfume, was launched at a lavish party in a Tashkent nightclub last week. The fragrance was created by leading French perfumier Bertrand Duchaufour, who has masterminded scents for a number of leading brands including Christian Dior and Givenchy. "Through the 'Mysterieuse' fragrance I tried to convey the image of Gulnara, her femininity and sensuality," he said, according to local news reports from the event. "The women's fragrance has notes of every flower that can be found in the Orient."
"I am perhaps the first man in the history of perfumery who has tried to link France and Uzbekistan through perfume," continued Mr Duchaufour, getting into his stride. He did not respond to an emailed request from The Independent for comment, and has not clarified how much he was paid to immortalise Ms Karimova in a spray, but he would not be the first to benefit financially from Ms Karimova's lucrative vanity projects. The singer Sting was criticised for appearing at Tashkent Fashion Week and sitting next to the dictator's daughter in 2010, for an alleged seven-figure fee, while former Chelsea boss Luiz Felipe Scolari was briefly made the highest paid football manager in the world when he took over at Bunyodkor, a Tashkent football club with reported links to Ms Karimova. Described by US diplomats in cables released by Wikileaks as a "robber baron" and "the single most hated person in the country", Ms Karimova has always denied links to corrupt business practices and extortion.
Those who gathered in Tashkent to toast Ms Karimova's new fragrance last week were given a number of extra treats, with displays of her new season fashion collection and jewellery designs, and a premier of the video of her new single. The professionally produced clip shows Ms Karimova in a flowing golden dress, pouting seductively and singing floaty lyrics, in English, over an industrial beat. Using her alter-ego Googoosha, Ms Karimova has embarked on a widespread advertising campaign in the US, where posters dub her an "exotic Uzbek beauty" and do not mention her parentage.
Her new single, perhaps somewhat appropriately, is entitled "How Dare?" Many Uzbeks might wish to ask her the same question.
Register for free to continue reading
Registration is a free and easy way to support our truly independent journalism
By registering, you will also enjoy limited access to Premium articles, exclusive newsletters, commenting, and virtual events with our leading journalists
Already have an account? sign in
Join our new commenting forum
Join thought-provoking conversations, follow other Independent readers and see their replies