Investigation launched into 'sea intoxication' after ships collide in the Baltic leaving at least one dead
One body has been found after British and Danish vessels hit one another
Stuti Mishra
Monday 13 December 2021 16:56 Comments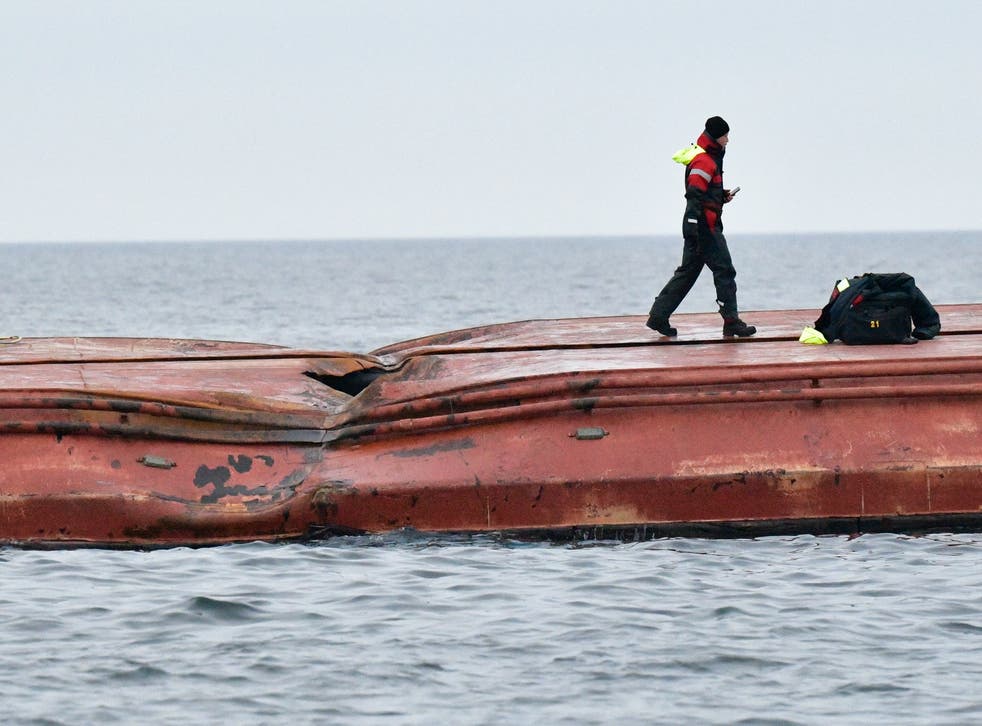 The Swedish Coast Guard said it had launched an investigation into whether drunkeness played a part after two ships, one of them registered in Britain, collided in the freezing Baltic Sea, leaving at least one dead.
The 55m Danish barge Karin Hoj and the 90m British-registered Scot Carrier were sailing in the same direction when they hit each other in the dark at 2.30am GMT on Monday, according to Danish and Swedish maritime chiefs.
Foggy conditions were initially thought to have played a part in the collision but investigators said they were broadening their investigation.
"Additional criminal suspicions have arisen, including gross sea intoxication, the Coast Guard said in a statement. "The Coast Guard is currently taking a number of investigative measures, including various types of coercive measures within the framework of the preliminary investigation."
The Swedish Prosecution Authority said in a statement a preliminary investigation was underway into several suspected crimes: gross negligence in maritime traffic, causing death through negligence, and marine intoxication.
It said two suspects, one British and one Croatian, had been take into custody.
Two Danish crew members of the barge were initially reported missing. A search operation involving at least nine boats and a helicopter was launched following the accident in overnight fog, and rescuers heard people screaming in the water.
A search operation, near the Danish island of Bornholm in water temperatures of about 4-6C, was called off during the morning but was due to resume later.
"I can confirm an accident has happened but I do not know the circumstances," said Soren Hoj, managing director of Rederiet Hoj, which owns the Karin Hoj.
The Swedish Maritime Administration (SMA) said the Danish vessel was empty of cargo and it was unclear what, if anything, the British ship was carrying.
"The rescue boats have heard screams in the water," Jonas Franzen, of the Swedish Maritime Administration, told national broadcaster SVT. "The priority is to save lives," he added.
The Danish Meteorological Institute said the fog was not dense and such conditions were not unusual at this time of year.
The search mission was called off as the overturned Karin Hog was towed away in waters full of wreckage. The Swedish Maritime Administration said that further efforts to find the missing crew would be taken once the capsized ship had been towed closer to land.
Danish authorities said the barge captain had been given an alcohol test, as was standard procedure, which would be delivered to Swedish police.
The Scot Carrier was sailing from Hargshamn, north of Stockholm, to Montrose on Scotland's east coast, according to financial data company Refinitiv Eikon.
Its owner, Scotline, said it could not comment on details but that it was assisting local authorities.
The waters between Sweden and Denmark are busy with maritime traffic. Collisions are rare, although in 2006 a small Danish vessel sank after a collision with a Swedish vessel, and all the crew were rescued alive.
Register for free to continue reading
Registration is a free and easy way to support our truly independent journalism
By registering, you will also enjoy limited access to Premium articles, exclusive newsletters, commenting, and virtual events with our leading journalists
Already have an account? sign in
Register for free to continue reading
Registration is a free and easy way to support our truly independent journalism
By registering, you will also enjoy limited access to Premium articles, exclusive newsletters, commenting, and virtual events with our leading journalists
Already have an account? sign in
Join our new commenting forum
Join thought-provoking conversations, follow other Independent readers and see their replies