Carla Bruni 'vetoed Louvre rock concert'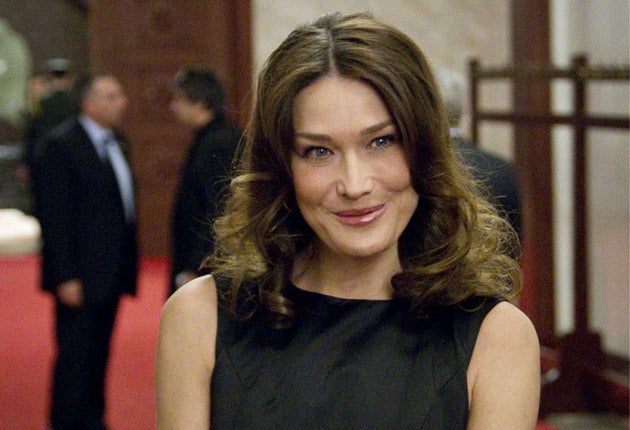 Even the Mona Lisa may find it hard to keep her smile. France's other Italian-born icon of enigmatic female beauty has denied La Joconde a free rock concert. Plans for the first open-air gig in the courtyard of the Louvre have been squashed by the pop-singing French first lady, Carla Bruni-Sarkozy, according to a French investigative newspaper.
The Ministry of Culture, after first seeming to approve of the idea, has banned the event, which was due to take place on 18-19 June. The concerts have been declared "unsuitable" and potentially unsafe for such a "sensitive" and historic site. But according to the newspaper Le Canard Enchainé, Ms Bruni-Sarkozy objected because she feared the Louvre gigs would overshadow a series of pop concerts to raise money for Aids sufferers starting in Paris six days later. The first lady is an official Aids ambassador for the UN.
The Louvre rock festival, organised by a French youth culture magazine, Les Inrockuptibles, had been enthusiastically welcomed by the world's largest art gallery. Rock bands playing in the Cour Napoléon, the large space between the two wings of the Louvre, would "rejuvenate" the museum's image, management said. The performers would "attract a different kind of public" from the chamber music often played within the building itself.
The Paris town hall was "delighted" with the idea. Senior officials responsible for public order in Paris also gave their permission, so long as the number of concert-goers was restricted to 15,000 and the sound systems were turned off at midnight. The culture ministry also appeared to approve.
Then, earlier this week, the Culture Minister, Frédéric Mitterrand, said "non". Holding a rock concert in a "historic monument" raised problems of safety and possible damage and was "not a good idea", ministry officials said.
What was more, they pointed out, the date, 18 June, was the 70th anniversary of General de Gaulle's radio appeal from London for a defeated France to continue the fight against Nazi Germany. A rock concert would be "unwelcome".
However, Le Canard Enchainé said the objections had come directly from Carla Bruni-Sarkozy. The Inrockuptibles magazine had appealed to her to change her mind, the newspaper said, and received an "abrupt" response. Half an hour later, the magazine received a call from the Paris Préfecture, responsible for public order in the city. Its approval was also withdrawn.
The concert was to have featured American-Lebanese singer Mika, French band Phoenix, the New York band Vampire Weekend and Charlotte Gainsbourg, daughter of Serge Gainsbourg and Jane Birkin. All the artists had turned down other offers. They are said to be furious.
Join our commenting forum
Join thought-provoking conversations, follow other Independent readers and see their replies