Catalan referendum: Spanish foreign minister claims photos of police brutality are 'fake'
'I don't agree with you that this is an extraordinary level of violence,' says Alfonso Dastis 
Maya Oppenheim
Monday 02 October 2017 14:04 Comments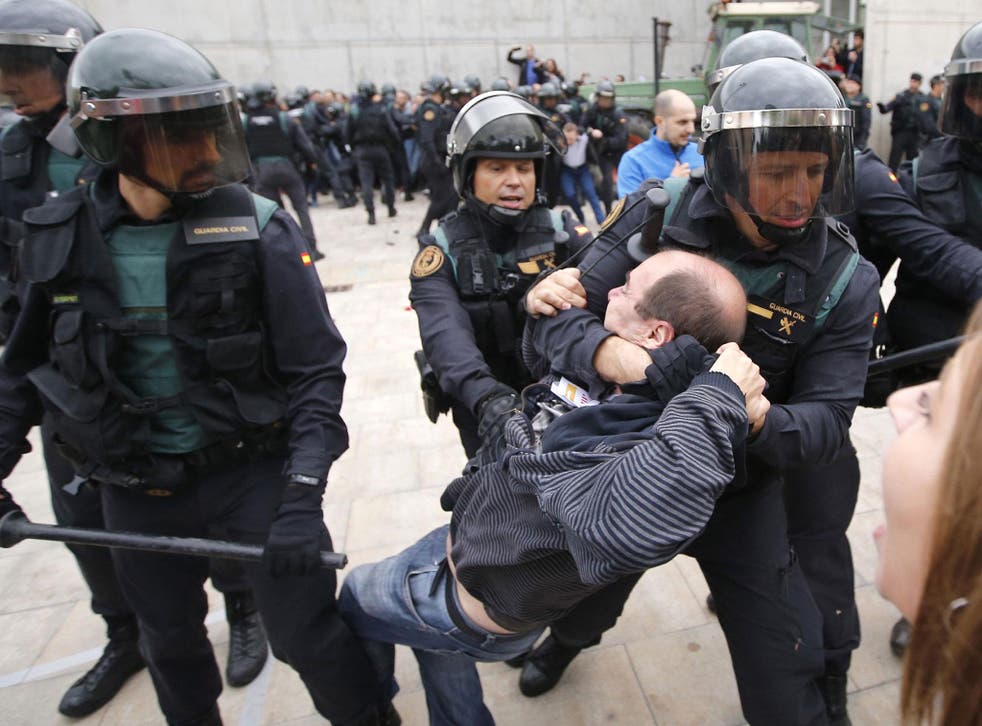 Spain's foreign minister has argued police violence during Catalonia's independence vote was "not extraordinary" and claimed "fake photos" of brutality have been circulating on social media.
Violent scenes erupted across Catalonia on Sunday as riot police beat protesters and stormed polling stations in an eleventh-hour attempt to prevent the vote on independence from Spain going ahead. Catalan officials said at least 844 people and 33 police were hurt.
Foreign minister Alfonso Dastis sought to downplay the violence which saw police fire rubber bullets despite them being illegal in Catalonia, use batons and drag peaceful protesters from the ground.
Clashing with Sky News' Europe correspondent Mark Stone live on air, Mr Dastis claimed some of the photos he had spotted online dated back to 2012 and he was keen to await "pieces of information that are not disputable".
He said: "I'm sure you have seen what you have seen, but I have seen fake photos that date back to 2012. So, I think we have got to be patient, and look at the situation, and really work out a way to find an appropriate solution within the law".
Mr Stone hit back: "You talk about fake news. Think it is pretty hard to fake things that actually happen in front of you. So, there may well be fake photos on the internet, I don't know about that, but clearly what we saw today was unfolding in front of us."
After Mr Stone described the brazen displays of violence he witnessed first-hand, Mr Dastis said he had "not seen the violence you seem to have seen" and claimed the police had tried to be proportionate in their response.
He said: "I don't agree with you that this is an extraordinary level of violence. You may think people were peacefully exercising their right to vote but the problem is this so-called referendum had been held to be illegal by the constitutional court."
Emergency services said most of the wounded people had minor injuries such as "bruises, dizziness and anxiety attacks" but there were also said to be some serious injuries.
On Sunday morning, the regional government tweeted 73 per cent of polling stations (4,561) were open but by the middle of the afternoon, Spain's Interior Ministry said 92 polling stations had been closed.
The regional government said Catalonia had overwhelmingly voted for independence from Spain, with 90 per cent of over two million votes counted saying "yes". According to the Catalan government, preliminary results from the vote showed 90 per cent of people cast their ballots in favour of independence.
A spokesman said 2.26 million Catalans – 43 per cent of the region's 5.3 million eligible voters – had participated in the referendum despite the police forcibly preventing some from casting their ballot. The Catalan government did not establish a threshold for minimum turnout in the election, claiming the vote would be binding irrespective of participation levels.
The regional president, Carles Puigdemont, has pledged to declare unilateral independence from Spain within 48 hours of a victory for the yes campaign.
World news in pictures

Show all 50
Spanish Prime Minister Mariano Rajoy insisted that no independence referendum had taken place in Catalonia and that those who participated had been "fooled" into taking part in an illegal vote. He thanked the police for their heavy-handed response, saying they had acted with "firmness and serenity" in clashes with voters.
"Today there has not been a self-determination referendum in Catalonia," he said on Sunday night. "The rule of law remains in force with all its strength. We are the government of Spain and I am the head of the government of Spain and I accepted my responsibility."
"We have done what was required of us. We have acted, as I have said from the beginning, according to the law and only according to the law. And we have shown that our democratic state has the resources to defend itself from an attack as serious as the one that was perpetrated with this illegal referendum. Today, democracy has prevailed because we have obeyed the constitution."
Footage shows riot police brutally eject Catalans from polling station
The Spanish government's insistence the referendum is illegal is supported by the country's constitutional court and the Catalan high court.
UK politicians condemned the police violence - Labour, the SNP and the Liberal Democrats all spoke out. Labour leader Jeremy Corbyn said: "I urge Theresa May to appeal directly to Rajoy to end police violence in Catalonia and find a political solution to this constitutional crisis."
The British Foreign Office appeared to give tentative support to the Spanish Government's position. A spokesperson said: "The referendum is a matter for the Spanish Government and People. We want to see Spanish law and the Spanish constitution respected and the rule of law upheld."
Catalan Referendum: Spanish police fire rubber projectiles at protesters in Barcelona
They added: "Spain is a close ally and a good friend, whose strength and unity matters to us."
On Monday, the European Commission confirmed the independence referendum in Catalonia was "not legal" under Spanish law but also urged the Spanish government to start a dialogue, arguing brutality could not be a political instrument.
The Catalan President, Carles Puigdemont, has accused Spanish authorities of using "unjustified, disproportionate and irresponsible" violence in its crackdown on the region's independence referendum.
"With this day of hope and suffering, the citizens of Catalonia have won the right to an independent state in the form a republic," he said in a televised announcement after polls closed.
Register for free to continue reading
Registration is a free and easy way to support our truly independent journalism
By registering, you will also enjoy limited access to Premium articles, exclusive newsletters, commenting, and virtual events with our leading journalists
Already have an account? sign in
Join our new commenting forum
Join thought-provoking conversations, follow other Independent readers and see their replies