Catalonia independence: Grassroots movement vows to oppose direct rule from Madrid
'Welcome to the first edition of "la Festa Catalana" under the auspices of the new Catalan republic'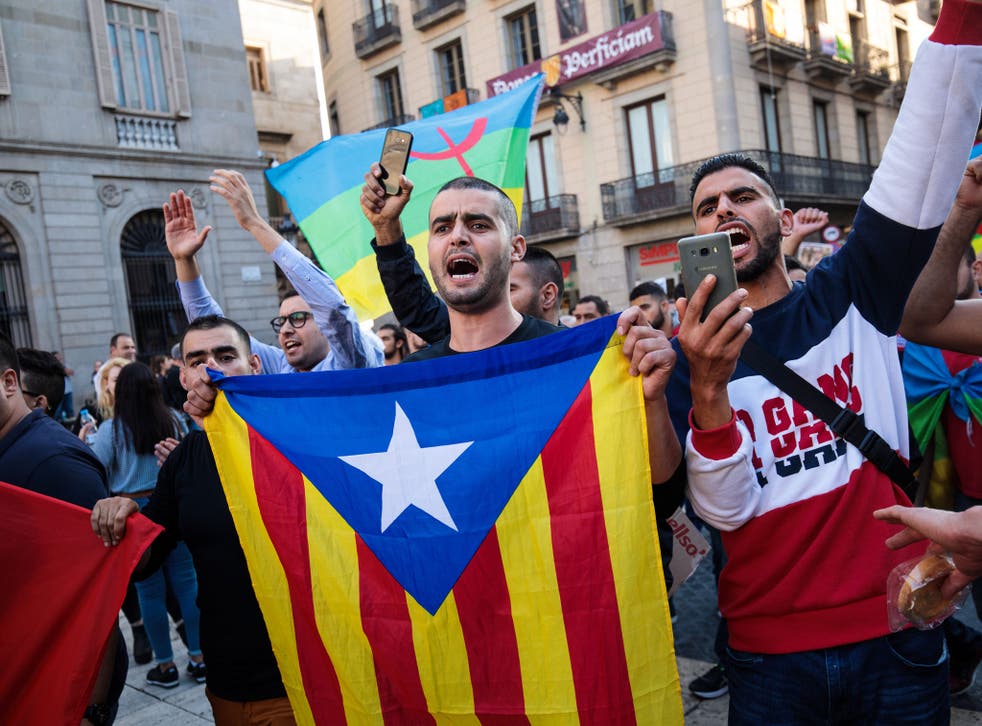 Grassroots Catalan nationalists and their leaders today underlined their commitment to peaceful resistance when it came to defending their recently declared independent Catalan republic, even as the pro-Spanish unity movement has confirmed plans for a major demonstration on Sunday in Barcelona.
Despite being sacked by Spanish Premier Mariano Rajoy on Friday as regional premier, Carles Puigdemont gave no indication in a speech on Saturday that he considered himself dismissed and called on "democratic opposition" to direct rule from Madrid.
Speaking in a TV address from the nationalist stronghold of Girona, where he was previously mayor and which was one of the first of a number of Catalan cities to remove the Spanish flag from its town hall balcony on Friday, Mr Puigdemont said he would continue "working to build a free country".
"We must do so resisting repression and threats, without ever abandoning, at any time, civic and peaceful conduct," he insisted.
"Let us continue to persevere without violence, without insults and with respect for all the [ideological] symbols," he added. He also appealed for civic respect for any demonstrations, regardless of whether they were in favour of or against Catalan independence.
Mr Puigdemont's request for such respect comes less than 24 hours before the first major demonstration in favour of Catalonia remaining in Spain since independence was declared is due to take place. Several hundred thousand people turned out for the previous demonstration organised by the same pro-unity association, the Societat Civil Catalana (SCC), on 8 October in Barcelona and similar numbers are expected on Sunday. A large pro-unity rally was held in Madrid on Saturday.
The Spanish government refused to comment on Mr Puigdemont's speech, insisting that he had been removed from his post as regional premier and that it was "up to the courts" to evaluate his actions.
The government was, however, reported to have sent a reprimand to Catalonia's public television channel, TV3, for broadcasting the address with a subtitle "strap" reading "President of the Generalitat [Regional Government]".
Celebrations as Catalan parliament votes in favour of independence
Following the sacking of Mr Puigdemont and his ministers, on Saturday it was confirmed that Spain's deputy Prime Minister Soraya Sáenz de Santamaria has now been put in charge of running Catalonia until regional elections are held on 21 December.
Also on Saturday, another top regional official, Josep Lluis Trapero, the Catalan police chief currently facing charges of sedition, was removed from office, a decision which he has said he will not dispute.
He later sent a letter to his junior officers, saying they should respect the orders of his substitute, his former deputy Ferran Lopez and an internal memo, with no name attached, was circulated among the force saying that the Mossos should remain neutral.
However, among grassroots nationalist supporters of Catalan independence in Barcelona on Saturday, there was a sense of determination that their republic was here to stay and would be defended using peaceful resistance.
"Welcome to the first edition of la Festa Catalana under the auspices of the new Catalan republic," Joan Gomez, the speaker for an official open-air exhibition of traditional Catalan folk music and dance in Barcelona's old quarter, announced to a watching group of tourists on Saturday morning – who responded with scattered applause.
"We put on this demonstration every Saturday but today, coinciding with yesterday's declaration of independence, is a very special edition," Mr Gomez later told The Independent as behind him a small group of middle-aged Catalans circled and raised their arms in a sardana, a dance often described as depicting Catalan unity and pride.
"We don't know how this will all end up, we're in a conflict of legality with two regional governments, and maybe two sets of elections coming up, too.
"But like in any new country, what we are hoping for now is that we will gain recognition and also that nothing untoward happens in the meantime."
Mr Gomez was adamant that there would be "absolutely peaceful resistance" to any measures imposed by Madrid.
"Violence is not the way we want to defend our ideals. All the official Catalan pro-independence associations and parties have insisted on a peaceful response – and, when we can, for a festive response, too, like we had last night when declaration was declared."
Catalan parliament votes on independence: in pictures

Show all 15
What form this civil resistance will take is as yet unclear. For now there are rumours of human chains set to be formed around regional government buildings, a call for a strike on Monday by one pro-independence trade union and a request from one of the main secessionist associations, the ANC, that civil servants should not follow orders from Madrid.
Meanwhile in the nearby Plaza Sant Jaume square itself, where a massive nationalist rally had celebrated independence in front of the regional government's building on Friday evening, when clocks struck 12 midday on Saturday there was no sign of any separatists whatsoever, just crowds of tourists and TV camera crews.
The only Catalan flag visible at ground level belonged to a small group of protesters demanding the repeal of court sentences against Republicans during the era of General Franco.
But above the main Catalan government building, as if symbolising how deeply the independence crisis has fractured the region, both the Catalan and Spanish flags remained in place.
Join our new commenting forum
Join thought-provoking conversations, follow other Independent readers and see their replies