Spain jails separatist leaders for up to 13 years for 2017 Catalan independence bid
Puigdemont labels the jailing an 'atrocity' and calls for civil disobedience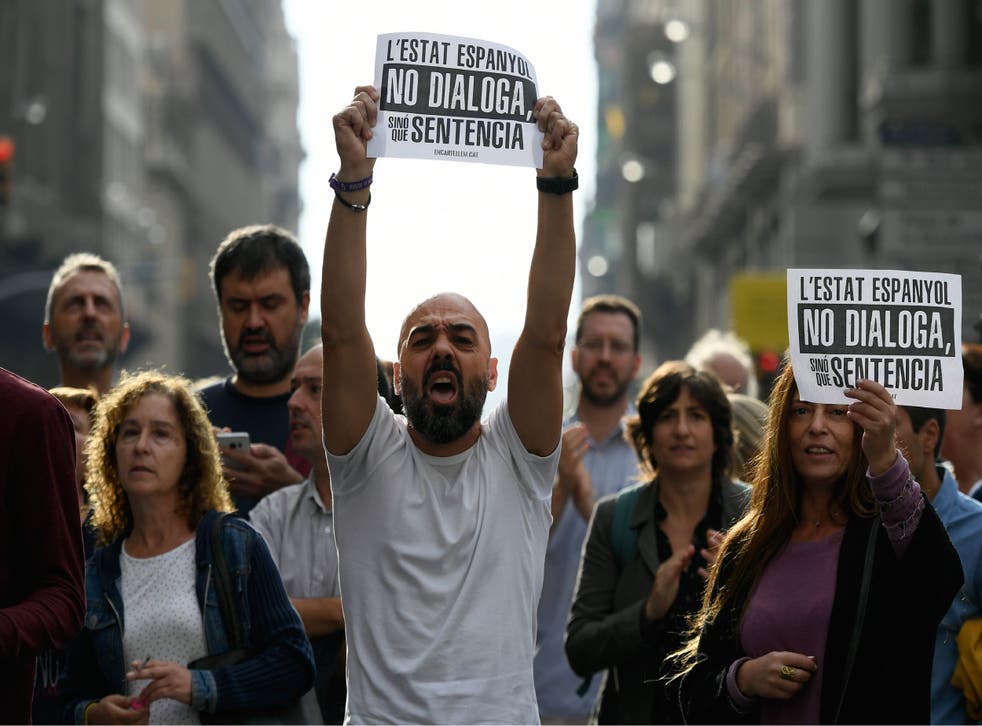 Spain has jailed nine Catalan separatist politicians over a failed 2017 declaration of independence for Catalonia.
The country's supreme court on Monday sentenced the leaders to between nine and 13 years in prison after finding them guilty of sedition.
Three other politicians were found guilty only of disobedience and did not receive jail sentences.
The longest prison sentence of 13 years went to former Catalan deputy leader Oriol Junqueras. Four of the politicians were also convicted of misuse of public funds.
Supporters of independence have previously pledged to launch a campaign of civil disobedience and protest if any of the leaders were found guilty.
Thousands take to streets after Catalan separatist leaders jailed

Show all 20
Reacting to the sentences, the high-profile former head of Catalonia's regional government Carles Puigdemont said that the decision was an "atrocity".
"It is time to react," he said. "For the future of our sons and daughters. For democracy. For Europe. For Catalonia."
Mr Puigdemont was not covered by the trial because he fled the country and now lives in self-imposed exile in Belgium.
Spanish authorities reportedly deployed hundreds of extra police to the breakaway region in anticipation of the verdict.
Protests have so far been peaceful, though police chiefs have said they are prepared for the possibility of disorder.
The ruling is likely to influence Spain's upcoming general election, scheduled for 10 November. The election, Spain's fourth in four years, is being held to break a deadlock in parliament.
Centre-left leader and prime minister Pedro Sanchez is leading in the polls.
Register for free to continue reading
Registration is a free and easy way to support our truly independent journalism
By registering, you will also enjoy limited access to Premium articles, exclusive newsletters, commenting, and virtual events with our leading journalists
Already have an account? sign in
Register for free to continue reading
Registration is a free and easy way to support our truly independent journalism
By registering, you will also enjoy limited access to Premium articles, exclusive newsletters, commenting, and virtual events with our leading journalists
Already have an account? sign in
Join our new commenting forum
Join thought-provoking conversations, follow other Independent readers and see their replies