Catalonia independence: Catalans ignore Spanish veto to vote on independence
'Whilst I am in charge, nothing will threaten Spain's unity,' says Prime Minister Mariano Rajoy
Alasdair Fotheringham
Sunday 09 November 2014 20:57 Comments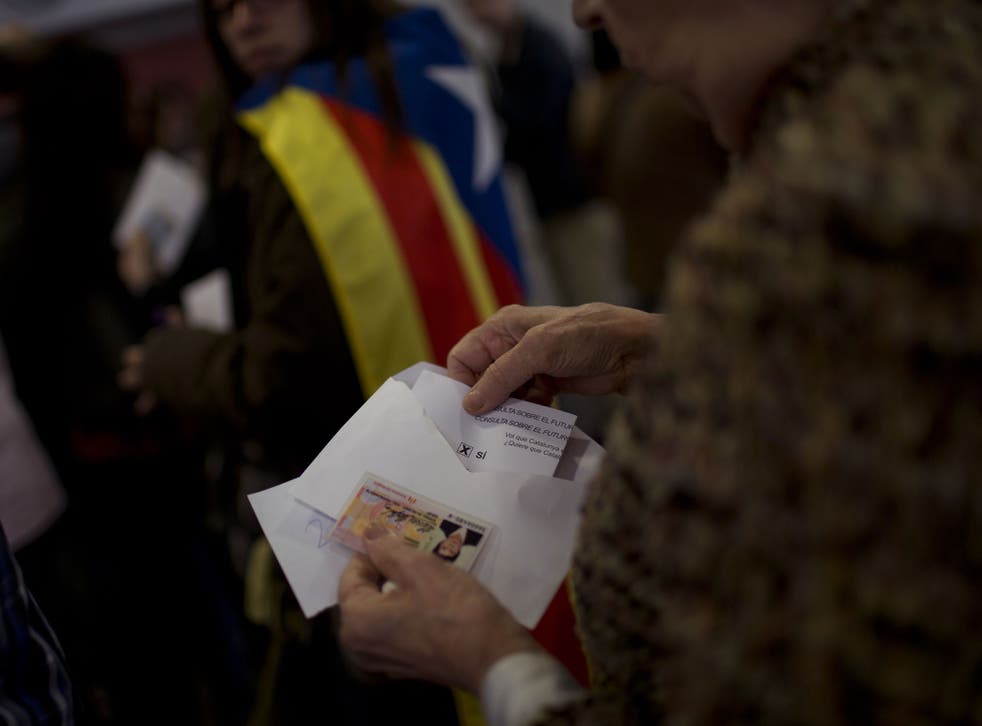 The polling stations were makeshift, the election officers all volunteers and the whole process suspended for being potentially illegal, not once but twice. But Catalonia's much-disputed unofficial referendum on independence nonetheless finally went ahead today.
Early reports suggested the final number of voters would be high. By Sunday lunchtime, four hours after polling opened, the Catalan government reported more than a million votes had been cast in Catalonia – of the approximately five million on the electoral roll – and abroad.
"We have voted and whatever happens we have won," Carme Forcadell, the president of ANC, one of the largest pro-nationalist organisations, said. That all the 1,317 polling stations, manned by 40,900 volunteers, had opened across Catalonia "already makes this a success", she said.
The ballot was held in the teeth of strong opposition from the Spanish government. Prime Minister Mariano Rajoy said on Saturday that "this is no referendum or consultation and will have no effect", adding that "whilst I am in charge, nothing will threaten Spain's unity".
In pictures: Catalonia independence demonstrations in Spain

Show all 10
But some voters in the small town of Corbera de Llobregat, like retired journalist Javier De Dalmases, argued that Madrid's determination to block the poll had spectacularly backfired.
"I'm not pro-independence, and three months ago I'd have told you, in no uncertain terms, that this vote wasn't worth anything," De Dalmases said while taking his dog for its Sunday morning walk before heading for a polling station. "But the way Madrid has treated us is what's caused me to change my mind."
Loli Martos Caracuel, an English teacher in her twenties living in the Catalan town of Granollers, said: "I'm in favour of independence, but the important thing is to let people vote one way or another.
"How on earth is it possible for a government to prohibit us from voting? That's why people are cross."
Twice – in its original form and the watered-down form held today – the vote had been declared potentially illegal and suspended by Spain's constitutional court. State officials were conspicuous by their absence in Sunday's voting process, but ultimately there was little Madrid could do to stop it.
Rather than state employees like teachers taking responsibility for the polling stations in school buildings, for example, in many cases the buildings' keys were handed over to election volunteers. Similarly, the 2.5 million pamphlets urging people to vote were sent out by private companies, not the state-owned postal service. Such was the keenness to avoid Spain's legal radar, that the referendum itself was re-dubbed a "participative process".
Critics pointed out that the two questions on Sunday's ballot were identical to the original referendum, it was held on the same date and had been declared potentially illegal.
One of the few moments of trouble in today's voting occurred when six people with copies of Spain's official state gazette – that publishes all Spanish legislation – burst into the polling station in the village of San Vicente dels Horts, home to Oriol Junqueras, president of the influential nationalist ERC party.
Register for free to continue reading
Registration is a free and easy way to support our truly independent journalism
By registering, you will also enjoy limited access to Premium articles, exclusive newsletters, commenting, and virtual events with our leading journalists
Already have an account? sign in
Join our new commenting forum
Join thought-provoking conversations, follow other Independent readers and see their replies