Catalonia: How people in Barcelona reacted to Catalan leader's suspended declaration of independence
'The young people are not worried about the economy, investments, the things that older people are worried about. We don't have anything to lose'
Jennifer Waddell
Barcelona
Wednesday 11 October 2017 08:34 Comments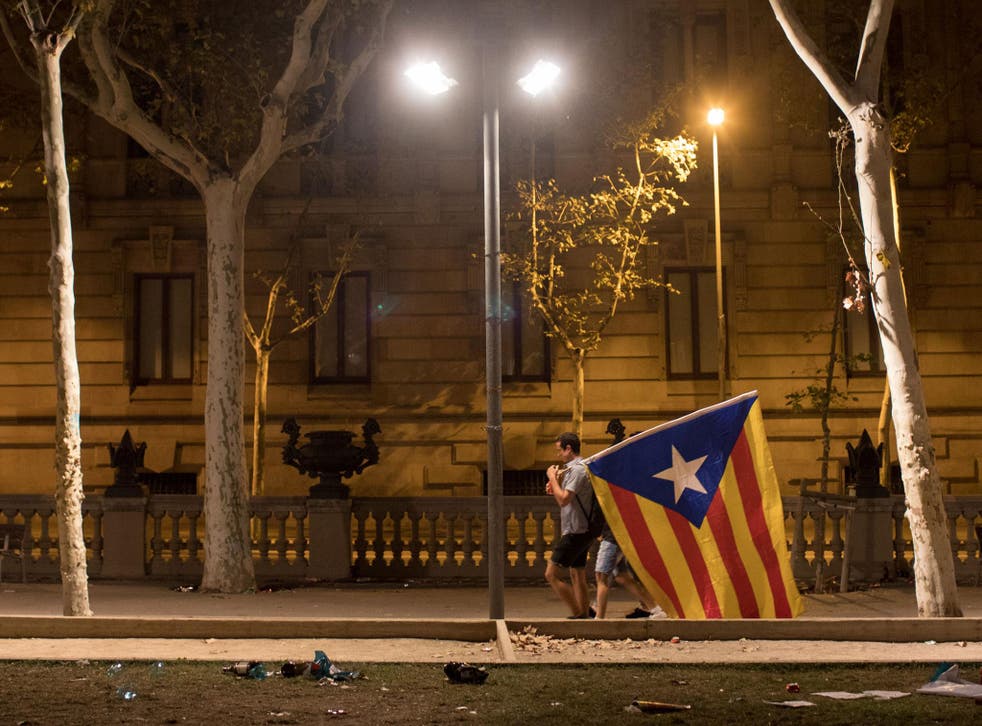 Catalonia's leader Carles Puigdemont stepped back from the prink of secession from Spain on Tuesday night, instead issuing a suspended declaration of independence and opening the door to talks with Madrid.
On the streets of Barcelona, some expressed disappointment with the lack of a formal declaration, but were encouraged by how close the region had come this time, with some thinking that the Spanish government might be forced to the negotiating table.
A massive demonstration by pro-independence associations gathered near what Catalans call the Arc de Triomf, under the slogan of Hola Republica [Hello Republic].
They initially cheered as they watched on two giant television screens as Mr Puigdemont began his speech with a lengthy review of modern Catalan history and its contribution to democracy. However, when it became obvious that an immediate declaration of a new Catalan state was not about to form part of his address, a sizable proportion left and the applause weakened notably.
Jordi Sanchez, 55, was one of those watching the announcement on a big screen, and he blamed Europe for the lack of a formal declaration. "We were missing the support of Europe and Puigdemont was under significant pressure."
Mr Sanchez said there was a feeling of frustration and inevitability surrounding the decision. Despite this, he said he was encouraged by the fact that this was the closest Catalonia has been to independence since the early 1930s.
"You can't create a state from one day to the other. We'll have to see if we can get a binding referendum like Scotland did," he said.
Maria Borras, 58, was also disappointed with the decision, but stressed that Mr Puigdemont had avoided escalation of the situation without losing ground.
"I would have liked to see a declaration of independence. However, looking at it rationally with what we call 'Catalan common sense', this was a good road forward without a dramatic break."
Ms Borras explained that this decision avoided possible violent reactions from Madrid. "They will have to sit down and negotiate with a mediator or they will look very bad."
Gemma Freixer, 27, had been very hopeful before the speech, representing the view of young Catalans who may eventually take up the baton of seeking independence.
"From my point of view, the young people are not worried about the economy, investments, the things that older people are worried about. We don't have anything to lose," she said.
Register for free to continue reading
Registration is a free and easy way to support our truly independent journalism
By registering, you will also enjoy limited access to Premium articles, exclusive newsletters, commenting, and virtual events with our leading journalists
Already have an account? sign in
Join our new commenting forum
Join thought-provoking conversations, follow other Independent readers and see their replies