Spain will step in to 'protect the nation' if Catalonia declares independence, says ex-minister
Asked if there will be 'civil war', MP Francisco Martinez Vazquez says he 'hopes the regional government will step back from what they are doing'
Adam Withnall
Monday 09 October 2017 09:00 Comments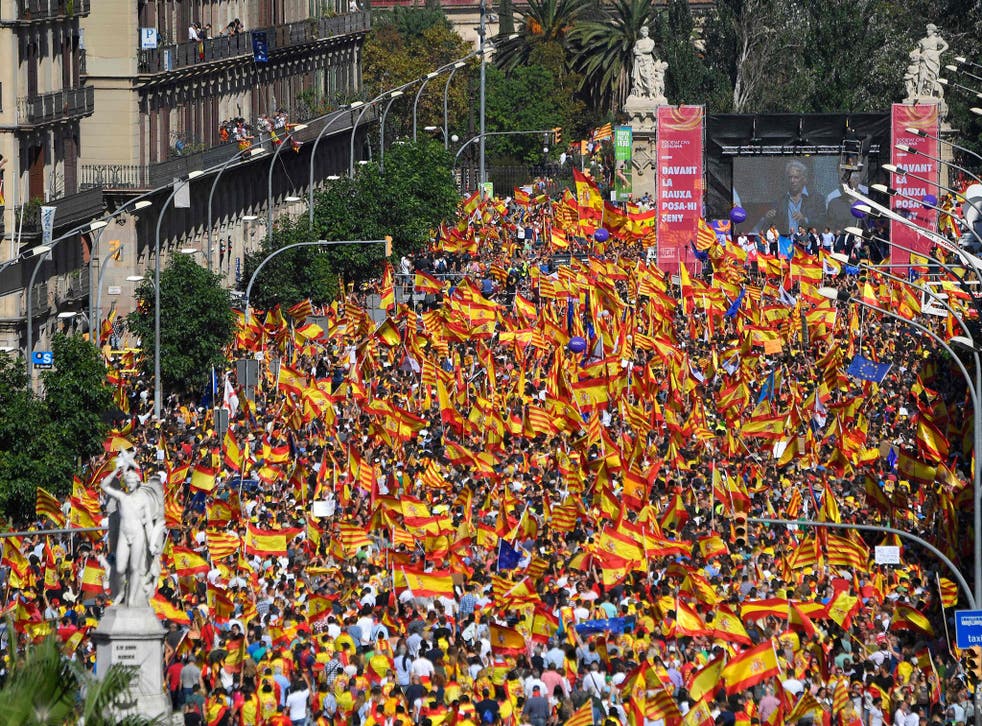 The Spanish government will intervene to "protect the nation" if Catalonia declares independence, a former security minister has said.
Regional leader Carles Puigdemont is to address the Catalan government on Tuesday, but there is growing speculation that he will postpone any declaration after hundreds of thousands marched in support of Spanish unity at the weekend.
Catalonia voted overwhelmingly in favour of independence at a referendum on 1 October, but turnout was low and the ballot had been declared illegal by Spain's constitutional court.
Speaking on the BBC's Today programme on Monday morning, an MP and ex-minister from the ruling People's Party, Francisco Martinez Vazquez, hailed the anti-separatist march on Sunday and warned that "no one can talk on behalf of the whole of Catalonia".
Mr Vazquez, who is also a professor of constitutional law, said the government would not accept a unilateral declaration of independence "just supported by a part of the Catalan society and a part of the regional government".
If Mr Puigdemont did try to declare independence, he warned, Spain will intercede. "Of course the government will do what the law and the constitution provides for the government to do," he said.
"It is not just the government, it is all the other institutions that make us a country - the constitutional court, the prosecutors - everyone reacting to protect the national state."
Asked if Spain risked "civil war" by stepping in, Mr Vazquez said: "I'm sure that won't happen. I really hope the regional government, which is acting in a very improper way, will step back from what they are doing.
"We cannot accept that just because someone is saying there is going to be a disturbance, OK we are going to just accept a breach of the law. No government in the world would accept that."
Spanish Prime Minister Mariano Rajoy said in an interview published in Die Welt on Monday that Spain would not be divided.
Asked if there was a risk that Spain would be divided, Mr Rajoy said: "Absolutely not. Spain will not be divided and national unity will be preserved. We'll do everything that legislation allows to ensure that."
France, which would border the new state if the Spanish region achieved independence, said it would not recognise Catalonia.
In a TV interview on Monday, European affairs minister Nathalie Loiseau said: "If there were to be a declaration of independence, it would be unilateral, and it would not be recognised.
Catalonia independence referendum: Riot police clash with voters

Show all 17
"Catalonia cannot be defined by the vote organised by the independence movement just over a week ago," the junior minister said. "This crisis needs to be resolved through dialogue at all levels of Spanish politics."
A hasty decision to recognise independence following such a unilateral declaration would amount to fleeing France's responsibilities, Ms Loiseau added.
"If independence were to be recognised - which is not something that's being discussed - the most immediate consequence would be that (Catalonia) automatically left the European Union."
Register for free to continue reading
Registration is a free and easy way to support our truly independent journalism
By registering, you will also enjoy limited access to Premium articles, exclusive newsletters, commenting, and virtual events with our leading journalists
Already have an account? sign in
Register for free to continue reading
Registration is a free and easy way to support our truly independent journalism
By registering, you will also enjoy limited access to Premium articles, exclusive newsletters, commenting, and virtual events with our leading journalists
Already have an account? sign in
Join our new commenting forum
Join thought-provoking conversations, follow other Independent readers and see their replies