Catalonia: Spain reinforces security at airports as region threatens to declare independence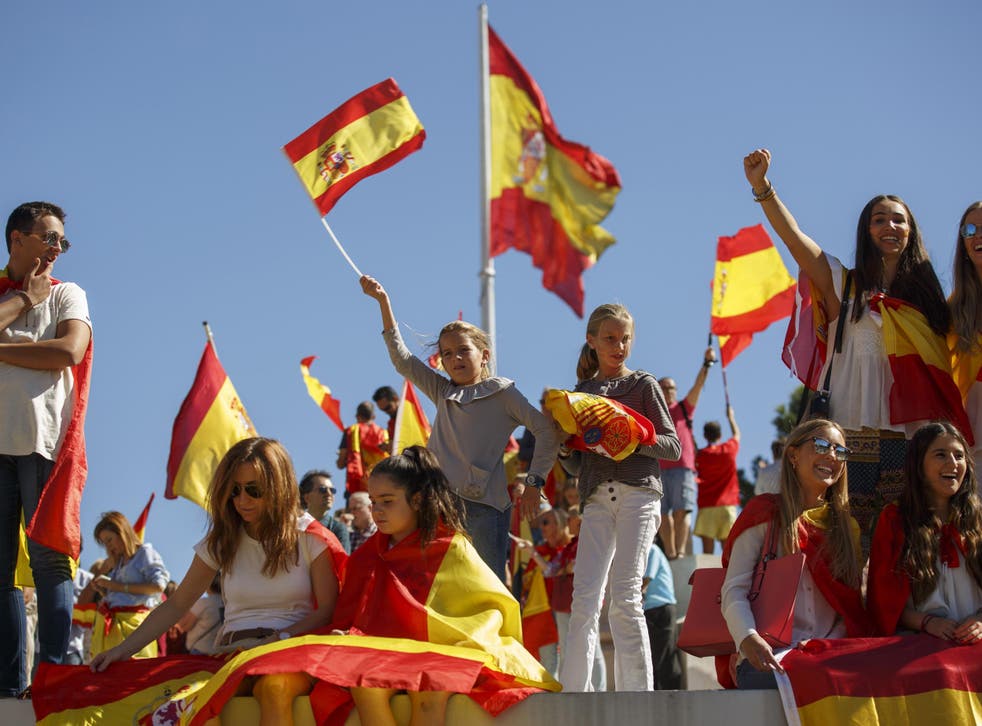 The Spanish government is reinforcing security at airports and rail stations in Catalonia before a meeting at which the regional leader could declare independence from Madrid, a police source said on Tuesday.
Catalan police tightened their protective ring around the region's parliament on Tuesday where secessionists have pledged a unilateral declaration of independence from Spain despite warnings from Madrid of swift counter-measures.
Regional leader Carles Puigdemont held a meeting of his cabinet to decide how to press an independence drive that has stirred powerful emotions across Spain and raised fears of turmoil among European Union partner states.
Catalan police armed with automatic rifles guarded Barcelona's Parc de la Ciutadella that houses the elegant 18th century parliament as it prepared to convene at 6 p.m. (1600 GMT). About 20 armoured Catalan police vans blocked every entrance to the park and the entrance to parliament itself was guarded by three armoured vans and officers wearing balaclavas.
Spanish national police, denounced by separatists for their use of force to hinder the region's Oct. 1 referendum, were not to be seen. However, the Spanish government was reinforcing security at airports and rail stations in Catalonia.
Pro-independence activists were gathering around the parliament, where big screens had been set up for them to watch proceedings. Farmers parked half a dozen tractors near the assembly, flying the separatist Catalan flag.
A declaration of independence would deepen Spain's biggest political crisis since an attempted military coup in 1981 and would almost certainly draw a crackdown from Madrid, possibly including suspension of Catalonia's autonomous government.
Both Spain's government and European Council President Donald Tusk appealed to Puigdemont not to proclaim independence.
"I ask you to respect, in your intentions, the constitutional order and not to announce a decision that would make such a dialogue impossible. Diversity should not, and need not, lead to conflict, whose consequences would obviously be bad for the Catalans, for Spain and for the whole of Europe," Tusk said in a speech in Brussels.
The government of Spain's wealthiest region says 90 percent of those who voted on Oct. 1 backed independence, but turnout was only 43 percent as many opponents of statehood stayed at home.
The Spanish government appealed to Puigdemont to reflect and not to take an irrevocable step by declaring independence.
"I want to ask Mr. Puigdemont not to do anything irreversible, not to take a path of no return, not to carry out any unilateral declaration of independence and to return to legality," Madrid government spokesman Inigo Mendez de Vigo told reporters.
French President Emmanuel Macron said the EU should not play a mediating role in the Catalonia crisis, expressing confidence in Madrid's ability to handle the situation.
The Catalan parliament and other buildings, such as the regional high court building, could become a focus of contention between Spanish and Catalan authorities.
Thousands of national police reinforcements sent by Madrid for the referendum remain in the area, many of them in two cruise ships docked in Barcelona harbour.
Supporters of independence were already congregating near the parliament hours before a pro-independence rally called for 6 p.m. to coincide with Puigdemont's speech to the assembly.
"We are very excited, it is another historic day and we're hoping they will declare independence," said Laura Moreno, a 21-year-old literature student, sitting wrapped in a Catalan flag near the parliament.
If independence is not declared, she said, "the fight will go on and we'll try again ... If it doesn't happen now, it will in the future."
Aitor Llado, 30, walking near the Catalan parliament carrying a Catalan separatist flag, also said it was an historic day. "Today is the day they are going to declare independence and we hope to leave Spain because it's an oppressor country."
The issue has deeply divided the northeastern region as well as the Spanish nation. Opinion polls conducted before the vote suggested a minority of around 40 percent of residents in Catalonia backed independence.
Losing Catalonia, which has its own language and culture, would deprive Spain of a fifth of its economic output and more than a quarter of exports.
Hundreds of thousands of people demonstrated in Barcelona against independence at the weekend, waving red-yellow Spanish flags through the city centre.
That rally occurred a week after some 900 people were injured when police fired rubber bullets and stormed crowds with truncheons to disrupt a referendum ruled illegal in Madrid.
Puigdemont has said he is determined to apply a law passed by the Catalan assembly that called for a declaration of independence within days if Catalans voted "yes" on Oct. 1.
Puigdemont could ask the parliament to vote on a motion of independence, which lawmakers say would start a period of up to six months during which Catalonia would write a new constitution and negotiate a divorce with Spain. Or, he could make a statement of intent on a future independence declaration.
Catalan government spokesman Jordi Turull refused to disclose what Puigdemont would say but told a news conference after the cabinet meeting he would be "clear and explicit" and Tuesday would be an historic day.
The Madrid government has said it will respond immediately to any unilateral independence proclamation.
Spanish ruling party lawmakers said Prime Minister Mariano Rajoy was considering taking the unprecedented step of dissolving the Catalan parliament and triggering new regional elections, the so-called "nuclear option".
The European Commission repeated its call for dialogue in Spain to end the crisis in Catalonia. Puigdemont has also called for talks and international mediation, but Rajoy has said he will not negotiate with the Catalan leaders unless they abandon plans to declare independence.
Markets have been rattled by the Catalan crisis, raising Spain's borrowing costs and pushing down shares.
Spain's benchmark 10-year bond yields were a touch lower on Tuesday, but above lows hit the previous session as investors awaited Puigdemont's speech. Spain's benchmark Ibex share index was down nearly one percent.
The tension is taking its toll on the business climate.
On Monday, three more Catalonia-based companies joined a business drift from the region that has gathered steam since the referendum.
Property group Inmobiliaria Colonial and infrastructure firm Abertis both decided to relocate their head offices to Madrid and telecoms firm Cellnex said it would do the same for as long as political uncertainty in Catalonia continued.
Publishing house Grupo Planeta said it would shift its registered office from Barcelona to Madrid if the Catalan parliament unilaterally declared independence.
Reuters
Register for free to continue reading
Registration is a free and easy way to support our truly independent journalism
By registering, you will also enjoy limited access to Premium articles, exclusive newsletters, commenting, and virtual events with our leading journalists
Already have an account? sign in
Register for free to continue reading
Registration is a free and easy way to support our truly independent journalism
By registering, you will also enjoy limited access to Premium articles, exclusive newsletters, commenting, and virtual events with our leading journalists
Already have an account? sign in
Join our new commenting forum
Join thought-provoking conversations, follow other Independent readers and see their replies