Catalonia independence: Spanish government to lodge appeal against 'illegal' referendum set to take place on 9 November
Madrid is launching a legal appeal today to thwart the latest attempt by Spain's richest region to hold a referendum on independence. Alasdair Fotheringham reports from Madrid on the growing conflict with Catalonia
Alasdair Fotheringham
Monday 29 September 2014 09:22 Comments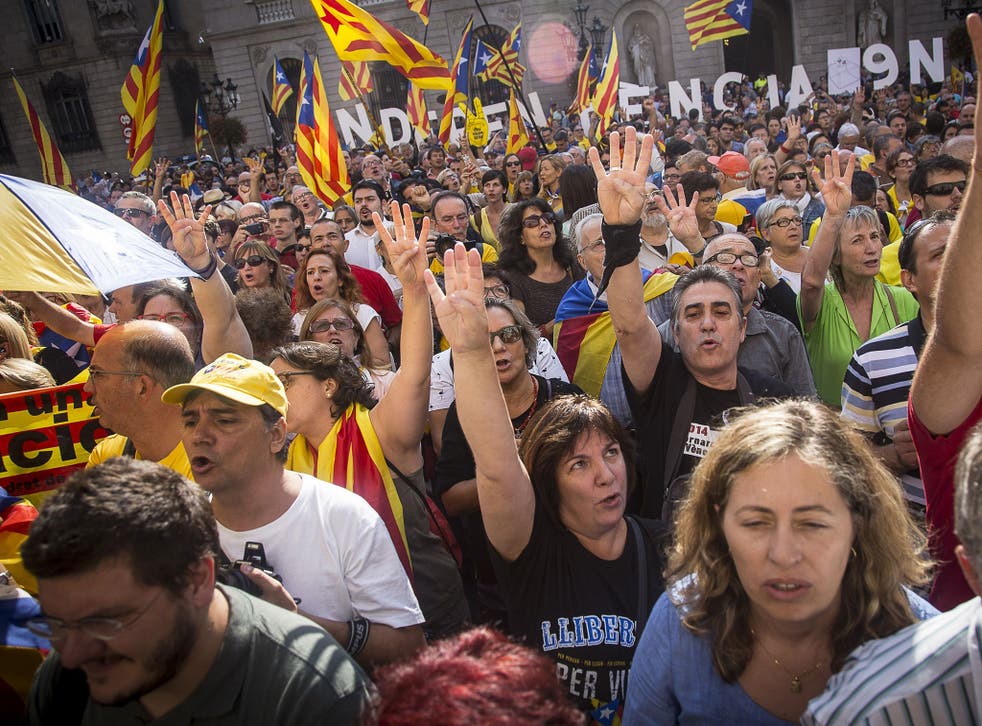 Two days after Catalan President Artur Mas approved a referendum on independence on 9 November, Spain's ruling PP government is to lodge a legal appeal against it, which will result in the referendum being suspended. At that point, after years of rumbling conflict between Madrid and Spain's richest region, the two sides' political gloves will be off.
What could be one of the shortest-lived pieces of legislation in Spanish history was solemnly signed off by Mr Mas on Saturday. The ceremony took place against a backdrop almost groaning under the weight of Catalan-flavoured symbolism, starting with the location for the signing, a stone-lined hall in Barcelona where the former nation's government met in medieval times.
And to drive home the ceremony's legitimacy, a portrait of Catalonia's patron saint, San Jordi, overlooked the signing; the pen Mr Mas used was made, naturally enough, by a Catalan company, Inoxcrom. Living up to their reputation for financial thoroughness, the referendum legislation designed by the Catalans and signed by Mr Mas reveals, right down to the last cent, its precise cost of €8,987,699.17 (about £7m).
But the wording elsewhere is said to be much vaguer, designed to create as many legal labyrinths as possible, and allowing more chances of outmanoeuvring appeals. Those with the right to vote, for example, are somewhat bizarrely described as having the "political condition of being Catalans".
In pictures: Catalonia independence demonstrations in Spain

Show all 10
After a few technical wobbles, an enormous stopwatch in the centre of Barcelona in the emblematic Plaza de Jaume, close to a gigantic voting urn, has now started the countdown in minutes, hours and days to the referendum. But Spain's government in Madrid, on the other hand, is adamant that Catalonia's clock will be stopped well before then. "The referendum will not take place because it is illegal," Spain's Deputy Prime Minister, Soraya Saenz de Santamaria, announced hours after the signing. The Prime Minister, Mariano Rajoy, speaking informally to journalists on an official visit to China, from which he returned late on Saturday night, was uncharacteristically blunt: "He [Mr Mas] has landed himself in this mess."
An emergency cabinet meeting, headed by Mr Rajoy, is due to take place in Madrid on Monday, after which the Constitutional Court appeal will be immediately lodged and the referendum suspended, probably on Tuesday.
The question of whether the referendum will go ahead regardless – and what alternatives there are – will dominate Spain's political agenda this autumn. The tension is heightened considerably by the uncertainty of what action the Catalans will take once the referendum hits Monday's legal roadblock.
Pro-independence demonstrations have already been called by the nationalist parties and if the protest on 11 September, Catalonia's national day, are anything to go by – hundreds of thousands turned out to back it – then they could reinforce nationalist politicians' determination.
"I can't pretend that this will be easy, but it doesn't work just coming out to protest once a year," Mr Mas said on Catalan television on Saturday. "The future is something you conquer, not a gift, and we have to earn that."
However, polls suggest that such street action may prove to be little more than statements of intent. A recent poll for Spain's El Pais newspaper showed that 45 per cent of Catalans, a relative majority, are in favour of suspending the referendum once it is declared illegal by Spain's Constitutional Court.
Only 23 per cent would like the referendum to go ahead regardless, the survey revealed.
The hardline rejection by Madrid over Catalonia's previous requests for increased autonomy has arguably led to flourishing support in Catalonia for an independent state.
But while in Scotland, say, where the pro-separatists have been united under the single banner of the SNP, in Catalonia the nationalists are weakened by their division into several different groupings.
Mr Mas's power base, the conservative-minded CiU, has already visibly and vocally dithered over the possibility of holding an illegal referendum – much to the annoyance of their more hardline political allies, the pro-nationalist, left-wing, ERC.
But simply going ahead with the referendum regardless could lead to arrest for Mr Mas, and a suspension of Catalonia's statute of autonomy.
One option for avoiding the legal deadlock for Mr Mas would be to call early elections for Catalonia on a purely pro-independence ticket.
But that could allow the ERC – which already succeeded in increasing its own share of the vote in November 2012 – to make further big gains at CiU's expense.
Today's court appeal by Madrid is the first major legal hurdle the Catalan nationalists will face this autumn in their battle for a referendum.
But in a climate of steadily escalating political conflict, it is highly unlikely to be the last – and unlike in Scotland, it is in courtrooms rather than in ballot boxes, where Catalonia's independence, perhaps, could ultimately be decided.
Register for free to continue reading
Registration is a free and easy way to support our truly independent journalism
By registering, you will also enjoy limited access to Premium articles, exclusive newsletters, commenting, and virtual events with our leading journalists
Already have an account? sign in
Join our new commenting forum
Join thought-provoking conversations, follow other Independent readers and see their replies