Catalonia: Prosecutor asks for former Catalan leader Carles Puigdemont's extradition
'We can still give written replies, so nothing has been decided,' says defence lawyer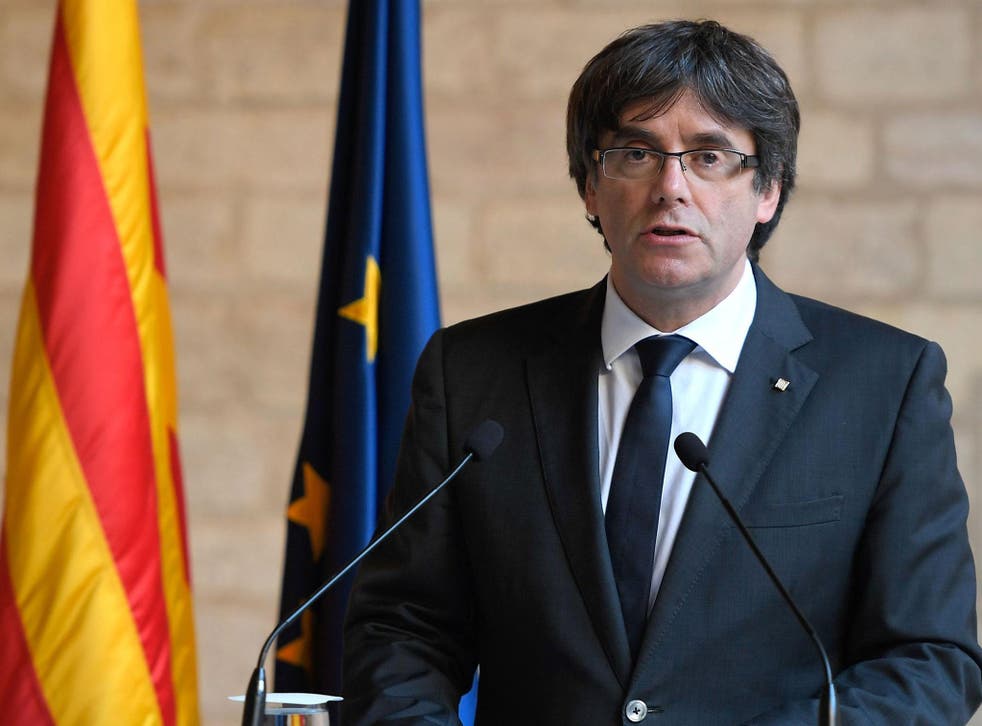 A prosecutor has requested the former Catalan leader Carles Puigdemont be extradited to Spain.
Mr Puigdemont and four of his secessionist allies fled to Brussels after making their independence bid, and have refused to return to face rebellion charges.
The ousted leader's lawyer Paul Bekaert said in a short statement "the prosecutor had asked for the execution of the extradition request".
Yet he added: "We can still give written replies, so nothing has been decided today."
Mr Bekaert also revealed that the court hearing on the possible extradition of the five secessionists had been pushed back until 4 December.
It earlier emerged Spain had sent a Belgian prosecutor information about the jail conditions for Mr Puigdemont and the other ex-ministers should they be sent back.
Spain said the Catalan government members – who are being sought for rebellion, sedition and embezzlement – would be jailed in the modern Estremera prison outside Madrid.
Mr Puigdemont would have a cell of his own with a shower and toilet, or he could share it with one of his ex-ministers, said Spain, and gave assurances the former ministers would have access to their lawyers.
The extradition has created tension between Spain and Brussels. Interior Minister Juan Ignacio Zoido said on Thursday all the information requested had been sent, but pointed out that "Spain is a state of law for many years", adding: "Nobody in Europe is going to give us lessons."
Despite the EU nations almost invariably giving their backing to Madrid in its standoff with Catalonia, Belgium was among the first to criticise the use of violence by Spanish police during the 1 October referendum. Spain insists the police response was proportionate.
Catalonia civil disobedience on 8 August – in pictures

Show all 10
The Belgian government has steadfastly said it cannot intervene in Spain's extradition request because it is up to the independent judiciary to make a decision.
"It is a judicial case based on the separation of powers. It is up to the judicial authorities," Belgian Prime Minister Charles Michel said after meeting with his Spanish counterpart Mariano Rajoy on the sidelines of the European Union summit in Goteborg, Sweden.
Mr Michel's spokesman, Barend Leyts, said the talks were "constructive" and did not centre on the Catalan issue itself. Instead, the two leaders discussed Belgium's candidacy for an EU police chief and the upcoming relocation of EU agencies from Britain, among other issues.
Join our new commenting forum
Join thought-provoking conversations, follow other Independent readers and see their replies