Spanish man 'killed for wearing colours of national flag on his braces in row over nationalism' ahead of Catalonia election
Víctor Láinez was hit over the head with a bar in attack by a known anarchist who had reportedly called him a 'fascist'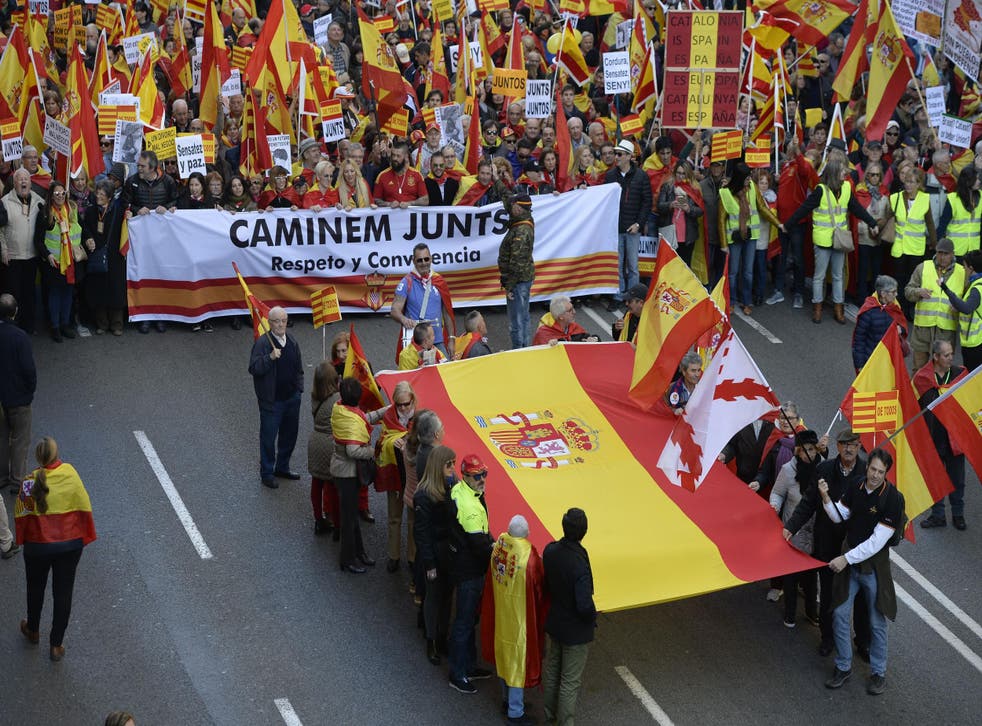 A man was beaten to death for wearing the colours of the Spanish flag on his braces, police say, ahead of elections in Catalonia where pro-independence voters clashed with police at the start of October.
Víctor Láinez, 55, was kicked and struck repeatedly on the head with a metal bar and succumbed to his injuries four days later after he was allegedly set upon by a known anarchist outside a pub.
Police arrested Rodrigo Lanza for attacking Láinez after he and three other people had gotten into an argument with Lanza inside the premises in the city of Zaragoza, a spokesman said.
Witnesses said the attack came after Lanza had rebuked Mr Láinez for wearing the braces in the colour of the national flag in the pub, in the capital of Aragon which borders Catalonia.
The group had been shouting at Mr Láinez and calling him a "fascist" in the row at the El Tocadiscos bar and Mr Láinez had yelled back, local newspaper Heraldo reported.
But it turned violent when Mr Láinez left the premises and Lanza and three others – a man and two women – pursued him outside the door before Lanza struck him with a metal bar and the group laid in kicks into his slumped body before all three fled, according to the report in the newspaper.
Police arrested Lanza, 33, amid their investigation. He has no links to the pro-independence movement in Catalonia but is a known anarchist with a radical left-wing group.
It also emerged that the far-right party Falange said Catalonia native Mr Lainez was a supporter of its movement, according to a report in The Local.
Politicians in Spain have condemned the fatal attack.
"I want to live in a country where nobody is assaulted or insulted for wearing a flag," wrote Spain's Popular Party interior minister Juan Ignacio Zoido on Twitter, according to an English translation.
Justice minister Rafael Catalá also condemned the "repugnant hate crime", Heraldo reported.
The violent attack which left Mr Láinez dead came amid fears Catalonia's election next week could once again stir up tensions.
World news in pictures

Show all 50
Some 900 were left injured when protesters clashed with riot police during the independence referendum in October, according to officials in Catalonia.
The ballot called by regional president Carles Puigdemont was deemed illegal by a court in Madrid. The federal government later imposed direct rule after Mr Puigdemont declared a split from Spain.
Catalonians will go the polls again next Thursday in crucial elections that are expected to steer the course of the movement looking to split the territory from Spain.
The separatist parties have in the recent past always performed stronger at the ballot box over the unionists, but analysts put both the nationalist and separatist parties on a knife-edge.
Join our new commenting forum
Join thought-provoking conversations, follow other Independent readers and see their replies