Catalonia independence: Thousands march in Barcelona and Madrid in show of unity after police referendum violence
'I've come because I feel very Spanish and makes me very sad what's happened'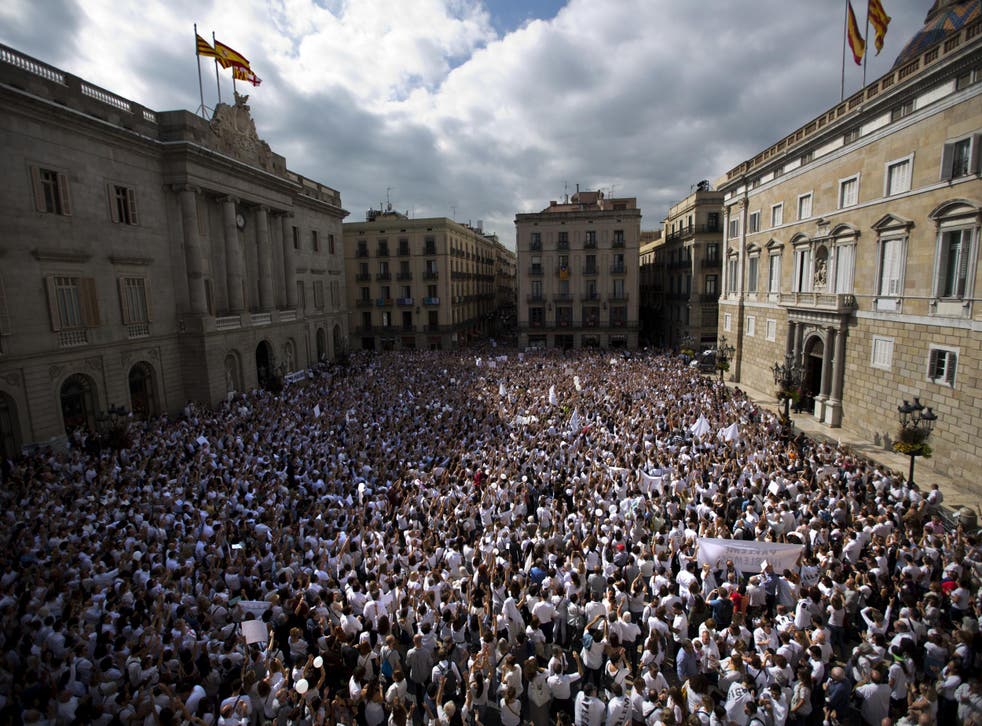 Thousands of people gathered in Madrid and Barcelona on Saturday as Catalonia prepared to declare independence from the rest of Spain after police responded with violence to last week's referendum.
Many showed their support for a peaceful solution following the clashes with police by dressing in white, carrying doves and signs calling for talks to resolve Spain's worst political crisis in decades.
The wealthy north-eastern region of Catalonia, with its own language and culture, has long claimed to be distinct from the rest of the country and last Sunday held a referendum on leaving Spain, a vote the constitutional court had banned and the Government will not recognise.
The Catalan authorities claim the overwhelming majority of those who voted supported a split from Spain, something Madrid says is illegal under the country's 1978 constitution.
Catalonia independence referendum: Riot police clash with voters

Show all 17
The political stand-off has divided the country and caused economic ructions, prompting banks and companies to move their headquarters outside Catalonia.
Those anxious for the country to remain united waved the Spanish flag and carried signs with slogans including: "Catalonia we love you."
"I've come because I feel very Spanish and makes me very sad what's happened," Rosa Borras, 47, an unemployed secretary who had joined a noisy gathering in central Madrid.
She added: "I wanted to be here for unity, because I also feel very Catalan. My family lives in Catalonia."
While Catalan leader Carles Puigdemont has said he is open to mediation, Prime Minister Mariano Rajoy insists the region must give up its call for independence which generated support during a near-six year economic crisis in Spain, before he will meet for talks.
Mr Rajoy's government mobilised thousands of national police to try and stop Sunday's vote going ahead, leading to clashes with would-be voters as they attempted to close polling stations in schools and remove ballot boxes.
The police brutality drew widespread condemnation and forced the Government to issue an apology, although tensions continued to rise after reports that plans for a unilateral declaration of independence will be handed to the Catalan parliament on Tuesday.
The crisis has alarmed Spain's EU partners, with German Chancellor Angela Merkel discussing the matter with European Commission President Jean-Claude Juncker, an EU official told Reuters.
Concern is mounting within the governments of other EU countries about the negative impact of the crisis on the Spanish economy, the fourth largest in the euro zone, with fears of possible knock-on effects for neighbouring economies.
European finance ministers are meeting in Brussels this week for a routine meeting and are expected to discuss the issue, although it is not formally on the agenda.
EU leaders have offered public support to to the Spanish government but in private many are understood to have expressed concern over the use of police force to try and prevent the vote.
Some EU states are also worried that talk of Catalan independence could fuel secessionist feelings in other parts of Europe, and are anxious for a political solution to be found as quickly as possible.
Additional reporting by Reuters
Register for free to continue reading
Registration is a free and easy way to support our truly independent journalism
By registering, you will also enjoy limited access to Premium articles, exclusive newsletters, commenting, and virtual events with our leading journalists
Already have an account? sign in
Register for free to continue reading
Registration is a free and easy way to support our truly independent journalism
By registering, you will also enjoy limited access to Premium articles, exclusive newsletters, commenting, and virtual events with our leading journalists
Already have an account? sign in
Join our new commenting forum
Join thought-provoking conversations, follow other Independent readers and see their replies