Catalonia referendum: What actually happens if the Spanish region declares independence?
A vote on Monday could lead to a unilateral declaration that Catalonia wants to separate from the rest of Spain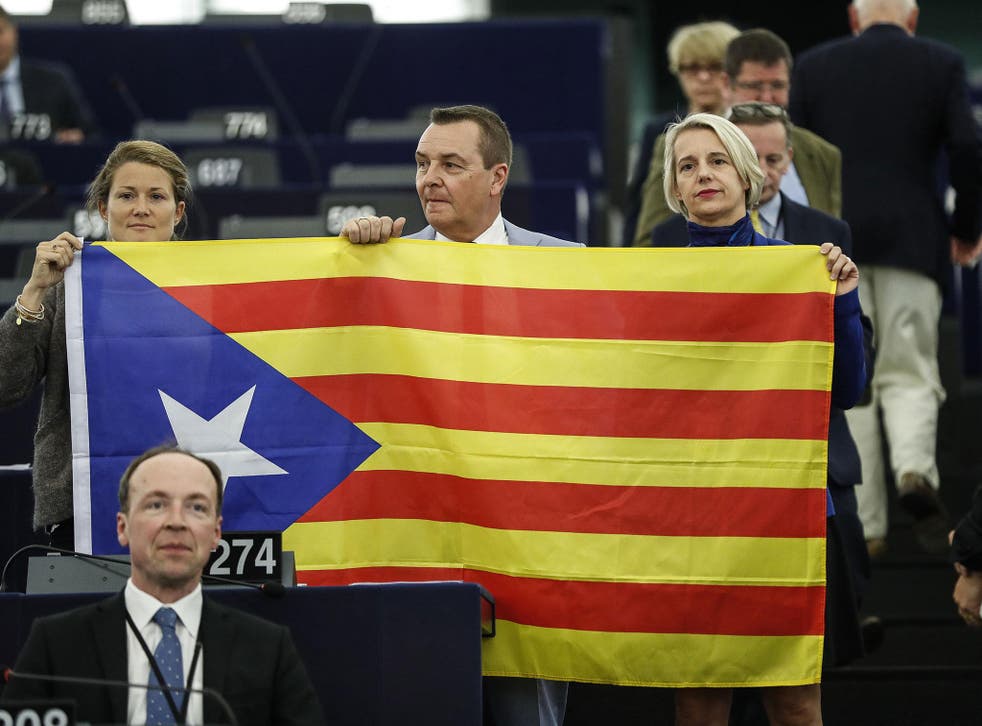 With rumours flying in Catalonia that regional president Carles Puigdemont will make a unilateral declaration of independence next Monday, thoughts are turning to what such a declaration would mean in practice for Spain.
There is no pre-established routemap for putting such a separation into effect if, indeed, the Madrid government allows it to happen at all.
Only the starting point is clear for now, which is that Mr Puigdemont may well propose to the Catalan parliament on Monday that the overwhelming pro-independence vote from last Sunday's referendum should take immediate effect, as permitted by the region's "judicial transition law".
This law, which also called for a referendum in the first place, was passed in late August in Barcelona, but was subsequently declared illegal by Spain's constitutional court.
Catalonia independence referendum: Riot police clash with voters

Show all 17
But after the Catalan parliament's majority of nationalists presumably endorses Mr Puigdemont's likely proposal, even the most hardline separatist is aware that a simple declaration of independence will do anything but ensure automatic separation from the Spanish state.
Even without considering the practicalities or the Spanish perspective, a near-total lack of international recognition for Catalan independence, most importantly from the EU, would render an easy separation impossible.
Should it go ahead, the judicial transition law provides the legal framework for both a Catalan republic and constitution. This would begin with a round of consultations with representatives of Catalan society, followed by the creation of an assembly to draw up a constitution and the constitution's ratification via referendum. This would take around six months.
The same law also permits Catalans to hold double nationality, would ensure Catalonia controls its own frontiers, offers a legal amnesty on independence-related charges from Spanish courts, and adopts and applies the bulk of Spanish legislation.
A massive question mark hangs over all of this, though, given Spain is expected to react very toughly to a declaration of independence. That is why some observers believe the declaration could also include an indefinite offer of negotiations with Madrid.
However, that option was recently and flatly turned down by the ruling Partido Popular's [PP] parliamentary spokesman Rafael Hernando. On Tuesday Mr Hernando asked rhetorically if Spain would hold "a negotiation with the people who are directly infringing the [Spanish] constitution? Negotiations, what for?"
Meanwhile the Spanish authorities continue their investigation into the illegal referendum, and the head of the Catalan police, accused of failing to act strongly enough to stop the vote, faced summons on Wednesday from Spain's high court in Madrid to answer charges of "sedition". Some nationalists are fearful that top secessionists – like Mr Puigdemont – could face arrest this week.
Such a drastic move might, indirectly, put a short-term brake on the declaration of independence, but it's uncertain if the central government really wishes to create Catalan "political prisoners", ultimately boosting the nationalist cause.
Rather it is thought to be weighing up the application of article 155 of the Spanish constitution, which allows the central government to intervene with autonomous communities to apply the measures deemed necessary to ensure the Spanish constitution is respected. Top of the list in Catalonia's case would likely be regional elections.
There are those who wonder why the government has not used its majority in Spain's upper parliamentary house, the Senate, to activate article 155 already. It could well be considered too harsh a measure for bruised and battered Catalan nerves. But the PP is also well aware that the Socialist Party, Spain's second largest political force, would be more likely to support their use of article 155 after next Monday.
"If only one political party backs article 155," added Mr Hernando, "it's less likely to have the support of the majority of Catalan society and we want to create consensus." With a minority PP government in Madrid, and comparatively scant support for the PP in Catalonia at the best of times, such cross-party and social backing is crucial.
So the Catalans nationalists may well not have all the cards they need right now for a successful, enduring declaration of independence. But their opponents in Spain do not automatically have a winning hand, either. The result looks set, for now, to be a messy, fraught stalemate.
Join our new commenting forum
Join thought-provoking conversations, follow other Independent readers and see their replies