Catalonia independence: Spanish Constitutional Court cancels Catalans' declaration of independence
Sacked president Carles Puigdemont could face decades behind bars as judge to hear rebellion case
Jon Sharman
Tuesday 31 October 2017 12:20 Comments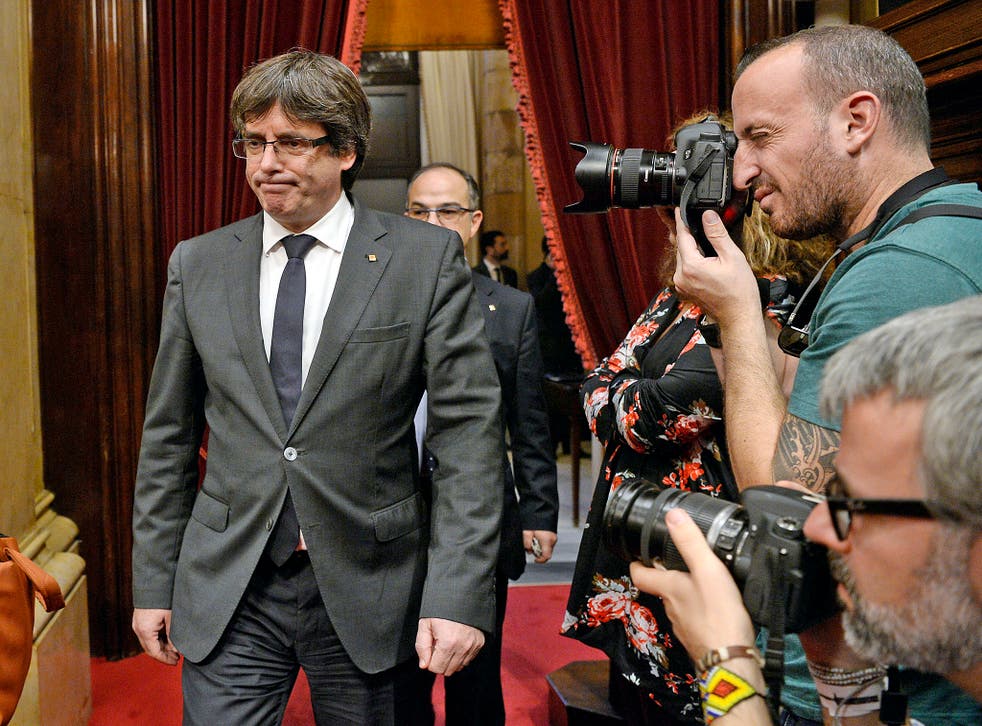 Spain's constitutional court has cancelled the Catalan declaration of independence.
It came as the Supreme Court said it had agreed to hear rebellion charges against Catalonia's ousted leadership, including the former regional president Carles Puigdemont.
Others implicated include Catalan parliament speaker Carme Forcadell, a longtime independence activist, and senior lawmakers from the region, a court spokesman said.
A total of six people face possible charges of rebellion, sedition and embezzlement.
The Supreme Court has called for Ms Forcadell and others to testify on Thursday and Friday this week.
Mr Puigdemont was at the head of the separatist push that saw deputies vote for independence last Friday after a tense week of negotiation and brinkmanship between Madrid and Barcelona.
It followed 1 October's disputed referendum that had been deemed unlawful by Spain's constitutional court.
A majority voted for secession but turnout was greatly reduced after a crackdown by Madrid.
Huge numbers of Catalans favour unity with Spain and Barcelona has seen large demonstrations in support of remaining part of the whole.
Mr Puigdemont and others face, potentially, decades in prison if convicted of rebellion.
Catalonia independence referendum: Riot police clash with voters

Show all 17
Following the vote Spain's senate voted to grant Prime Minister Mariano Rajoy new powers under article 155 of the constitution.
Mr Rajoy quickly sacked the Catalan government and ordered new elections on 21 December, promising to "restore legality" to the region.
At a press conference in Brussels on Tuesday, Mr Puigdemont said he would return home "immediately" if a fair judicial process were guaranteed in Spain.
"The situation is developing every day. Here we have better guarantees for our rights here and we can meet our obligations from here," he said.
Spain wants Catalonia "to abandon our political project, and they won't achieve it," he added.
Register for free to continue reading
Registration is a free and easy way to support our truly independent journalism
By registering, you will also enjoy limited access to Premium articles, exclusive newsletters, commenting, and virtual events with our leading journalists
Already have an account? sign in
Join our new commenting forum
Join thought-provoking conversations, follow other Independent readers and see their replies