Caving in to pressure: why Mario Monti's technocrats couldn't repair Italy after Silvio Berlusconi's government collapsed
Elsa Fornero, an academic whose job it was to modernise a rigid labour market, tells Michael Day what went wrong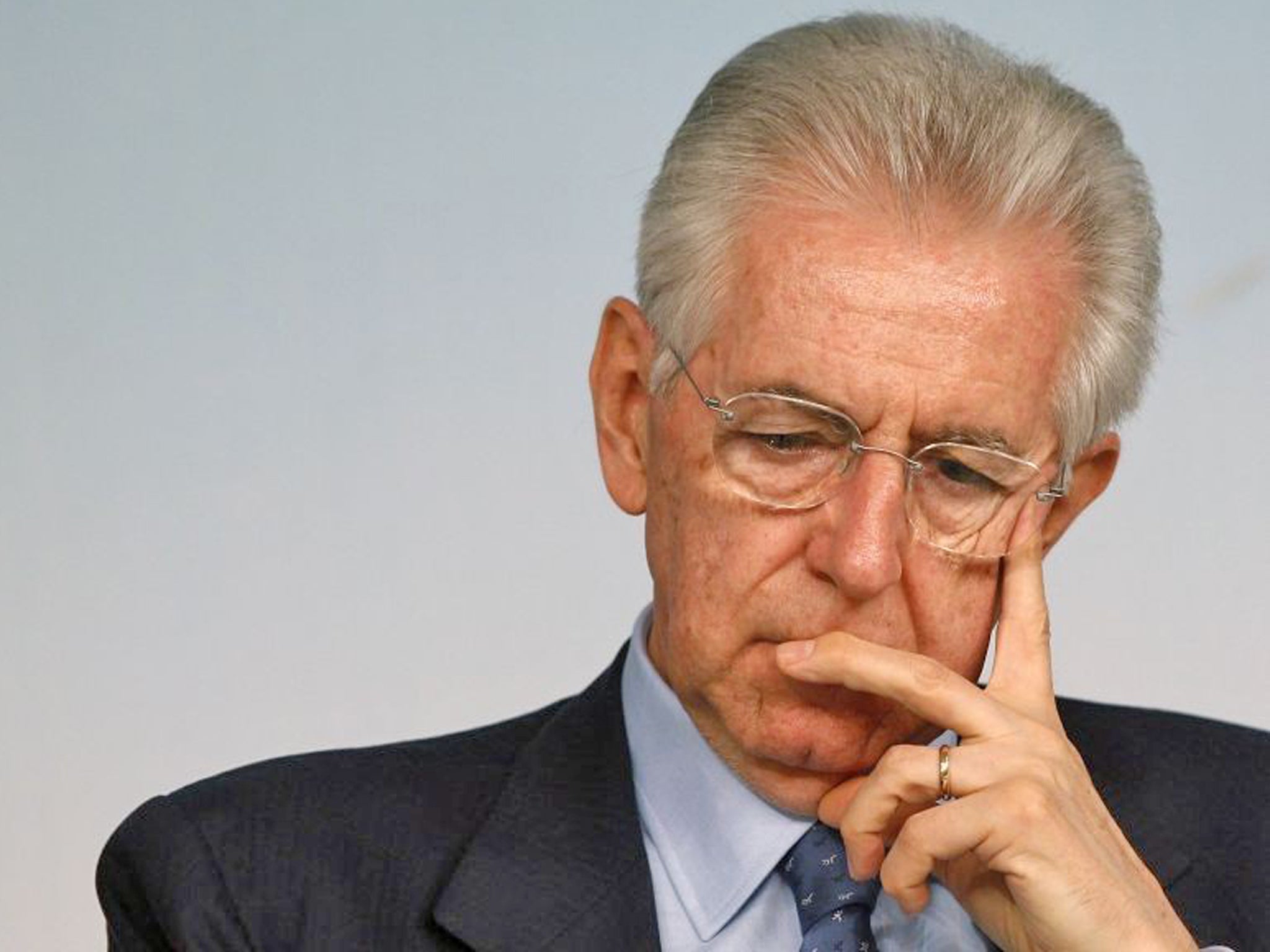 The minister hailed as the human face of Mario Monti's technocrat government has admitted that the outgoing Cabinet caved in too easily on the reforms she felt were vital to revive Italy's moribund economy.
Elsa Fornero, the employment and welfare minister, said her government's "naive" dealings with mainstream political parties had scuppered reforms on everything from the economy to gay rights. She said the administration, which was installed in the weeks following the collapse of Silvio Berlusconi's government in November 2011, should have taken advantage of its position of exceptional power and threatened to let the government fall if others in parliament did not toe the line.
"If you are saying the government failed to exploit its own strength then I would have to agree with you," she told The Independent. "At the beginning Mario Monti was trying to be inclusive. But yes, that was the point when we should have put our foot down. I think that, looking back, we should have showed more determination… Perhaps we were a bit naive."
These shortcomings may have an impact when Italians go to the polls tomorrow, with the scandal-struck former premier Mr Berlusconi and the protest vote leader Beppe Grillo rising in the polls on anti-austerity tickets. Most pundits, however, predict a centre-left government with a moderating, pro-markets, pro-EU influence from Mr Monti in the Senate.
"Is this good? I don't know – perhaps not the worst outcome. But I see the risk of new instability – a majority that could be rather weak because it is made up of two rather different groups," Ms Fornero said. She added that the election campaign was "depressing" because "after a year of a technical government trying to push the country towards more virtuous way of public life, we are back to the same situation".
The 64-year-old Turin University economics professor was appointed to her post soon after Mr Berlusconi lost his majority, forcing the President, Giorgio Napolitano, to rush into place an unelected government headed by Mr Monti. She made the front pages when she burst into tears at a press conference when discussing the human cost of austerity measures, and was seen as the human face of an administration often criticised as a cabal of technocrats and bankers.
But the task she was given, of seeking to bring flexibility to Italy's rigid labour market – which offers a stark choice between jobs for life or jobs with little or no rights at all – incurred the hatred of the far-left, and she was assigned a ten-strong armed guard. Two previous officials who tried something similar were killed by the New Red Brigades.
Mrs Fornero blames the lack of success of her reforms on the fact that they could not be stampeded through parliament in the form of decree. Instead, centre-left groups and Italy's powerful public sector unions had time to pick away at them. She told The Independent: "Italy is about vested interests. People don't want to change. We wanted liberalisation of the professions. In Italy they have too much power; they are present in parliament in large numbers – lawyers, architects, engineers, accountants – and they did not want change.
"People say, 'why didn't your reforms create more jobs?' I say the reforms are trying to readjust the structural weakness of our labour market, not combat the recession."
Another part of her ministerial portfolio – equal opportunities – produced similarly meagre results. The Vatican's baleful influence ensures that Italy is now decades behind the rest of Europe. While France and Britain introduce gay marriage, Italy has no legislation for civil partnerships.
"It's shameful," Mrs Fornero said. "But if you want my prediction, the next government will have to legislate for civil rights in terms of de facto couples and for homosexual couples."
But she is quick to flag up her pension reforms. "The first decree – the Save Italy decree – was courageous. It included the pension reform, which I did in 20 days. It was a very dramatic situation that people have clearly forgotten," she said.
It remains to be seen if Italy's next government can do much better to stand up to corruption, organised crime and the sometimes quite astounding levels of state spending. For non-Italians seeking an example of the latter: there are about 70,000 official chauffeured cars for Italian public officials, compared with just 300 in the UK.
Join our commenting forum
Join thought-provoking conversations, follow other Independent readers and see their replies