Ceta trade deal between EU and Canada will cost 300,000 jobs and cause greater inequality, study says
'Under current austerity conditions, high unemployment and low growth, improving competitiveness by lowering labour cost can only harm the economy,' researchers say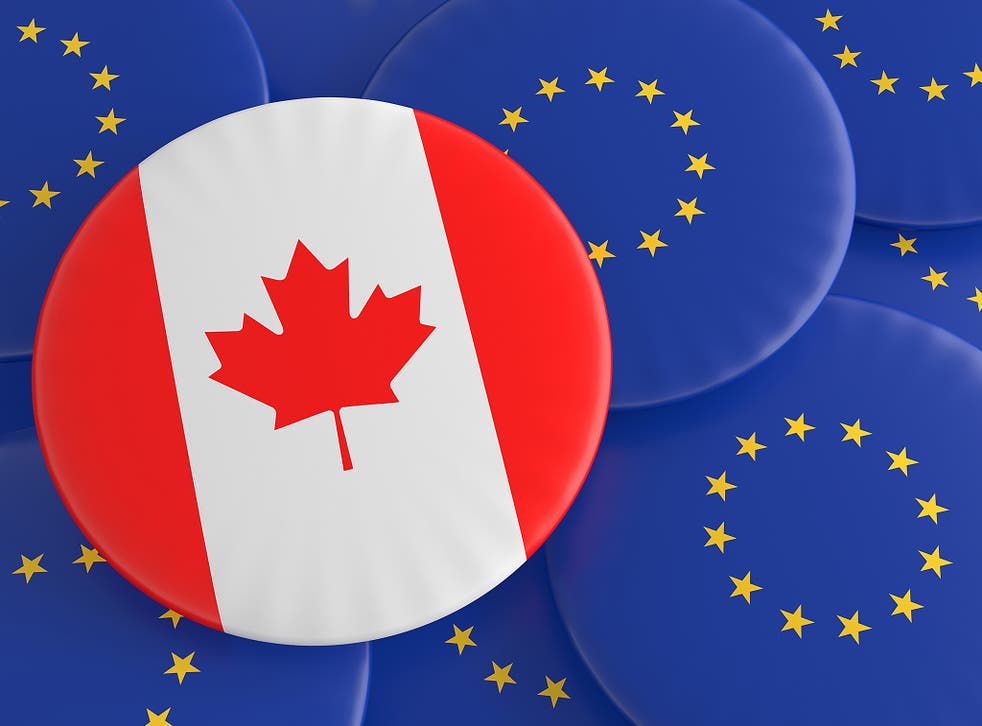 The Comprehensive Economic and Trade Agreement (Ceta) between the EU and Canada will lead to more than 300,000 job losses and cause a rise in inequality, according to a new academic paper.
The researchers said most models used to assess whether the deal was a good idea assumed permanent full employment and so the potential for job losses had been "ruled out from the outset".
Using a different, more "realistic" model of the effects showed that some 227,000 jobs would go in Ceta countries and a further 80,000 in the rest of the world over the next six years, they wrote.
Workers would also miss out on average earnings of between about £275 and £1,150 a year in the EU and more than £1,500 in Canada, while the share of national income going to the wealthiest would increase.
However, Labour MEP David Martin dismissed the academic dispute over model predictions, saying free trade deals had been shown to have positive economic effects, although he added that policy should ensure the benefits "are more widely shared".
In a paper in the International Journal of Political Economy, Dr Pierre Kohler, of the United Nations, and Dr Servaas Storm, of Delft University of Technology in the Netherlands, wrote: "Our results show that cost-cutting and competitiveness-enhancing measures induced by Ceta have negative long-term effects.
"By 2023, a total of 227,000 jobs would be lost in Ceta countries, 204,000 of them in the EU and 80,000 more in the rest of the world.
"Seeking to boost exports as a substitute for domestic demand is not a sustainable growth strategy for Canada or the EU.
"Under current austerity conditions, high unemployment and low growth, improving competitiveness by lowering labour cost can only harm the economy.
"Were policy makers to adopt Ceta and go down this road, they would soon be left with only one option for reviving demand in the face of growing social tensions: increase private lending, possibly through renewed financial deregulation, opening the door to unsustainable debt and financial instability.
"Instead of repeating the same errors over again, policymakers should rather stimulate economic activity through coordinated and lasting support of labour income and seek ways of initiating a much-required socio-ecological transition."
They said four studies that had been used to support the need for Ceta were based on "standard but unrealistic neoclassical assumptions, such as the permanent full employment of all workers in Canada and the EU, the result of which is that any proven risk or macroeconomic and social costs associated with liberalisation are ruled out from the outset".
Jean Blaylock, policy officer at Global Justice Now, said politicians had a long history of "over-hyping the economic benefits of free trade deals".
"It's no surprise that more rigorous modelling of the trade deal between Canada and the EU shows that it will lead to losses on both sides of the Atlantic in terms of jobs, growth and household incomes," she said.
"The only winners from this deal will be the big corporations who will be getting a raft of new powers that enable them to sue governments, have enormous influence to weaken important protections on the food we eat and lock in the privatisation of vital public services like the NHS."
Ceta has been approved by the European Parliament but must still be ratified by national parliaments.
Environmental jobs become increasingly popular

Show all 2
Ms Blaylock said this meant there was still time to "see sense and … reject the deal", thereby avoiding "the grim picture as laid out by this new study".
However, Mr Martin, an MEP for Scotland, who has campaigned in support of Ceta, said the models used by the European Commission to assess Ceta were also used by the "the majority of the academic community".
The UN Global Policy Model used by the Dr Kohler and Dr Storm was "not suited for trade policy analysis", he added.
"It has no information on trade policy variables such as tariffs and other trade costs and, by only covering four broad sectors – energy products, primary commodities, manufacturing and services – it does not contain sufficient sectorial detail to capture how trade policy affects complex economies," Mr Martin said.
The result was that the new paper was "far too negative in its conclusions".
"This model would likely produce negative impacts for any trade agreement," Mr Martin said.
"However, this is not the experience we have had with trade liberalisation over the past 60 years, which in general has created economic growth and jobs both in Europe and elsewhere.
World news in pictures

Show all 50
"The EU-Korea FTA is a good example. In the four years after the EU-Korea agreement came into force (2011), EU exports to Korea rose significantly – in goods by 55 per cent, and in services by more than 40 per cent. This shows that trade deals offer real opportunities for UK companies and for increased employment.
"Of course, trade policy needs to be managed more effectively with better rules so that the benefits are more widely shared, but there are very few economists that doubt the overall positive economic effects."
And Dr Stephen Woolcock, an expert in international trade policy at the London School of Economics, said: "There is always a debate over the calculations of welfare gains and distributional effects.
"The Ceta shows that the EU and Canada are committed to maintaining an open, rules-based trade and investment order at a time when this is under threat.
"In the absence of progress at a multilateral level in the WTO, these preferential agreements are shaping the rules.
"As such they aim to facilitate trade and investment whilst allowing regulation in the pursuit of a range of legitimate social and environmental policy objectives. Contrary to some of the advocacy campaigns against Ceta, I would argue that it represents a reasonably balanced agreement."
Join our new commenting forum
Join thought-provoking conversations, follow other Independent readers and see their replies