'They have hatred in their hearts': Angela Merkel delivers stinging attack on Germany's growing anti-Islamic protesters
In her New Year's address, Ms Merkel accused leaders of preaching prejudice and of hijacking positive political slogans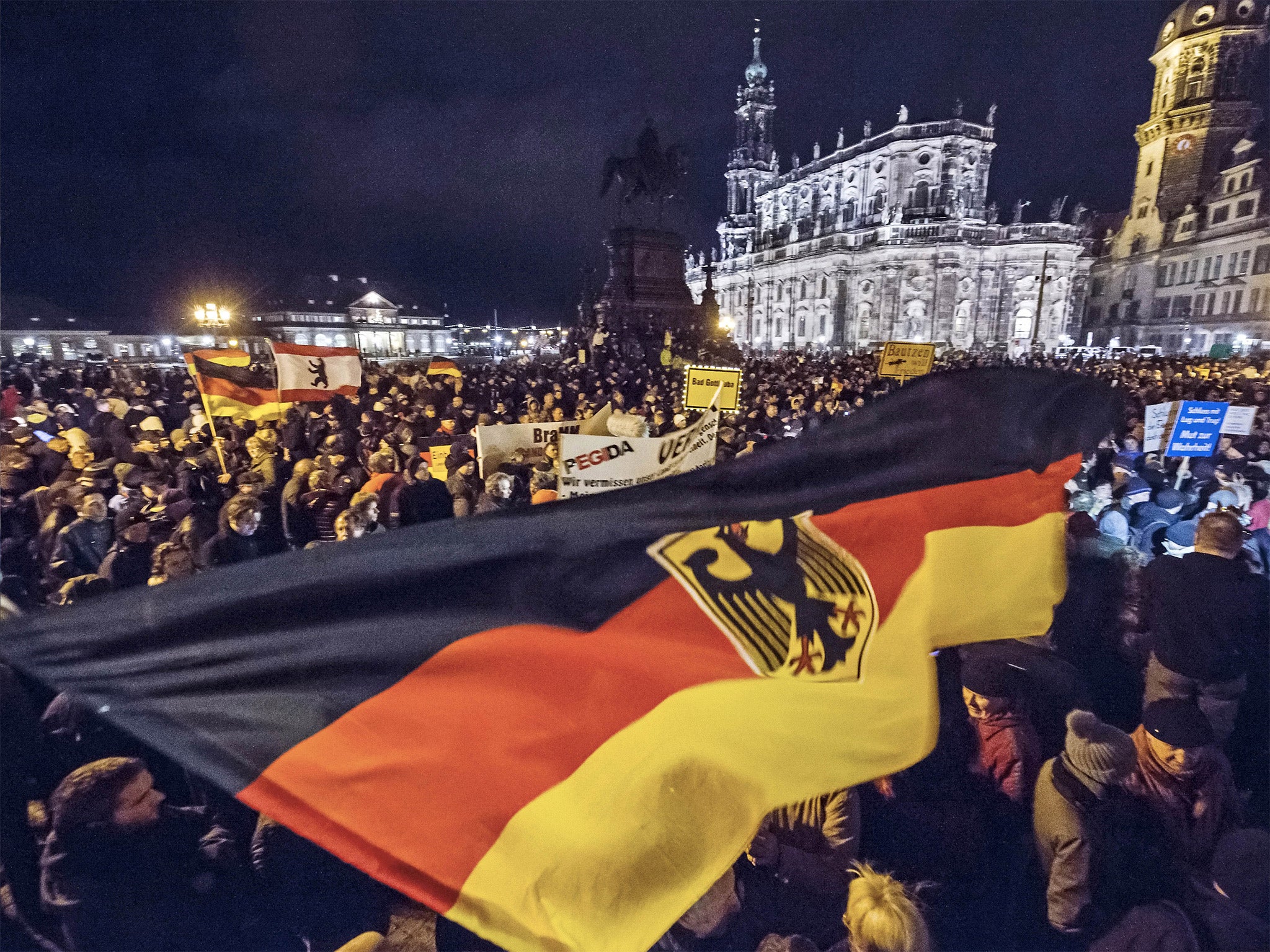 The German Chancellor, Angela Merkel, used her new year's address to deliver her most outspoken attack to date on Germany's growing anti-Islamic protest movement.
She accused its leaders of "prejudice, coldness and hatred", charging that they hijacked and abused political slogans that helped to topple the Berlin Wall 25 years ago.
The recently formed so-called "Patriotic Europeans Against the Islamisation of the Occident" – or Pegida – have been holding regular demonstrations since October. One such protest at the end of December drew more than 17,000 people, while another is currently planned in the eastern city of Dresden for Monday.
"I say to all those who go to such demonstrations: do not follow those who have called the rallies because all too often they have prejudice, coldness, even hatred in their hearts," Ms Merkel said in a televised new year's appeal.
Her speech was broadcast nationwide this evening. The sudden popularity of Pegida has shocked Germany's main parties and provoked heated political debate as the country struggles to cope with a record 2014 influx of more than 200,000 asylum seekers. The influx is set to continue well into the new year.
Thousands rally in Dresden, Germany
Show all 10
Last month, new hostel accommodation destined for use by asylum seekers was left damaged in a suspected arson attack near Nuremberg. Swastikas and anti-immigration graffiti were daubed on the walls.
Ms Merkel, who grew up in East Germany, took issue with the fact that many of the predominantly right-wing protesters who have attended Pegida demonstrations chant the slogan "Wir sind das Volk" ("We are the people"), coined by East German anti-Communist demonstrators in 1989 in the run-up to the fall of the Berlin Wall. She accused Pegida of hijacking the slogan for its own xenophobic ends. She told viewers: "What they really mean is: you are not one of us, because of your skin colour or your religion.
"Worldwide there are more refugees than we have seen since the Second World War. Many literally escaped death. It goes without saying that we help them and take in people who seek refuge with us."
Pegida started out in mid- October with a demonstration in Dresden attended by about 200 supporters. In early December it attracted 15,000 supporters. On 22 December a record 17,500 attended the movement's weekly Monday protest in the city.
There have since been rival demonstrations in Bonn, Düsseldorf, Kassel and several other towns and cities.
Its supporters fear that Germany is being overrun by Muslim immigrants who are destroying traditional Teutonic values. They want strict immigration controls, enforced "integration" for foreigners and "criminal asylum seekers" to be sent packing.
"We want to reclaim our own country," read one banner at a recent Dresden protest. "Beware Ali Baba and his 400 drug dealers," read another.

Pegida's followers range from known neo-Nazis and football hooligans to middle- and lower-middle-class Germans. "The main parties won't listen to us," an unnamed middle-class Dresden woman in her sixties told The Independent at a recent Pegida protest. "If we complain about immigration the politically correct media writes us off as Nazis," she added. The movement's self-styled leader is Lutz Bachmann, 41, who once sold sausages at Dresden's famous Christmas market. He has previously been convicted of a number of offences. He now runs an advertising agency.
Mr Bachmann argues that the German media "twists everything". So far, he has refused to be interviewed or take part in any public debate about his movement's aims. Nearly 100,000 people have "liked" the Facebook page created by Pegida. However, an anti-Pegida online petition started after the protest on 22 December attracted more than 265,000 signatures by today.
Prior to Ms Merkel's outspoken attack, several German politicians had argued that it was necessary to listen to Pegida's concerns. On Monday, her former interior minister, the Bavarian conservative politician Hans-Peter Friedrich, accused Ms Merkel of ignoring conservative issues. He claimed the tactic had left a political vacuum on the right which was being filled by Pegida and Germany's new populist Eurosceptic Alternative for Germany (AfD) party.
The AfD openly sympathises with Pegida. The party won up to 12 per cent of the vote in state elections in east Germany in September on an anti-immigration platform.
Alexander Gauland, a leading AfD politician, attacked Ms Merkel for her criticism of the movement. "She is judging people who she does not even know, from on high," he said. Mr Gauland has described Pegida as his party's natural allies.
The Dresden sociologist Wolfgang Donsbach claims that many Pegida supporters feel that 25 years after the fall of the Berlin Wall, they have emerged as losers of German reunification.
In a regional survey Mr Donsbach held in the Dresden area, one in five people interviewed was said to have expressed racist views. One in four was said to have claimed they felt "like a foreigner in their own country" despite Dresden having one of the lowest immigrant populations in Germany.
Join our commenting forum
Join thought-provoking conversations, follow other Independent readers and see their replies